After today's news of First Global Data (OTCPK:FGBDF)(FGD.V) announcing $2.9 million in revenue for December, I am pretty confident that the company will report at least $50 million in revenue for 2017. December's revenue is almost as much as the $3.4 million in revenue for the first nine months of the year. So FGD's growth is exponential.
$2.9 million in monthly revenue is about a $35 million annual run rate. Much of that growth I believe can be attributed to FGD's partnership with Vijaya Bank, as I predicted in my article from six weeks ago titled "I Expect A Record Financial Performance For First Global Data In Q4". At that time the installs for the VPaQwik app, an excellent proxy for determining the number of users FGD has with the Vijaya Bank partnership, were in the 50,000-100,000 range. That range has jumped up one category to 100,000-500,000 in January. I estimate that installs for December averaged 75,000 for the month, while heading into February installs are in the 110,000 range and growing by at least 500 a day. Revenue from the Vijaya Bank deal in February will likely be 40% more than it was in December based on user base growth and will likely exceed 50% growth when compared to December in the months following.
Looking past the Vijaya Bank deal, I have noticed that web traffic data on FGD's business site firstglobalmoney.com has spiked since mid-September, and is the most popular in the United States. FGD has signed several other agreements in India and across the world as well as an LOI with Selectcore to set up a JV in the Canadian market that is set to close soon. So all of these will be new revenue streams for 2017 that were marginal or non-existent in 2016.
Therefore I am pretty comfortable in assuming that revenue will be at least $50 million for the year, or 42% higher than the $35 million run rate. We have heard Andre Itwaru quote a $140 million revenue and $90 million EBITDA target once the user base grows to a million. That's a 64% EBITDA margin. EBITDA margin for the first nine months of 2016 was 30%. So I'm going to split the difference and say that on $50 million in revenue, the company can make a 50% EBITDA margin. Assuming a 15x EV/EBITDA multiple and that net cash is $30 million from exercise of every single warrant and option such that the share count is 335 million, this would justify a market cap of over $400 million: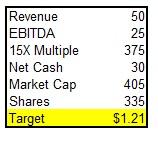 My new target on FGD is $1.20 per share. The company's financials are expressed in U.S. Dollars, but today's press release didn't explicitly state whether the unit of currency was in U.S. or Canadian Dollars. So for holders of FGD there could be another 30% premium on this target assuming the units are U.S. Dollars like the financials. But for now with a stock price of around $0.40, FGD is a strong buy whether the target is $1.20 or $1.50 or higher.
Disclosure: I am/we are long FGBDF.
Additional disclosure: I hold positions in securities as disclosed in this article. I have received no compensation for this article and all opinions reflected herein are my own. The information provided herein is strictly for informational purposes only and should not be construed as a recommendation to buy or sell, or as a solicitation of an offer to buy or sell any securities. There is no guarantee that any estimate, forecast or forward looking statement presented herein will materialize and actual results may vary. Investors are encouraged to do their own research and due diligence before making any investment decision with respect to any securities discussed herein, including, but not limited to, the suitability of any transaction to their risk tolerance and investment objectives.