Giga-tronics Inc. (NASDAQ:GIGA) reports its Q3 2017 results tonight. I think the results could be very positive which will result in a lift in the stock price given its low float and market cap of $10 million. The stock has bounced from a $0.60 low in December which leads me to believe others feel the same way. If you look at a 5-year chart, it's one of these types of stocks that can easily move 100% or more in a day on positive news. The long-term trend has been flat to slightly down though positive financials could change that in a heart beat.
Reviewing the Q2 SEC filing shows why I'm so optimistic: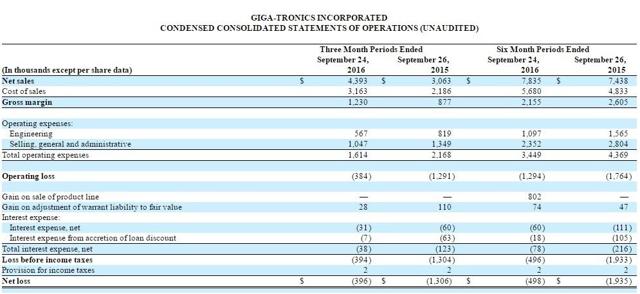 GIGA's Q2 showed substantial year-over-year and sequential improvement with revenue of $4,393K, growth of 43%, and an operating loss of $384K versus a loss of $1,291K. Gross margin has stayed steady at 28% but the company has demonstrated austerity with SG&A costs down while revenue is growing. Engineering costs are down as well, which may be a bad thing in the longer term (less R&D means less competitive products to sell in the future), or it could be nothing. For the purpose of predicting short term moves in the stock price it's irrelevant.
Here are some specific notes in the company's Q2 MD&A that explains some of the growth in Q2 as well as give hints that Q3 and Q4 will continue to be strong:
In July 2016, Microsource received a $1.9 million non-recurring engineering order associated with redesigning a component of its high performance YIG filter used on an aircraft platform. The Company started delivering the NRE services during the three months ended September 24, 2016 and expects to continue such services over the next nine to twelve months.
In June 2016, the Giga-tronics Division received a $3.3 million order from the United States Navy for the Company's Real-Time Threat Emulation Systems ("TEmS") (which combines the Company's ASG hardware platform along with software developed and licensed to the Company from a major aerospace and defense company) which the Company expects to ship in the second half of fiscal 2017. In July 2016, the Giga-tronics Division also received an order for $542,000 from the United States Navy for the ASG hardware only platform. The Company fulfilled the ASG hardware only order in the current quarter ended September 24, 2016.
In April 2016, Microsource received a $4.5 million order for YIG RADAR filters for a fighter jet platform, representing a 50% increase compared to the customer's previous jet platform order in fiscal 2016. We shipped approximately $1.1 million of the fiscal 2017 order during the three months ended September 24, 2016 and we expect to ship the remainder throughout fiscal 2017.
In the first quarter of fiscal 2016, the Company's Microsource business unit finalized a multiyear $10.0 million YIG production order ("YIG Production Order"). The Company started shipping the YIG Production Order in the second quarter of fiscal 2017. We shipped approximately $467,000 during the three months ended September 24, 2016 and we expect to ship the remainder through 2020.
These orders have contributed to an increasing backlog, summarized in this chart. The backlog of unfilled orders shippable within one year has increased 55% from $6,515K as of September 2015 to $10,124K as of September 2016. That's a $3,609K increase or $900K per quarter assuming the backlog increase in spread equally across the next four quarters.

For reference, here is last year's Q3 results. It looks like seasonally Q3 is very strong for the company. Last Q3 showed a $416K operating loss on $4,483K in revenue. If the company has a similar improvement in its financials as it did in Q2, it will be well in the green for this quarter.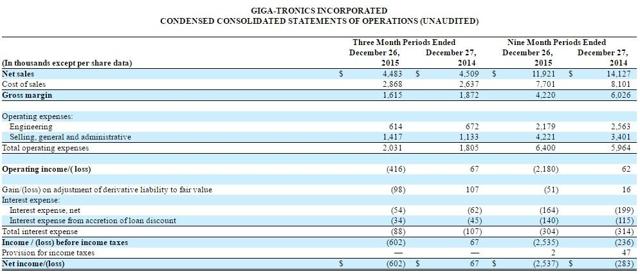 If you view these results in the context of the backlog above, revenue could be nearly $1 million higher on that alone. If GIGA adds around $300K in gross margin and continues to show austerity with opex costs decreasing $400K, that would total a $700K swing in a positive direction, more than enough for positive net income given the company's decreasing interest expense.
The conference call is at 4:30 eastern today so we'll know if I'm right in four hours.
Disclosure: I am/we are long GIGA.
Additional disclosure: I hold positions in securities as disclosed in this article. I have received no compensation for this article and all opinions reflected herein are my own. The information provided herein is strictly for informational purposes only and should not be construed as a recommendation to buy or sell, or as a solicitation of an offer to buy or sell any securities. There is no guarantee that any estimate, forecast or forward looking statement presented herein will materialize and actual results may vary. Investors are encouraged to do their own research and due diligence before making any investment decision with respect to any securities discussed herein, including, but not limited to, the suitability of any transaction to their risk tolerance and investment objectives.