First Global Data (OTCPK:FGBDF)(FGD.V) continued its march into the forefront of the Fintech space in India with today's announcement that its Vpayqwik™ service launched in partnership with Vijaya Bank will now be accepted nationally across India at all retail locations. The release goes on to say:
The Indian government has launched the Bharat QR code national payment strategy which is the world's first interoperable payment acceptance solution. It is part of the Indian government's ongoing strategy to move towards a "less-cash" economy.

Vpayqwik™ is one of a select few mobile wallets in India that currently has access to this platform, and Vpayqwik™ will now be accepted at retail locations right across India.
With this one move, the Vpayqwik app now becomes a nation-wide payments provider of use to anyone. Users do not need to have a bank account with Vijaya or any bank for the matter in order to use this app. I asked First Global's CEO Andre Itwaru about this and his response was so encouraging to me I decided to share it, verbatim. Vijaya Bank teamed up with First Global because the bank believes that the Vpayqwik app can corral in consumers: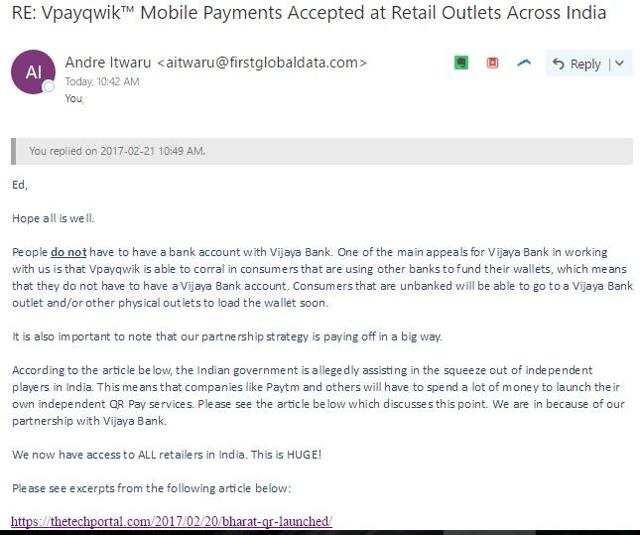 The link that Andre provided to the article "Bharat QR: here's everything you need to know about Indian govt's unified QR code solution" really underscores the value of today's press release in conjunction with the partnership between Vijaya and First Global. It also destroys any ridiculous argument by short players that First Global is releasing well-timed "fluff" news. This article is written completely independent of any association to First Global and states that the Indian government launched Bharat QR yesterday. We can only wish that Andre Itwaru would hold that much influence over the Indian government that the release of Bharat QR was timed perfectly to an increase in short interest in FGD, providing gasoline on the fire of the shorts.
I strongly urge investors to read the entire article, but key points include:
The Indian Government is (allegedly) gunning for private players with the official launch of Bharat QR, an offering which is aimed at enabling digital payments at the merchant shops without the requirement of PoS (point-of-sale) or card-swiping machines.
It was developed co-jointly by Mastercard, Visa, RuPay and American Express and the service has been kicked off in partnership with 14 banks. (I assume Vijaya is one of them even though the 14 were never explicitly stated.)
It simplifies the process of accepting payments for the merchants as they would no longer be required to spend money on expensive PoS machines.
Customers would neither have to worry about having their cards on them all the time nor do they have to worry about their cards not being accepted at any particular payment location. Bharat QR code will now provide a unified interface for Visa, RuPay and Mastercard cardholders.
This development comes on the heels of Paytm's massive ₹600 crore investment in the expansion of their own QR code solution. (Approximately USD $90 million, a crore is 10 million rupees)
Bharat QR differs from Paytm or Mobikwik's QR code payment system in that it is a common QR code platform that will soon be adopted and become acceptable by most merchants across the country. Bharat QR will also be directly adopted by the banks, thus eliminating any theft or security concerns. The QR codes that are provided by Mobikwik or Paytm work in their closed environments so you require each of their own apps.
The key takeaways I get from this article is that the Indian government appears to be pushing partnerships and flexibility to enable easy transition to a less cash intensive society for its people. This plays right into the hands of First Global's strategy of teaming up with partners like Vijaya bank and having an open API.
First Global's goal was to get to a million users in a reasonable time frame. Now the question becomes not how long it will take to get to a million but a BILLION users, and this isn't an entirely facetious statement even though this may take years to accomplish. India's population is over 1.3 billion with 65% of those people being below the age of 35. The government-backed agenda and young population that gravitates towards technology is fertile ground for a new Fintech platform to come in and change the way financial transactions are done across an entire culture. Bharat QR is that new platform and First Global's Vpayqwik is one of the few wallets accepted on this platform. It may take a while for First Global to get to a billion users globally, but 10 or even 100 million just in India alone may not be too far off.
I have mentioned this numerous times before, but pay close attention to the Vpayqwik mobile wallet app on the Google Play store. At the time of this writing the app has achieved 100,000 to 500,000 installs. On January 15, I noted that the app surpassed 100,000 installs that day. At that time there were 840 ratings on the app. There are 998 ratings now. Using number of ratings as a proxy for installs, I estimate that there are about 119,000 users. That is a 19% growth rate in 37 days or 500 users a day. It will be interesting to see if there is a spike in installs now that Vpayqwik will be accepted basically everywhere in India so I urge investors to pay close attention to the Google Play link as it is our most reliable source of information completely independent of anything First Global chooses to report.
Disclosure: I am/we are long FGBDF.
Additional disclosure: I hold positions in securities as disclosed in this article. I have received no compensation for this article and all opinions reflected herein are my own. The information provided herein is strictly for informational purposes only and should not be construed as a recommendation to buy or sell, or as a solicitation of an offer to buy or sell any securities. There is no guarantee that any estimate, forecast or forward looking statement presented herein will materialize and actual results may vary. Investors are encouraged to do their own research and due diligence before making any investment decision with respect to any securities discussed herein, including, but not limited to, the suitability of any transaction to their risk tolerance and investment objectives.