I have a $0.20 target on Peak Positioning Technologies (OTCPK:PKKFF) (PKK.C) and a $1.20 target on First Global Data (OTCPK:FGBDF) (FGD.V). I will be upgrading these two targets today. I wanted to wait until AFTER these two stocks reached their target prices but I am getting non-stop pestering from people who ask me about any updates to my targets. I figure this will only get worse as both stocks close in on these prices so I might as well take a proactive approach.
Why did I want to wait until after my targets were achieved in order to update them? I wanted to sell some shares and then upgrade my targets so that no one takes my sells too seriously. I only plan to sell a small piece of my overall holding in each stock. I'm not sure why people are so nervous about each stock nearing my target price. Maybe they think my sells will put pressure on each stock. Maybe they think that I will relentlessly trash the stocks after selling like that dildo who goes by the name of lscfa on Stockhouse has done with Keek, now known as Peeks Social (KEEKF) (PEEK.V). Neither is the case.
PKK and FGD are neck-and-neck for the top holding in my portfolio. I have been buying and selling small amounts along the way like any normal shareholder would, but when I sell substantial chunks, I fully intend for both stocks to remain as the top two holdings in my portfolio. Unless my dinky little TSX stock Saint Jean Carbon (OTC:TORVF) (SJL.V) actually does get bought out by Tesla and moves something like 2000% in a day after the halt is lifted (fingers crossed!!!). I could sell 25% of my PKK and FGD holdings at my target prices and both stocks would still be valued at an equal or larger dollar position in my portfolio than they do today. As far as selling pressure is concerned, both stocks trade millions of shares daily. They could easily absorb anything I plan to sell without any downward pressure.
Why would I want to sell? Any normal person can understand that as these stocks close in on 10x return for me, I would want to take something off the table. I have some debts to pay off and now would be an opportune time to be debt-free as interest rates will start to rise. Let's see any IPO or secondary bookrunners be as honest as I am with respect to my intent to sell some shares while throwing out price targets.
Now with that out of the way let's get to the price target upgrades.
PKK upgrade to $0.50 per share
I have flirted with a $0.50 target on PKK before. Now that it's almost $0.20, I feel comfortable with an official $0.50 target. My $0.20 one-year target announced in December 2015 was actually pretty close. Considering the four month delay that took place for the closing of the $4 million financing deal between PKK and Mr. Wang, I'm going to claim victory with PKK being $0.15 fifteen months after the call. With 2017 audited financials expected to come out in 12-13 months from now, I think a $0.50 one-year target price based on this year's guidance is reasonable.
Recall from the Q3 2016 results that the company forecasted 3%-5% EBITDA on $550 million in revenue. That equates to a range of $16.5 million to $27.5 million in EBITDA guidance for 2017. The mid-point of these numbers is $22 million. Assuming full exercise of warrants, the fully diluted share count is around 700 million. This would bring in at least $10 million in cash which is to be added to the enterprise value to get to the market cap.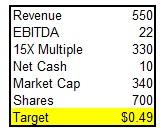 A 15x multiple on $22 million EBITDA leads to a market cap of $340 million, one penny shy of $0.50 per share. I will round up to an even $0.50. While it's a one-year target, PKK has been making noises about a deal that could accelerate the company's fintech offerings in China, specifically with respect to commercial lending. If this is the case, revenue, margins and EBITDA could all end up being higher than this original forecast. As we are just a few weeks away from the 2016 audited result and Q4 conference call, I expect to see updated guidance which may impact my target.
I have set up a group on Facebook for investors interested in Peak Positioning Technologies:
https://www.facebook.com/groups/1056761834354355/
FGD $5.00 target in 2018 upon acquisition of 5 million users
I increased my one-year target on First Global from $0.75 to $1.20 at the end of January. Just six weeks later and my $1.20 target is already within sight. I am done with trying to project a price for FGD in 2017. I am now going to present what I think is a reasonable target for 2018.
An article has been brought to my attention from January called Vijaya Bank sees spurt in mobile banking where the bank's CEO Kishore Sansi speaks out about VPayQwik. FGD shareholders should be particularly thrilled that the CEO of FGD's senior partner is speaking so well of the app and relationship without actually mentioning First Global by name. From FGD's perspective this makes perfect sense as Vijaya is the client-facing entity and incurs all costs associated with acquiring the customer. Key highlights of the article:
Post-demonetization, Vijaya Bank has seen a spurt in balances in its mobile banking platform.
Mobile activation was about 46,860 registrations as of March 2015, 505,000 by March 2016 and in January touched the one million mark (not all of these will be on VPayQwik yet).
Vijaya has set a target of one million active mobile banking users with VPayQwik launched in order to facilitate this target.
The CEO stated that about 80% of users are aware of the app and Vijaya's immediate target to make them use it extensively.
Vijaya is continuously looking to acquire a lot of new mobile customers.
Vijaya is acquiring about 50,000 new customers on average per month (did not explictly attribute all of this growth to VPayQwik).
Given how strongly Vijaya is promoting mobile banking in general and VPayQwik in particular, I think it is only a matter of time before First Global surpasses 1 million users. With the recent partnerships or MOU signed in North America, Africa, South Asia and China comprising access to well over 100 million people, I think it's reasonable to estimate that 5 million people will be First Global users by the end of 2018.
CEO Andre Itwaru has stated that upon one million users, the revenue run rate would be $140 million and EBITDA $90 million. Given that people from developing nations will comprise such a large portion of FGD's user base, I believe that the company will have a difficult time achieving these stated levels of revenue per user. I will assume annual EBITDA per user of $26, less than one-third of Andre's assumption. I will also assume that all warrants and options will be exercised and add in an additional 10% padding so that the fully diluted share count will be 400 million. Assuming net cash of $52 million after the exercise of warrants ($30 million from my previous analysis plus $10 million from the $0.70 financing plus $12 million from exercise of the $0.90 warrants), my target on FGD is $5.00 based on a 15x EBITDA multiple: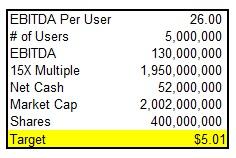 I have set up a group on Facebook for investors interested in First Global Data:
https://www.facebook.com/groups/377851355894645/
Some words on Peeks Social
In addition to these two stocks, I have been getting a lot of personal messages regarding PEEK, which is my third largest holding. I don't have any special insight to what's going on. If I did I would post it publicly. While Mark and Andre Itwaru are brothers, they have very different personalities. Andre is very open and willing to partner up with people to get a job done. He is also willing to share FGD's API. This plays very well into FGD's partnership model which has been the driver to the profitability and consistent news flow we have seen drive the stock price to-date.
Mark on the other hand is protective and secretive when it comes to Peeks, particularly when it comes to the IP. Some people have found him abrasive. This attitude plays very well into the long-term vision of the company which is to become a social media/social commerce unicorn. But in the short-term it leaves the company susceptible to huge pullbacks like what we have seen so far in 2017 as news flow dries up. If you believe in the company and his vision and have the patience to stick with PEEK I think in the long run you will be pleasantly rewarded. In the short-run none of us have any idea how much longer it will take to release some significant news that will break the downtrend. Mark Itwaru will go at a pace that he sees fit. As shareholders this is something that we have to understand as part of the risk because it takes time to develop and promote this app properly.
Personally, I'm fine with PEEK sinking. I hope it goes to $0.80 as long as the other two move up! That just means an opportunity to buy more shares at a good price when the time comes and I do decide to offload some PKK or FGD shares and have a lot of cash handy.
Disclosure: I am/we are long PKKFF, FGBDF, KEEKF.
Additional disclosure: I hold positions in securities as disclosed in this article. I have received no compensation for this article and all opinions reflected herein are my own. The information provided herein is strictly for informational purposes only and should not be construed as a recommendation to buy or sell, or as a solicitation of an offer to buy or sell any securities. There is no guarantee that any estimate, forecast or forward looking statement presented herein will materialize and actual results may vary. Investors are encouraged to do their own research and due diligence before making any investment decision with respect to any securities discussed herein, including, but not limited to, the suitability of any transaction to their risk tolerance and investment objectives.