First Global Data (OTCPK:FGBDF) (FGD.V) announced that it is teaming up with LianLian Pay to launch a social messaging payments and remittance service to over 100 million WeChat users in China on Wednesday evening. There is a lot of excited commentary already around this deal so I am going to be brief in sharing my opinion. First Global has already signed several partnerships that promise to add 10's to over 100 million users, so some people might gloss over this release as "routine". However, I believe that the excitement over the news release is quite justified as this is by far the biggest agreement that First Global has signed to-date.
Breaking down the players involved:
LianLian Pay: The fourth largest non-banking third-party payment service provider in China, with transaction volume exceeding $50 billion in 2016. The Alexa web traffic stats of the company's corporate website indicates a strong and growing presence in China: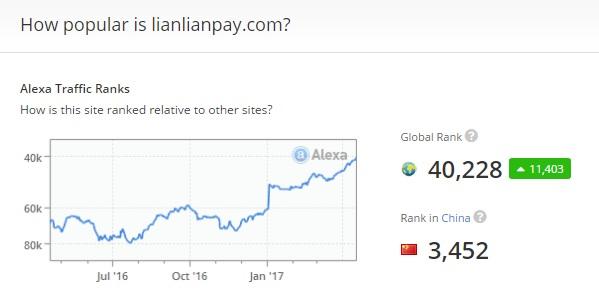 WeChat: A popular social media and instant messaging service in China, WeChat has over 889 million monthly active users. According to App Annie, it is the most popular social networking app in China/Hong Kong/Macau and second most popular overall app in China and first overall for the latter two. It is also extremely popular in many nations across Asia and Africa and has a strong presence in Western countries. That makes it an excellent candidate for cross-border remittance where a family member in a foreign (usually richer) country can send money back home. The example specifically cited in the First Global news release is for Chinese people living in the USA and Canada to make person to person international money transfers to China. China has restrictions for money leaving the country, but inbound remittance should not be an issue.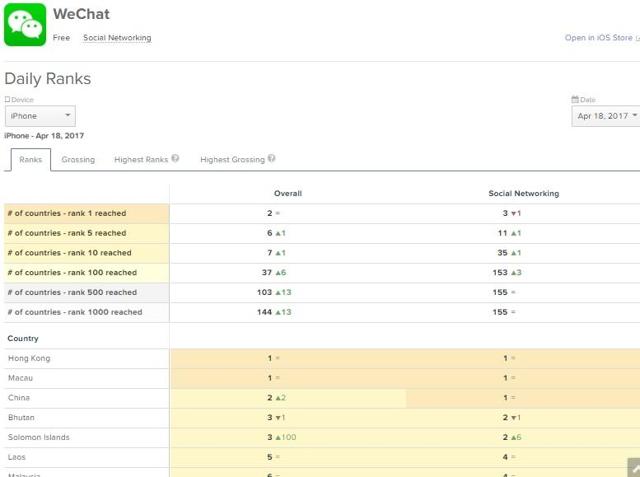 Tencent: Tencent developed the WeChat application and is one of the world's largest internet companies. Tencent's market cap is 2.2 trillion Hong Kong Dollars, equivalent to nearly $300 billion USD. Tencent surpassed Wells Fargo (NYSE:WFC) to become the 10th largest company in the world recently, slightly larger than Alibaba (NYSE:BABA). Even though the release did not state Tencent by name, I believe that Tencent at a minimum is aware of First Global's existence given that the partnership will be using the WeChat platform. First Global's February 9th release mentioned that the company "has had significant interest from some of China's most recognized enterprise brands". To this point, I now suspect that Tencent might be one of these multiple brands on this list.
There may be some disconnect with North American investors understanding the gravity of this deal. To put it in simplified terms, it sounds to me like this deal would be the North American equivalent of First Global teaming up with a company like Stripe in order to offer remittance services on Facebook's (NASDAQ:FB) Messenger or WhatsApp. As in other words, this deal is huge not just in terms of the amount of potential users, but also the size and influence of the companies involved.
Readers might recall my $5.00 target for year-end 2018 based on the assumption that First Global can acquire 5 million users at an average annual EBITDA of $26 per user (approximately $50 ARPU) by then. I recently created a valuation matrix on FGD that shows a wide range of possible prices based on a fully diluted share count of 400 million and a 15 multiple on EBITDA. You can visit my blog for the detailed calculations, but I have pasted the same table below.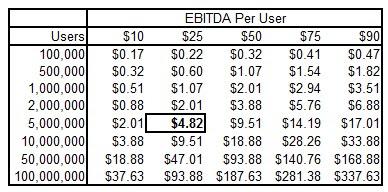 Without changing my $5.00 target, readers can see the huge upside value if this partnership between First Global and LianLian Pay using WeChat becomes a success. Not only with users but with ARPU. If someone was to send $10,000 back to their native country where their family still resides over the course of a year, a 1% fee or $100 might be a worthwhile price to pay to ensure that the money gets there reliably and quickly. I can see an instance where EBITDA per user exceeds my comfort zone assumption of around $25.
These companies may be turning to First Global to help roll out a competitive offering to Alibaba's Ant Financial. If that is indeed the case, First Global investors should be extremely excited to come along for that ride. We just need to give First Global some time for the opportunity to play out.
Disclosure: I am/we are long FGBDF.
Additional disclosure: I hold positions in securities as disclosed in this article. I have received no compensation for this article and all opinions reflected herein are my own. The information provided herein is strictly for informational purposes only and should not be construed as a recommendation to buy or sell, or as a solicitation of an offer to buy or sell any securities. There is no guarantee that any estimate, forecast or forward looking statement presented herein will materialize and actual results may vary. Investors are encouraged to do their own research and due diligence before making any investment decision with respect to any securities discussed herein, including, but not limited to, the suitability of any transaction to their risk tolerance and investment objectives.