Fintech Select (OTC:SLXXF) (FTEC.V), formerly Selectcore, recently debuted its new website in preparation of the launch of two leading-edge businesses in the Fintech space in addition to its existing prepaid card offering. The Selectcoin platform will be "deploying a point-of-sale Cryptocurrency solution to provide easy and hassle free buying and or selling of Cryptocurrencies through the company's retail partners" and the Cherry Mobile Banking platform promises to "Uberize the mobile banking space by offering a cost effective Peer-to-Peer solution by matching borrowers with lenders as an alternative to higher cost lending institutions" along with remittance and bill payment services and a crypto-wallet according to the website. 
Now anyone can create a nifty-looking website and claim to be in these industries. The purpose of this article is to lay out some of the advantages and challenges FTEC will have in successfully deploying these initiatives. 
I am bullish but there will be no price target
In the past I have released price targets on similar kinds of junior Canadian tech stocks on the cusp of creating or growing their businesses. In good times those price targets get hit and everyone is happy and wanting ever-higher price targets. In bad times it creates a lot of negativity. I have learned that there is no upside for me in providing public price targets to these speculative companies so everyone should think for themselves and come up with their own.
Even without this philosophy, FTEC will be a particularly hard one to judge. I am currently holding the stock and happy with my buy-in price as I think it will go higher. Traction or perceived traction in either one of these two burgeoning Fintech sectors could be very lucrative to early stage FTEC investors, myself included. But my personal price target will be a moving one and I think that's how all investors should view it. A move up merely on hype, especially on blockchain-related industry hype may cause me to sell. A move up on actual execution of a business plan that can generate near-term profits may cause me to hold onto the stock much longer. It just depends. 
Blockchain is hot and the cryptocurrency ATM concept is just getting off the ground
The whole cryptocurrency/Bitcoin industry is a fascinating one to me. I liken cryptocurrencies to the baseball card industry. Baseball cards are intrinsically worthless, yet some of them have sold for up to a million dollars. On the other hand when the hobby reached its peak in the early 1990's the manufacturers were printing so many of them which are worth pennies today. Bitcoin is the Honus Wagner of cryptocurrencies and the other cryptocurrencies are Mark McGwire cards circa 1999 right now. One day those hangers-on will be like 1990 Score baseball cards - all worthless because there are so many of them - but many years could pass before that happens. So aggressively trying to disrupt this industry while there is something to disrupt looks like a smart business plan. 
Some will argue that cryptocurrencies are better/on par/will replace fiat currency. I get that the transactions are the epitome of anonymity and security. But what fiat currencies from governments of countries of stable and prosperous nations have that cryptocurrencies don't have is access to a tax base and economy for which to guarantee the value of their currencies. That's why when you see a government lose control over its territory like during a civil war, the country's inflation goes through the roof as the nation's currency loses all of its value. 
When comparing cryptocurrency to gold, there is no comparison. Physical gold may have limited industrial uses, but it is hard to find, there is a finite amount of it on Earth, and it doesn't degrade. As far as supply is concerned, the sky is the limit with cryptocurrencies. However, with the way gold trades in the real world through the commodity markets and ETFs, there is essentially no difference between paper gold and cryptocurrency. There is so much more paper gold than real gold out there that the chances of the smoke-and-mirrors paper gold markets collapsing is probably not that much less than the cryptocurrency markets collapsing.
One additional advantage that the fiat currency and gold paper markets have is that they already have Wall Street, the big banks and the politicians in their back pockets. They aren't going anywhere if the government has its way. The cryptocurrency space isn't quite there yet so there remains a distinct possibility of unfavorable government legislation like that in China. A process that promotes the free flow of cash in a society led by a government that wants to limit capital flight is not something that will have a long life span in that country. Only time will tell how Western society will police cryptocurrency.
After reading my four paragraph rant, people will understand that I have a very cautious view of the stability and long-term viability of the cryptocurrency market. However, that doesn't mean that there isn't a lucrative business to be made by participating in this industry.
To give an example of what can happen to a stock in the hot blockchain space, Hive Blockchain Technologies (HIVE.V) started trading on the TSX Venture exchange on September 18 with an RTO transaction valued at $0.30 per share. The stock price has since risen over $2.00 per share recently and is currently trading over $400 million in fully diluted market cap. It is in the business of cryptocurrency mining. Based on HIVE's registration statement, current facilities and computing power would have been able to mine $7 million US worth of Ether "net cash contribution margin" less maintenance fees. A recent $30 million bought deal financing at $1.50 will enable to HIVE to purchase a second data center which will increase "hashpower" by 70%, demonstrating the market's desire to throw large sums of money (in Canadian Venture Capital world) at this industry. FTEC's fully diluted market cap is less than 5% of HIVE's with an existing revenue run-rate of about a million dollars per quarter. 
FTEC doesn't appear to have mining on its agenda any time in the near future, but is attempting to tap into the potentially lucrative cryptocurrency point-of-sale space. Having its own cryptocurrency ATM network opens up the possibility of having its own coin since, apparently, the creation and mining of these coins is not that difficult. The marketing of them so that they become popular and valuable is the harder part. Having physical locations that disperse crypto-coins to appeal to a certain niche of people who want to use them as a medium of exchange but aren't comfortable or are unable to use the online exchanges would be a big advantage. But for now I'm going to refer to these points-of-sale as Bitcoin ATMs.
As I said before, anyone can set up a nifty looking website and make these grand promises. FTEC needs to follow this up with action as soon as possible. The company made a significant first step by signing an LOI with a national cryptocurrency dealer earlier this week. As an investor I am pleased with this step as I don't ever want FTEC to take possession or trade these things which can be very volatile. The business model should be to scalp a transaction fee just like any other ATM would. Not to speculate on cryptocurrency volatility.   
There is a lot of attention being given to the opening of Bitcoin ATMs worldwide. Just have a look at this Google news search result for Bitcoin ATM. A Forbes article from September 25 claims that there are "over 1,400 Bitcoin ATMs currently operating, which represents a 100% increase in circulation compared to just a year ago". A CBS news article from September 20th claims there are nearly 1,600 locations. So while the exact number is always changing, the point is FTEC has the opportunity to make international headlines by more than doubling that amount seemingly overnight - if it can quickly execute and convert its existing point-of-sale terminals to Bitcoin ATM. CBC wrote an article about ONE Bitcoin ATM being deployed in St. John's. Using that standard, it should dedicate its whole website to FTEC's roll-out, if successful.
FTEC isn't the only company in on this idea, which is another reason for it to move quickly. Two penny stock companies listed on the Australian Stock Exchange, DigitalX (ASX:DCC) and StarGroup (ASX:STL), are teaming up to launch 2,900 Bitcoin ATM in Australia. STL has a market cap comparable to FTEC's while DCC is about twice as much. A British firm announced plans to open 5,000 Bitcoin ATMs in Europe in 2017, but with three months left in the year, Europe appears to have a little over 300 Bitcoin ATM so that firm is running out of time to make good on its promises. If FTEC can make good on a promise to bring a substantial amount of Bitcoin ATMs to the market while others have been all talk, this should be a driver for the stock price to go up.
How active and how profitable these Bitcoin ATMs end up being would be the next question once they are up and running. This would be the single largest near-term determinant of my internal price target for FTEC and it should be for other investors as well.
How Cherry Mobile will "Uberize" the mobile banking space
While FTEC's move into the Bitcoin space is ambitious, I can see an achievable path with newsworthy accomplishments in a relative short period of time. Although FTEC is already active in the prepaid card space with $2 million in revenue for the first six months of 2017, it promises to take a huge step forward with the integration of bill payment, remittance, peer-to-peer lending and cryptocurrency into its prepaid card offering. Investors should take a believe-it-when-we-see-it approach. 
According to FTEC's website, Cherry Mobile will compare favorably to the online banking giants like PC Financial and Tangerine along with Mogo Financial which has had a two year head start: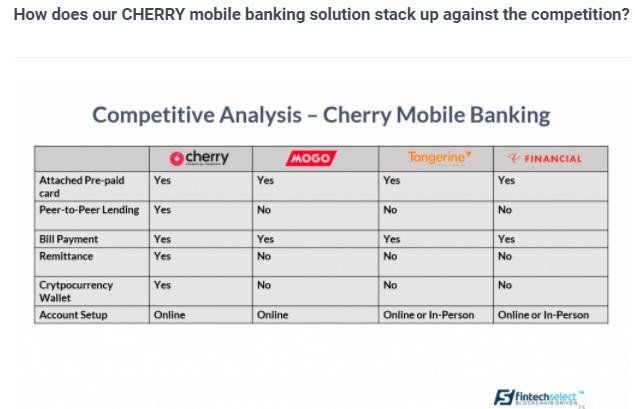 There are no details as of yet as to how or when these initiatives will go live. But it will look pretty bad if six months from now the website is still making these claims with no tangible movement. So I expect something to happen soon, preferably before the end of this year. As for the how, the cryptocurrency wallet offering should be achievable once the LOI with the dealer goes live. The Bitcoin ATM network would provide the infrastructure to use the crypto-wallet. FTEC will likely leverage its Joint Venture with First Global Data (FGD.V)(OTCPK:FGBDF) which already has an active remittance business in North America.
This offering should resonate with people who tend to be underbanked, along with foreign workers or immigrants with a lot of family back home. So I can see it gaining traction if the company markets the service and makes sure that the back-end processes run smoothly and securely. However, that will require  funds which leads me to my last point - the biggest risk factor to consider when investing in FTEC.

The biggest hurdle to climb is getting past the past
Years ago, FTEC was once making over $100 million in revenue annually mainly from its distribution network of prepaid phone cards. This is one of the drivers for future success as FTEC has demonstrated that its network can support a $100 million revenue business. Unfortunately for the company and its investors at the time, this was an excessively low margin business that was eventually snuffed out when the large mobility companies finally updated their web self-help services to include instant top-up of prepaid cards. During that time, Selectcore managed to accumulate a lot of liabilities in the form of accounts payable, a debt that it is still dealing with today.
One look at the balance sheet summarizes the nightmare, but it also shows that the company is dealing with it: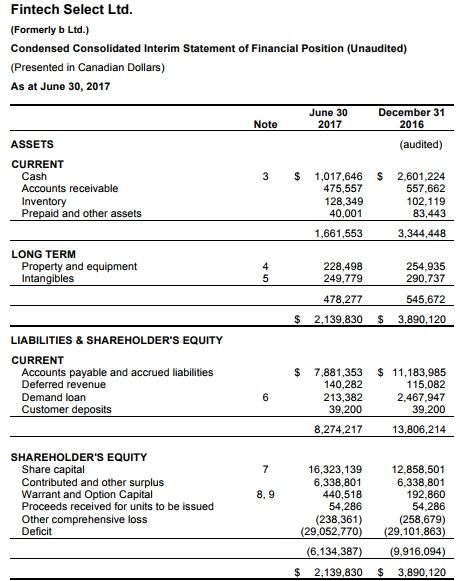 FTEC had $8.3 million in total liabilities and a shareholder's deficiency of $6.1 million as of June 30, 2017. As bad as that sounds, this is still considerably improved from the situation at the end of 2016 when there was $13.8 million in total liabilities and a $9.9 million shareholder's deficiency. This improvement came via the company negotiating a settlement of $2.7 million worth of legacy business debt for a payment of $0.5 million and renegotiating a demand loan down from $2.5 million to $0.2 million along with private placement equity offerings held in 2017.
Even with this recent success, the company is still far from being out of the woods just yet. When you have outstanding debts sitting on a balance sheet for years, eventually the creditors are going to come calling and this is exactly what has happened to FTEC recently. On April 20th, the company was served with a statement of claim by PACE Savings & Credit Union Limited, later disclosed in the MD&A for $4 million. In September, it was served with another statement of claim by Home Trust for a yet-to-be-disclosed amount, however this is also part of the remaining accounts payable.
So FTEC has up to $8 million in claims that it must and wants to settle in the near future. I don't believe these will be events that can drive the company to insolvency, but they still can have significant negative impact until dealt with. The statement of claim filed in September could be the prime driver of the weak stock price despite the moves made in the cryptocurrency business.  
FTEC has a significant ace-in-the-hole in dealing with this debt through its relationship with First Global Data and the addition of that company's CEO, Andre Itwaru, as Chairman. At this time last year, FGD's balance sheet was as much of a nightmare as FTEC's is today. The company worked hard to turn that around to the point where the balance sheet actually looks quite healthy, having gone from $6.1 million in shareholder's deficiency at the end of 2016 to $4.7 million in shareholder's equity as of June 30. This came at the expense of dilution through debt conversion and equity private placements, but the point is the company managed to get it done and the legacy debt is a thing of the past. 
I have suggested a way to help settle FTEC's debts while also limiting the impact of any dilution on the stock price. Since FGD has cash on its books and has been profitable for four of the last six quarters and overall over that time span, it has much greater capacity to pay off liabilities than FTEC. Should FTEC need the cash, FGD could give the company a convertible debenture that can be used to pay off debts and fund operations. This would benefit both companies. For FTEC, dilution would be limited as the conversion feature would be held by a friendly related party. Even if it was converted into shares, there would be an impact on total shares outstanding and market capitalization, but at least the shares wouldn't be dumped into the float. FGD would also win in the case of FTEC moving up substantially. The conversion feature of a debenture would become more valuable as FTEC shares went up, positively impacting the value of the investment on FGD's balance sheet which should in theory cause FGD's stock price to increase as well. This is just a suggestion I have laid out to management and people close to both companies. I have no idea if this would be a plan of action or even necessary as FTEC deals with its debt. I just find it to be a cushion against the potential blow from the settlement of debt. 
If FTEC does get into the business of mining cryptocurrency or creating its own coin, the possibility remains that it could raise funds to pay off lingering debts through an initial coin offering. After all, if other entities can make money out of nothing but computing power, why can't Fintech Select?
Disclosure: I am/we are long SLXXF, FGBDF.
Additional disclosure: I hold positions in securities as disclosed in this article and may make purchases or sales of these securities at any time. I have not received any compensation for this article and all opinions reflected herein are my own. The information provided herein is strictly for informational purposes only and should not be construed as a recommendation to buy or sell, or as a solicitation of an offer to buy or sell any securities. There is no guarantee that any estimate, forecast or forward looking statement presented herein will materialize and actual results may vary. Investors are encouraged to do their own research and due diligence before making any investment decision with respect to any securities discussed herein, including, but not limited to, the suitability of any transaction to their risk tolerance and investment objectives.