Peak Positioning Technologies Inc (OTCPK:PKKFF) (PKK.CN). The Mint Corporation (OTCPK:MITJF) (MIT.V). MGX Minerals Inc (OTCPK:MGXMF) (XMG.CN). When reading the names of these three random companies, you wouldn't expect them to have much in common. Peak has developed a fintech platform to facilitate small business lending in China. Mint is offering fintech solutions for migrant workers in the UAE. MGX has developed a cleantech system for wastewater management that plans to greatly reduce the expense and environmental footprint of oil companies. But these three very different businesses actually have quite a lot in common, besides me being a very, very patient shareholder in all three of them during a disappointing 2018.
1. All of them have been tremendously beat up in 2018, sitting at or near 52-week lows. But so has most of the Canadian small cap world outside of the cannabis bubble so this is not much of a common factor.
2. All of them are startup companies that have recently or are about to deploy solutions into the market and generate revenue. 
3. All three of them have approximately half-owned revenue-generating subsidiaries which brings up some interesting accounting and analytical considerations when looking at their financial statements. 
4. It is an appropriate time for all three of them to get a clear and concise message out to the investment community, including financial forecasts and clarity around the business models. 
Peak Positioning Technologies
I will start with Peak. Recent company communications into the market have made it easier for me as a writer to explain my thesis, even if the stock price has been dreadful. The company's October 2018 executive presentation includes a forecast of revenue and EBITDA out to 2021: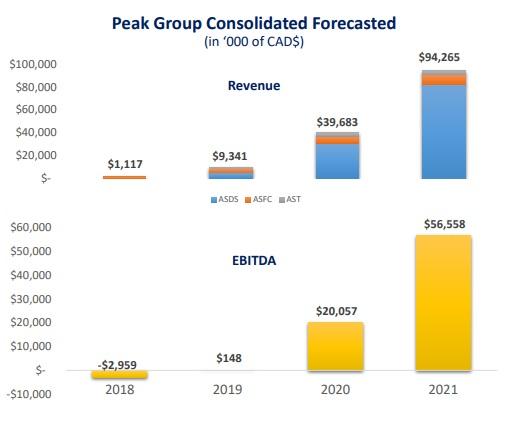 Peak expects to go from a little over $1 million in revenue and a loss of $3 million in 2018 to slightly EBITDA positive on over $9 million in revenue in 2019 to over $56 million in EBITDA on $94 million in revenue in 2021. The company has also stated in a recent FAQ/interview session that it expects revenue to exceed operating costs in Q4 2019. 
How will Peak achieve this type of revenue growth so quickly? In my opinion, these aren't even particularly aggressive numbers. Peak will leverage the Cubeler platform - which is fully licensed to it in China -  to offer fintech solutions to lenders and small businesses through three different subsidiaries:
1. Asia Synergy Financial Capital, or ASFC, which is Peak's 51% owned financial institution that leverages the Cubeler platform to loan out to small businesses at a 10% to 18% interest rate. While ASFC comprises the vast majority of Peak's revenue in 2018, by 2021 it is projected to comprise less than 10% of overall revenue. Based on accounting rules for subsidiaries in which the parent company exerts control, 100% of ASFC's revenue is recorded on the income statement and the minority interest is subtracted from net income. This is a great way to track the profitability of the division since 49% of the profits will go to the minority stakeholder each quarter.
2. Asia Synergy Technologies, or AST, is the operator of the Gold River platform which facilitates purchase order transactions for a variety of products, including auto parts and industrial finished goods. The margins are only 2% to 5% and projected revenue is expected to be $3 million in 2021. So at this point in time it's an afterthought unless Peak decides to resurrect the materials trading business it had in 2016. 
3. By far the largest source of revenue and profits will be from Asia Synergy Data Solutions, or ASDS, and that is what I will focus on.
Through ASDS' licensing deal with Cubeler, it has created the Cubeler lending hub where lenders and small businesses in China can register and are matched up like a dating service according to each other's criteria. ASDS earns a service fee representing between 1.5% and 5% of the value of every loan conducted on the platform. 
Peak projects $75 million in revenue from from the lending hub in 2021. It estimates an average service fee of 2.75%, meaning approximately $2.7 billion worth of loans must take place on the platform to reach the $75 million revenue target. While that might seem like a lot, Peak plans to get there by signing up 50 lenders who loan out an average of $54 million throughout the year. ASDS already has three lenders (one of them being ASFC) with a lending capacity of $240 million on Cubeler. 
To achieve 50 lenders on the platform by the start of 2021 means that Peak has to sign up about two new lenders a month. Cubeler already has the support of government agencies in China, for instance, Peak and the Wuxi Municipal Financial Affairs Office held a joint event to promote the Cubeler platform:
The WMFAO is the government agency responsible for all regulatory aspects of financial services institutions operating in the city of Wuxi. The agency became familiar with Cubeler during the course of its oversight of the process of the creation of the Company's Asia Synergy Financial Capital ("ASFC") subsidiary, which concluded earlier this year. The WMFAO found the concept of Cubeler to be potentially beneficial enough to other financial institutions to have approached ASDS with the idea of holding an informational and promotional event this fall to introduce the platform to the city's financial services companies.
Since Chinese government agencies have a much tighter hold on the economy in China than government agencies have in more capitalist and liberal jurisdictions, I am optimistic that the affirmation from the WMFAO will convince lenders to small businesses to join. Particularly in the climate where the Chinese government has been clamping down hard on shady lending practices and institutions. 50 lenders is a very achievable number and we should get an indication of how quickly Peak can get there over the next several months. I am patiently waiting to see press releases disclosing new lenders that have been added to the platform over time.
The other revenue component for ASDS is business intelligence data. The theory behind this is that if many small businesses join Cubeler and submit financial information, the aggregate of this information will be extremely valuable as it is not something that is currently tracked. 
Peak trades at a fully diluted market cap of around $25 million. Needless to say, if it can achieve the $56.5 million EBITDA target by 2021, the stock price will be substantially higher by that time. Investors will need the patience and risk tolerance to wait it out and see if Peak can increase revenue by nearly 100-fold in three years. The stock trades as low as it does right now because Peak has had a history of missing deadlines and reneging on forecasts after pivots in the business plan. Perhaps the market is taking the wait-and-see approach this time around with Peak. But there will come a time for a catalyst where the market truly believes in Peak's plan. That's the day the turnaround begins. 
Biggest opportunities: Getting a big bank or big business to join the Cubeler platform and/or become a strategic partner, government "coercing" financial industry towards this direction, ability to market big data that is collected on the platform, company making good on financial projections, resurrecting business with Jiang Wang.
Biggest risks: Ensuring the Cubeler platform functions as it should and is secure, controlling the default rate of ASFC's borrowers and borrowers on Cubeler in general, lack of success in adding more lenders, inability to market message to large investors in the Canadian investment community which has plagued the stock so far despite good progress, possibility of financing needed to fund Canadian expenses because current cash resources must remain in ASFC to fund Chinese operations. 
The Mint Corporation
Technically, Mint is already profitable. The company recorded an EPS of $0.25 last quarter thanks to substantial debt restructuring at a gain, which wiped off more than $40 million in debt. Mint investors are now confronted with this ridiculous stat when reviewing their company:

While this is not operating profits, it is an indication of the strong support Mint has from its main financier and largest shareholder, Gravitas Financial, to be willing to restructure debt at such a favorable rate to shareholders (swapping debt for shares valued at close to $0.90). TMX Money will be recording a positive EPS for Mint at least going into Q2 of next year. It'll be interesting to see if Mint can maintain a positive EPS due to operations and not just debt restructuring by that time. 
Looking at Mint's income statement is confusing, and not just because of the massive gain on debt reduction: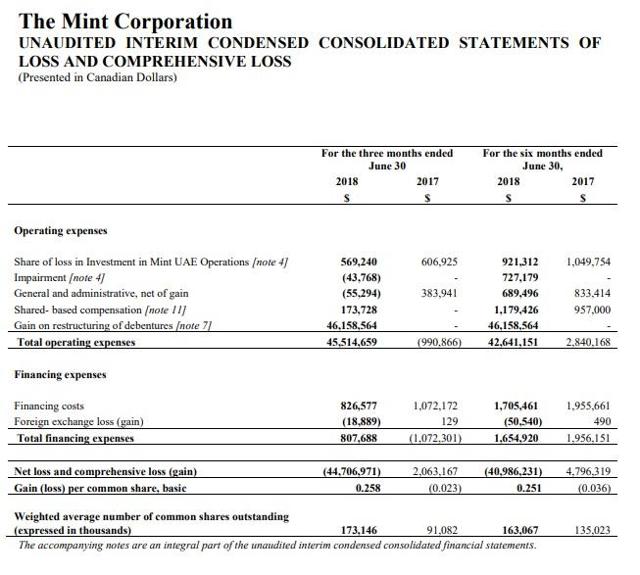 The company claims no revenue which should not be the case given that it has been processing payroll for years. The operations line item is "Share of loss in Mint UAE Operations". This is because Mint uses the equity method to account for its 51%-owned operating subsidiaries in the Middle East. In note 4 of the financial statements, investors can find a chart which is much more useful in determining the economic standing of Mint's operations: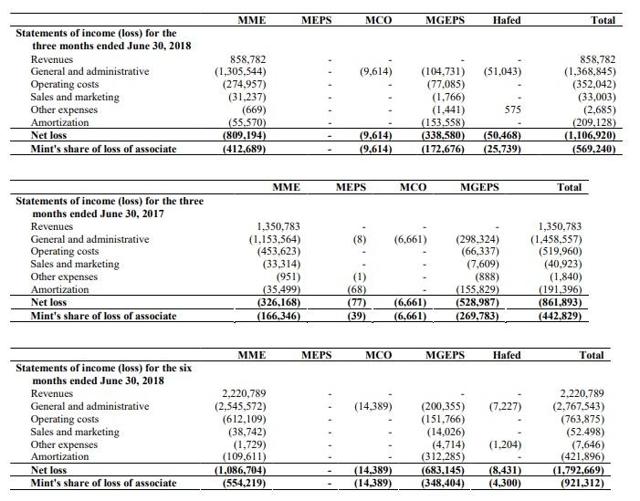 I'm not sure why Mint chooses the equity method as opposed to consolidating the financials on its income statement. As a 51% owner, it holds a majority stake. The company may want to reconsider that accounting policy if possible since data scrapers for popular financial websites would have a difficult time in accurately reflecting Mint's subsidiaries' revenue and new investors researching the company would erroneously believe that Mint is a pre-revenue startup.
Mint's subsidiaries recorded $859,000 in revenue in Q2 2018. Unfortunately, that has been trending in the wrong direction when looking at Q2 2017 or Q1 2018 revenue. But the company has been working on initiatives that will change that trend shortly. 
The following chart shows the breakdown on Mint's expected revenue per cardholder by service: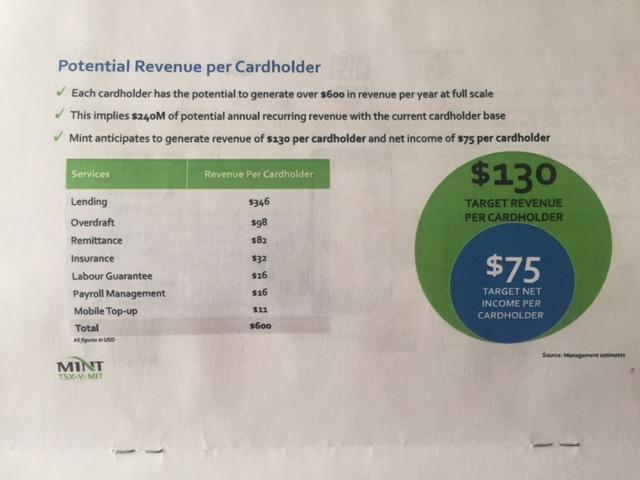 Up until now, Mint has only offered the payroll management service to its 400,000 cardholders (through their employers), an initiative that would top out at $16 per cardholder or $6.4 million in annual revenue. Mint has recently offered the mobile top-up service through its new app and has seen some encouraging results for early stage adoption:
Since the launch of the first phase two weeks ago to a select group of over 80,000 of Mint's payroll cardholders, over 25% are now actively using the Mint Mobile App. Of these initial users, about one-third have purchased the mobile top-up product through the Mint Mobile App, with Mint sharing the top-up fees with mobile phone operators. MME is actively educating its cardholder-base on the benefits of using the mobile app which is expected to further bolster these adoption rates.
The mobile top-up feature will add an average of $11 per cardholder to Mint's revenue stream, nearly doubling its current run rate assuming a high adoption rate. The company also recently acquired 100,000 more cardholders, bringing its total cardholders to 500,000. However, applying the payroll and mobile top-up services to all 500,000 cardholders is still not going to be enough to bring Mint to profitability. The big opportunity to get to profitability is through the remittance service with all other services being icing on the cake. 
For those who are unfamiliar with Mint's client base, I will briefly explain. Mint's cardholders are primarily blue collar migrant workers in the UAE who came from the South Asian region to earn a better wage. Since the employers cover the employees' basic needs while there, the workers will send a substantial portion of their pay checks home to support their families. Remittance services are in high demand by the workers but an inconvenient and costly hassle. I predict that Mint's ability to build remittance service capabilities into the app will be very popular and that uptake will be swift. In the Q2 MD&A, Mint's outlook for 2018 and beyond said:
In the process of integrating remittance capabilities into its mobile application in partnership with a licenced exchange house.  
Mint's ability to become profitable in 2019 is dependent upon how fast the company can get this service, among others, live. To illustrate, let's say the company integrates remittance services into the app in Q1 with Q2 spent on trial runs, educating employers and employees about the services and ramping up users on the app. Revenue could start pouring in by the second half of the year. Any delays or lack of success in deployment and we are looking at more of a 2020 time frame. 
The remittance assumption of $182 ARPU dwarfs the other two revenue streams and all three combine for more than $200 per cardholder. That turns into $100 million in revenue per year, $51 million of that belonging to Mint and $49 million belonging to the minority stakeholder of the UAE subsidiary, all of it being high margin revenues. 
Referring to Mint's income statement above, its burn rate is quite low. Year-to-date it has incurred $0.7 million in G&A, $1.2 million in share-based compensation and $1.7 million in financing costs. So even a small uptake in remittance or other financial services would suffice. If Mint's Middle Eastern subsidiaries earned $10 million net profits annually (likely on $15-$20 million in revenue) and Mint took half of that, that should be enough for the company to break even. $20 million in revenue among 500,000 cardholders is an average of $40 ARPU with nearly a third of that covered off by existing payroll services. There are a lot of ways that Mint can get that other two-thirds. Either by capturing a small percentage of cardholders who extensively rely on Mint's suite of financial services or getting everyone to use the services once in a while. 
Unlike Peak, I am unaware of any statement made by Mint management which estimates a potential future breakeven date. But just common sense tells me that it should happen quite soon once the financial services are deployed and cardholder/employer education takes place. It all depends on Mint's technical ability to produce a functional app. 
Biggest opportunities: Revenue can ramp up very quickly given the types of financial services that Mint hopes to offer that will be more convenient and less costly for people who use them, government regulation in UAE and other Middle East countries is very favorable for the types of services Mint can offer (payroll, insurance), Mint is in a good position to start offering a dividend fairly quickly upon ramp up of high margin revenue.
Biggest risks: Ability to roll out the remittance product and other financial services as soon as possible, a gross misunderstanding of the financial services needs of the migrant workers so that uptake isn't as high as planned, the financial health of Gravitas must remain in good standing so it can keep being a very, very patient shareholder and debt holder until Mint is profitable so it can receive ROI through interest and dividends.
MGX Minerals
MGX recently announced that its first cleantech revenue will start in mid-November. I have written a feature article on it estimating near term revenue growth and chances of profitability called "MGX Minerals: Revenue Generation Imminent, Can Profits Be Far Behind?". So I won't bother repeating here what I just wrote a couple of days ago.
One nuance that MGX investors should be aware of is that MGX actually has been generating revenue prior to this point through its minority stake in PurLucid. It had the same situation as Mint, where that revenue has been buried in the notes to the financial statements. 

PurLucid has actually recorded nearly $3 million in revenue and a net profit of $1.1 million for the first nine months of MGX's fiscal year (the numbers and titles are confusing but it clearly shows $3 million in revenue versus less than $2 million in costs, ergo net profits). Revenue and profits have been very inconsistent to-date though, and should smooth out once 24/7 wastewater processing has begun. 
At the time, XMG owned a minority stake in PurLucid, so the equity method of accounting makes sense. XMG recently crossed the 50% threshold and became a majority owner of PurLucid, so the company should be consolidating PurLucid operations in its financial reports going forward. 
Biggest opportunities: Market acceptance of PurLucid's technology by big players in multiple industries (oil and gas, renewable energy, electric vehicles), support from the government for advancing this environmentally-friendly technology, a clear and concise forecast outlining where the company is headed financially over the next 1-3 years, spinning out other assets like ZincNyx in order to maximize shareholder value. 
Biggest risks: Manufacturing its wastewater treatment units at a large scale, protecting its valuable IP, too many moving parts and inability to get a clear message out to the market on what exactly XMG is (a tech company? Mining company?) which is what has plagued the stock so far despite good business progress. 
My expectations from these three companies
I have been a very patient shareholder for months or even years on all three of these companies. I have expressed my support for them and their business through numerous blogs and articles on Seeking Alpha and elsewhere. What I would like to see from them is to act with maximizing shareholder value in mind.  
I think operationally, all three of these companies are doing quite well. But there leaves a lot to be desired about managing the investor relations side of the equation, and it shows in the poor stock prices. The Canadian small cap bear market outside of cannabis has had a lot to do with it. But a focus on clear, concise and as transparent as possible financial models and guidance would be a big step in attracting larger Canadian institutional investors and U.S. investors to help increase the stock price. The companies should be setting up milestones and achieving those targets to the best of their abilities, with the understanding that navigating tech startups can be difficult. 
These three companies are at various stages in achieving these objectives, but all three of them can work to do an even better job. I hope that this latest blog entry of mine assists them with that side of the equation while they work towards strong revenue growth and profits in 2019. 
(all monetary units expressed in this article are in Canadian dollars)