Electrameccanica Vehicles Corp. (SOLO) rose an insane amount today after Bloomberg called the company Canada's Tesla (TSLA). I have also written an article on SOLO as a speculative long thesis a few months ago and I'm happy to see it is finally bearing some fruit. 
As a rule of thumb, items comparing Canada to the United States are usually held to a one-tenth standard, signifying the approximate difference in the two country's population. By that measure, SOLO closed at a $140 million market cap and TSLA at a $53 billion market cap so I will let readers come to their own conclusion on that. What I am focusing on in this piece is the undervalued opportunity through SOLO's warrants under the symbol "SOLOW". The warrants came into existence last August as part of the financing that led to the uplisting to the NASDAQ:
VANCOUVER, Aug. 8, 2018 /PRNewswire/ - ElectraMeccanica Vehicles Corp. (OTCQB: OTCQB:ECCTF) ("Electra Meccanica" or, the "Company"), a designer and manufacturer of electric vehicles, today announced the pricing of its underwritten public offering of 2,353,000 units, with each unit consisting of one common share (each, a "Common Share") and two warrants (each, a "Warrant") each to purchase a Common Share, at an offering price of $4.25 per unit for aggregate gross proceeds of $10,000,250. No units will be issued. The Common Shares and Warrants are immediately separable from the units and will be issued separately. The Common Shares and the Warrants have been approved to list on The NASDAQ Capital Market under the symbols "SOLO" and "SOLOW", respectively, and we expect the Common Shares and the Warrants to begin trading on The Nasdaq Capital Market on August 9, 2018.

The Warrants will have an exercise price of $4.25, are exercisable immediately, and will have a term of five years from the date of issuance. Electra Meccanica has granted the underwriters a 45-day option to purchase up to 352,950 additional Common Shares and/or 705,900 additional Warrants to cover over-allotments, if any.
Key part highlighted. Here is a snapshot of SOLO and SOLOW today, and you can see that the warrants are under-the-radar when looking at the volume of each:

The warrants did well, up 172%, but comparatively underperformed the stock which rose 221%. That makes sense as the warrants were so far out of the money at the start of the day. But now that they are trading in the money, they become the cheap, leveraged upside play. 
This option pricing calculator shows the value of the warrants at this stage: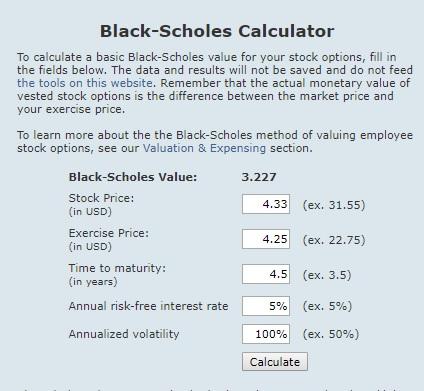 With a stock price of $4.33, warrant strike price of $4.25, 4.5 years to expiry and default inputs of 5% interest rate and 100% volatility (keeping in mind that the stock rose 220% today alone so the volatility is obviously much higher than 100%), the value of the warrants is $3.23, more than triple the $0.95 close. For those who don't understand warrants, the simplest way to explain their value is that they are worth the stock price minus the strike price plus time value. At close of today, the intrinsic value is $0.08 ($4.33 less $4.25) so the time value of having the leverage is $0.87. As I type this, SOLO is $5.65 after hours. So the intrinsic value of the warrants would be $1.40, ignoring all time value. 
Why should the warrants be worth so much? Because they allow you to put up less money on a risky stock for the same or greater upside. Using the closes of $4.33 for SOLO and $0.95 for SOLOW, to buy 10,000 shares of stock, you must put up $43,300. To buy 10,000 warrants, you only have to put up $9,500 for the same dollar-for-dollar upside once the stock trades above $5.20 (the strike price plus the cost of the warrants).
The risk with the warrants is if the stock is $4.25 or less by August 2023, they expire worthless. The "breakeven" loss of one warrant per share based on Tuesday's close would be $3.38. That is the point where a shareholder holding 10,000 shares and a warrant holder holding 10,000 warrants would both lose $9,500. Anything below that and the warrant holder effectively bought insurance against further losses. They have a higher percentage loss - 100% - and are out of the position but have capped their total dollars lost and can always buy the stock for a cheaper price at that time or avoid it altogether if it is no longer an investment in which they want to speculate. If the company was to go bankrupt, a warrant holder is only out $9,500 versus $43,300 for the shareholder.
The alternative to buying an equal amount of shares and warrants is that you could buy more warrants than shares and still risk less money. For instance, you could buy 20,000 warrants for $19,000 and have greater upside compared to the 10,000 shares and risk less than half as you would the shares. If the stock was to go to $10, the 10,000 shares would be worth $100,000 and the 20,000 warrants would be worth $115,000 ($10 price less $4.25 strike is $5.75 multiplies by 20,000 SOLOW).
The additional risk that warrant holders take compared to shareholders is if SOLO ends up trading with less volatility than expected, and it flatlines at around $4.00 for the next five years. However, chances are that a stock like this is going to be trading at less than $1.00 or greater than $10.00 by 2023. So, if the warrants sound like a good deal at $0.95, it's because they are. Even if you had to pay $2.00 for them and risk $20,000 for 10,000 warrants or $40,000 for 20,000 warrants versus $43,300 for 10,000 shares, the risk-reward dynamic of warrants versus shares would still be pretty good.
Disclosure: I am/we are long SOLOW.
Additional disclosure: I hold positions in securities as disclosed in this article and may make purchases or sales of these securities at any time. I have not received any compensation for this article and all opinions reflected herein are my own. The information provided herein is strictly for informational purposes only and should not be construed as a recommendation to buy or sell, or as a solicitation of an offer to buy or sell any securities. There is no guarantee that any estimate, forecast or forward looking statement presented herein will materialize and actual results may vary. Investors are encouraged to do their own research and due diligence before making any investment decision with respect to any securities discussed herein, including, but not limited to, the suitability of any transaction to their risk tolerance and investment objectives.