Nikola: Selling Pressure To Below $20 Will Continue As Dilution Persists
Please Note: Blog posts are not selected, edited or screened by Seeking Alpha editors.
Long/Short Equity, Growth, Momentum
Seeking Alpha Analyst Since 2012
I am a private investor based out of Toronto, Canada and I have been investing since 2003. After 8 years in Corporate Finance with a Canadian Telecom company I have decided to dedicate myself full-time to the capital markets. I write on Seeking Alpha to demonstrate my financial analysis and writing skills across a variety of industries and to take advantage of any story-based trading opportunity that may arise. My passion and greatest depth of knowledge is on Canadian small cap stocks and I consider my blog posts to be some of my best work. I am interested in any freelance opportunities that may arise outside of Seeking Alpha on Canadian or American listed stocks.
Summary
NKLA has dropped from the $70s to the $30s in the six weeks since I began writing articles warning investors of the impending selling pressure and decline in stock price.
I expect the selling pressure to continue as 23 million warrants have been forced into early expiry by August 21.
NKLA also tipped its hand that it will be raising additional funds. I believe this will be in the form of a secondary private placement at $10.
Executive Chairman and "face" of NKLA Trevor Milton has put out conflicting and confusing messages on Twitter.
I have written several bearish articles on Nikola Corporation (NKLA), calling for a $20 target by the end of July. Considering the stock has dropped from over $70 to around $30 in the six weeks since my first article, I think most people will admit that I was correct, even if the stock doesn't crash to $20 by the end of this week. However, I am more confident than ever that the stock will hit below $20 shortly as PIPE holders will continue to dump their shares.
I believe that selling will accelerate, as a series of recent SEC filings from NKLA tipped its hand regarding the impending dilution and drag on the float. 23 million warrants (NKLAW) must be redeemed by August 21, which has caused material downward pressure on the stock. However, there is also a strong suggestion that the redemption of the warrants won't be the only negative dilutive catalyst. I believe that a secondary financing will take place that will dilute existing shareholders and cause an immediate spike downward in the stock price once it's announced. The temporary pop on Monday is an ideal opportunity to reload shorts or put options and I have personally taken that opportunity.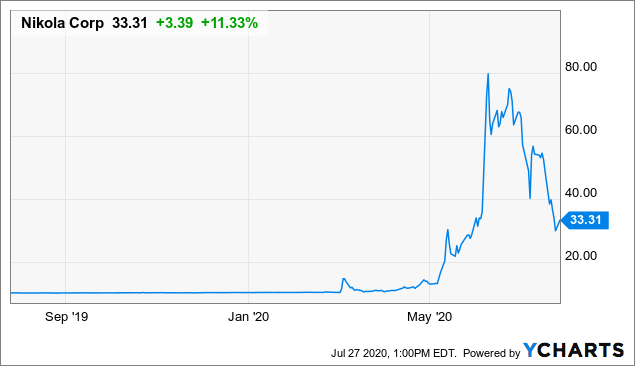 Multiple dilutive pressures will cause the stock to continue to tank 
As I predicted in my previous article, the company felt that it was in desperate need of cash and has forced the accelerated expiry of its warrants (NKLAW). This will bring in $264.5 million, which means NKLA should have somewhere between $900 million and $1 billion in cash by the end of August. However, that doesn't take NKLA very far. The company's first truck plant in Arizona which held its groundbreaking ceremony recently will reportedly cost $600 million to build. By the end of 2021, the company projects to have spent $454 million in capital expenditures and be EBITDA negative to the tune of $456 million. Assuming that operating cash outflow closely tracks EBITDA, NKLA will be essentially out of cash by the end of 2021 without further capital infusions.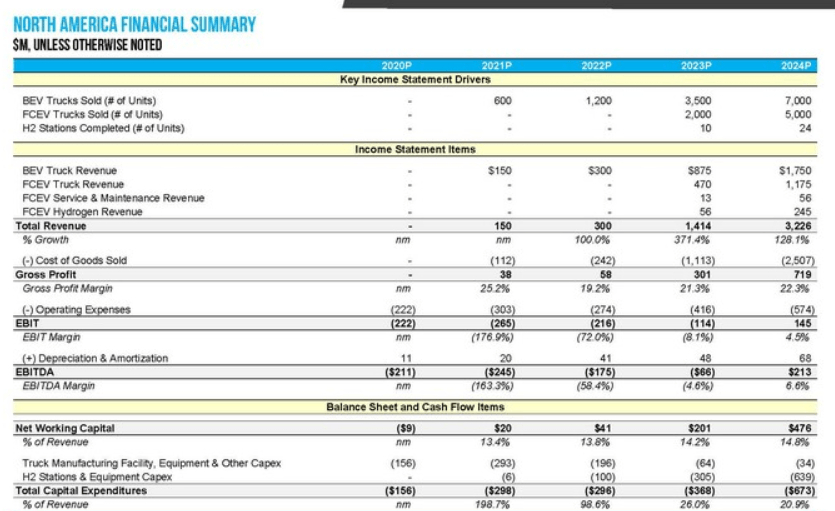 Source: NKLA's corporate presentation on April 6, 2020
The company will need to finance on the open market at some point in time. The question is when and at what price. There exists a possibility of non-dilutive financing such as debt or government grants for green vehicles, but one inconspicuous line item at the end of one of last week's SEC filings signals to me it will be a private placement and it will be soon:
Entities affiliated with Trevor R. Milton have expressed an intent to purchase shares of Common Stock in one or a series of related private transactions.
Affiliates of the Executive Chairman plan to by shares. This would be interpreted as good news to someone who didn't fully understand what this line item means. The key here is the term "private transactions". While shares can be traded off-market in a private transaction between a large buyer and seller, this is most likely referring to a secondary offering. These affiliates are not going to buy shares on the open market along with retail investors. They are going to buy new shares from the treasury privately by issuing the company a check. Transactions such as these occur at deep discounts to market prices. The fact that the company felt compelled to disclose this in an SEC filing now leads me to believe that an offering might be in the works in the near future.   
Frankly, from a business perspective, this makes a lot of sense. NKLA needs to secure as much funds as possible to extend its cash runway. With electric vehicles being hot and the stock price still doing well relative to the $10 PIPE, the company needs to move quickly to secure more funds while insider shares are still in lockup and money is still flowing to risky plays. We have no idea what the pandemic will look like this time next year. Underfunded companies could face solvency pressures. 
Trevor Milton's confusing and conflicting messages on Twitter
NKLA's Executive Chairman Trevor Milton has made it a habit of communicating with shareholders through his Twitter account @nikolatrevor. While he has blocked me for challenging him on aspects of his SEC filings, through the magic of private browsing on Firefox and Chrome, I am still able to read all of his tweets. Most of his tweets are benign cheerleading, basic updates on NKLA's business at this very early stage and complaining about trolls, impersonators and haters. But there was a series of tweets commenting about his buying and selling of NKLA stock as concerned shareholders seeing the stock price drop as I had predicted finally came to recognize the issue and started sharpening their pitchforks.  
There is this tweet commenting on an SEC filing that disclosed that the lockup period on his shares was reduced from one year to 180 days: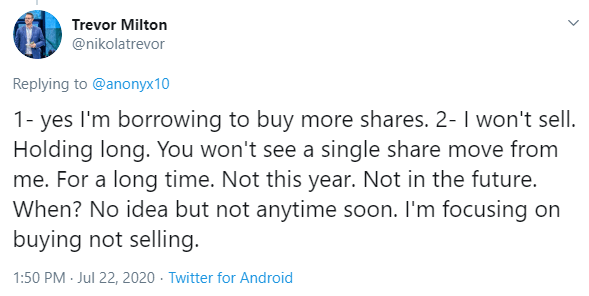 Along with this one and this one.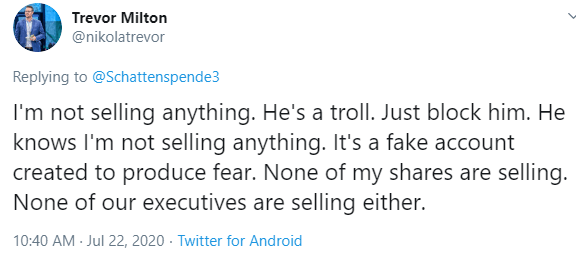 We know his claim that he hasn't been selling is a factual misstatement, based on the following note in the prospectus:
Upon the consummation of the Business Combination, New Nikola shall redeem 7,000,000 shares of VectoIQ Common Stock from M&M Residual, LLC at a purchase price of $10.00 per share, payable in immediately available funds. M&M Residual, LLC is a Nevada limited liability company that is wholly owned by Trevor R. Milton, Nikola's Chief Executive Officer.
Milton sold $70 million worth of stock at $10 through M&M Residual, a company that he owns. Whether he meant to say that going forward that he has no intent to sell and these messages were just poorly worded is up to the interpretation of each reader, including workers at the SEC. After all he is pretty bad at math so maybe he merely struggled to get the proper point across: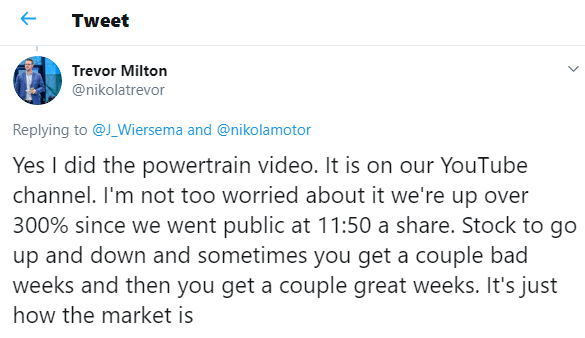 At the time of this message, NKLA was around $34. Up three times, or 200%, not 300%. You would hope that a wealthy leader of a company would not make these types of casual mistakes in public like that, but I digress. He also said the following about the selling pressure from the PIPE shares and warrants being mostly over: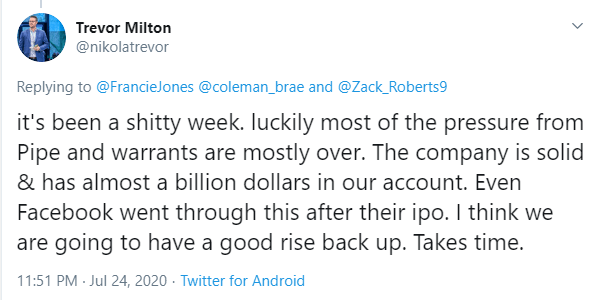 The term most is up for interpretation, however, the warrants are still actively traded. So there will be continued dilutive pressures from the warrants leading up to August 21 as some obviously still do exist. 
Whether or not Milton misspoke about his intent to not sell shares in the future versus his past history of selling NKLA shares, there is one unambiguously false statement in his tweets when he says that he hasn't sold any stock "this year". He did sell stock in 2020, on the day when the business combination was consummated. While he calls out his detractors as liars, he posts something that is factually incorrect within an hour of calling them as such. 
Milton has made repeated claims of not selling when he sold $70 million worth of stock while at the same time saying that he will be purchasing shares, when there is no evidence of this yet. He has not made any open market buys to-date. Perhaps he is waiting to purchase shares in the coming secondary along with his affiliates? 
If Milton is talking incessantly about buying shares (without the qualifying statement that he wants to buy shares on the OPEN MARKET) and affiliates are planning to buy shares in a private transaction, there likely is plans for a secondary. I believe that this secondary could come in at $10 per share. Why? Because if Milton just sold $70 million worth of shares at $10 officially at the start of June, why would he want to purchase shares back at a substantially higher price than his sell barely two months ago? Rich people don't become rich by selling low and buying high. $10 would be a realistic cap on the level where he plans to buy. Anything higher than that would be unexpected and actually would be a bullish sign. Until then, it's all just Twitter talk. 
While I have collected a lot of detractors and supporters over my strong bearish opinions on NKLA over the last several weeks, the supporters have continued to show support while the detractors have gone silent. My advice to everyone following NKLA is to avoid a long position on this stock. It still has more to drop. If you don't believe me, read my three previous articles on NKLA and tell me where I went wrong in predicting the outcome of the story. 
Put option premiums and costs to borrow have significantly declined, making buying puts or shorting a lot easier on NKLA. I continue to trade put options on NKLA. 
Analyst's Disclosure: I am/we are short NKLA.
I wrote this article myself, and it expresses my own opinions. I am not receiving compensation for it (other than from Seeking Alpha). I have no business relationship with any company whose stock is mentioned in this article.
I have a bearish position on NKLA through put options.
Seeking Alpha's Disclosure: Past performance is no guarantee of future results. No recommendation or advice is being given as to whether any investment is suitable for a particular investor. Any views or opinions expressed above may not reflect those of Seeking Alpha as a whole. Seeking Alpha is not a licensed securities dealer, broker or US investment adviser or investment bank. Our analysts are third party authors that include both professional investors and individual investors who may not be licensed or certified by any institute or regulatory body.