ESE Entertainment: The Next Wall Street Reporter Stock To Go Wild
Please Note: Blog posts are not selected, edited or screened by Seeking Alpha editors.
I can't deny the impact that Wall Street Reporter has had on my precious Peak Fintech Group Inc. (OTCPK:PKKFF) (PKK.C) investment. In addition to PKK, the firm has had a positive impact on numerous small cap Canadian and U.S. stocks including CloudMD Software & Services Inc. (OTCQX:DOCRF) (DOC.V), NexTech AR Solutions Corp. (OTCQX:NEXCF) (NTAR.C), CytoDyn Inc. (OTCQB:CYDY), and most recently on Friday, Empower Clinics Inc. (OTC:EPWCF) (CBDT.C) which rose 44% on 20 million volume on the CSE. 
Wall Street Reporter is a paid promotional firm as it clearly discloses on its Twitter account. But its adage is to promote companies with 10-100x return potential and so far from what I can tell it doesn't promote garbage. All the companies I've seen interviewed in the tech space, including PKK, have an existing or soon-to-be-deployed high revenue growth business model. The money has been way too easy in the small cap space and this ride won't last forever. But for now, I'm enjoying riding WSR's hot hand. That leads me to a pick of theirs which I think will be the next one to blast off. 
ESE Entertainment Inc. (OTCQX:ENTEF) (ESE.V)
I like the industry it's in, I like the accretive acquisition business model, I like the CEO, I like the promises of steady news flow and I like the share structure. It has as much potential to move crazy like PKK, DOC, or NTAR have as any other company. I don't want to make this very long so I'll get to the point. Anyone who has not yet seen the two WSR interviews with CEO Konrad Wasiela absolutely must do so, along with reviewing the company's financials and MD&A on SEDAR. The YouTube links are:
https://www.youtube.com/watch?v=jTVj8XE3WMA&feature=youtu.be&t=2357
https://www.youtube.com/watch?v=Gyt11ZwvB0M
ESE in an eSports company. It has reported a small 6-digit amount of revenue so far while running its own events. It follows a roll up model by acquiring businesses, similar to what companies like PKK and DOC have done in their respective industries. It recently purchased the rights to its own eSports franchise called K1CK and announced an LOI to purchase World Phoning Group Inc. and Encore Telecom Inc., or WPG.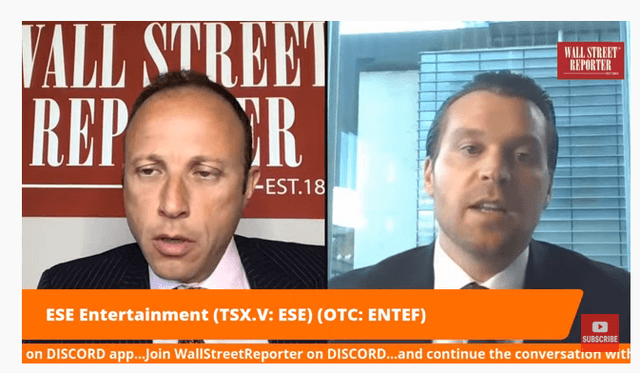 I must admit when I first saw the CEO Konrad Wasiela (pictured on the right above) I thought to myself "Okay, who is THIS fucking guy". He looks like an NPC in a Wolf of Wall Street video game. But my first impression was wrong. As soon as he opened his mouth he got straight to business. He's charismatic and well-spoken without a hint of sleeziness. I believe the words that come out of his mouth and have confidence that he can back up what he says. He already made good on that early second impression as between the first and second interview, the company announced the WPG deal, which was very well structured and accretive for ESE shareholders. As soon as more people watch these interviews and see what he has to say, I think the cash will pour in from people who have already made good money on other WSR plays. 
The CEO understands the importance and the opportunity of owning broadcast rights to eSports events and also understands the potential of growth in franchise value for K1CK. He brings up the Dallas Cowboys a lot as an example of an NFL team that has a very high franchise value that would command a lot of money for the rights to broadcast the team's games.  
Wasiela understands the capital markets side as much as the business side, looking only for accretive acquisitions. He stated that the WPG deal will be for no more than $500,000 and no more than 11 million shares vesting over a period of three years for a 51% stake in two companies that combined to do more than $12.5 million in revenue. That's a good deal for an eSports acquisition.
After the WPG deal, ESE's share count will grow from 39 million to a maximum of 50 million.  Wasiela owns 17 million shares which leaves only about 22 million shares in the float. At $0.56 the market cap is $28 million. ESE is trading around 4x of its pro forma revenue (51% of the $12.5 million plus existing non-WPG revenue), which isn't that high for an eSports company expecting to grow. How high can the stock price go? The sky's the limit under these circumstances and frothy junior market conditions. Just make sure you trade accordingly.
The biggest risk I see right now in the short term is the high probability of a capital raise. When and at what price remains to be seen but I'm pretty certain we'll see one in the next 3-6 months just by looking at the balance sheet. The longer term risks should be obvious - can ESE put a profitable and fast-growing business together? It'll take several quarters to see how that plays out but the CEO has repeatedly stated that the goal is to become a billion dollar company. If and when depends on execution on the business side and bullish sentiment on the stock side. 
Analyst's Disclosure: I am/we are long ENTEF, PKKFF-OLD.
I may hold positions in securities as disclosed in this article and may make purchases or sales of these securities at any time. All opinions reflected herein are my own. The information provided herein is strictly for informational purposes only and should not be construed as a recommendation to buy or sell, or as a solicitation of an offer to buy or sell any securities. There is no guarantee that any estimate, forecast or forward looking statement presented herein will materialize and actual results may vary. Investors are encouraged to do their own research and due diligence before making any investment decision with respect to any securities discussed herein, including, but not limited to, the suitability of any transaction to their risk tolerance and investment objectives.
Seeking Alpha's Disclosure: Past performance is no guarantee of future results. No recommendation or advice is being given as to whether any investment is suitable for a particular investor. Any views or opinions expressed above may not reflect those of Seeking Alpha as a whole. Seeking Alpha is not a licensed securities dealer, broker or US investment adviser or investment bank. Our analysts are third party authors that include both professional investors and individual investors who may not be licensed or certified by any institute or regulatory body.