Visionstate: First One To Profits, Last One To Get A Promo Boost?
Please Note: Blog posts are not selected, edited or screened by Seeking Alpha editors.
Long/Short Equity, Growth, Momentum
Seeking Alpha Analyst Since 2012
I am a private investor based out of Toronto, Canada and I have been investing since 2003. After 8 years in Corporate Finance with a Canadian Telecom company I have decided to dedicate myself full-time to the capital markets. I write on Seeking Alpha to demonstrate my financial analysis and writing skills across a variety of industries and to take advantage of any story-based trading opportunity that may arise. My passion and greatest depth of knowledge is on Canadian small cap stocks and I consider my blog posts to be some of my best work. I am interested in any freelance opportunities that may arise outside of Seeking Alpha on Canadian or American listed stocks.
In the wrestling business, there is a term called kayfabe. People in the wrestling industry swore an oath to keep up the appearance of staged fights and storylines as real to the audience. While the realness of wrestling was always brought into question since it became popular nearly 100 years ago, it wasn't until around the turn of the century when any pretense of real fighting was completely thrown out the window. WWE CEO Vince McMahon basically admitted on his own program that it was entertainment, not sport. Kayfabe was officially dead. However, with the rise of the internet, backstage politics and "shoot" interviews where wrestlers go on the record over how they really feel about their industry, wrestling is getting a sense of realness back. 
The Canadian penny stock industry is a lot like wrestling. To the child-like innocent new trader, a startup business with little to no revenue rising 1,000% in six months appears completely normal and justified. The management team has plans and great technology! The recent run in the stock price was completely organic, not manufactured at all, and is worth a buy and five year hold because they are still in "early". 
On the opposite end you get the smart asses who think they have figured it all out. They believe everything is fake and fixed due to promotion and manipulation. They are too busy being cynical to see the bigger picture. Then you have the industry insiders - management teams, promoters, capital raisers and financiers - who have an economic interest in making sure Venture kayfabe stays alive forever.
Just like how the wrestling industry is getting an aura of realness back, COVID has done much the same for the small cap space. An industry which has thrived on a cycle of months of hype, capital raises, then years of pain and burning shareholder cash is actually producing real winners. A complete piece of garbage like MedMira Inc. (OTCPK:MMIRF) (MIR.V), which has been on a slow and painful burn of shareholder funds for 20 years, actually pulled in over $700,000 in net income during its last reported quarter thanks to COVID test sales. MedMira is a microcosm of the Canadian penny stock world right now. Everything from COVID tests to eSports to gaming to online shopping is getting a boost in this new economy and there are dozens of small cap tech companies in those and related spaces which are getting legitimate boosts to their business. Add in the fact that raising capital at good valuations has never been easier, and these companies are more cashed up than ever to try to execute on their business plans and tell everyone who might be willing to invest about it. 
This is where I get to my point of this article which will be on Visionstate Corp. (OTCPK:VSSSF) (VIS.V). My bullishness on VIS has mostly to do with the coming promotion that I believe will take place on this interesting story. Buy low, sell high. The stock has stagnated while filling a private placement. Now that this is closed (subject to exchange approval) and the company is cashed up we can pay attention to the planned uses for the money:
Visionstate intends to use the proceeds from the Private Placement to invest in corporate development and awareness, general operating capital, sales and marketing, and investing into IoT platforms to apply to renewable energy projects.
Corporate development and awareness is code for promotion. IoT platforms into renewable energy projects will be the thing they will promote to the frothing, CERB-laced-bored-at-home masses. 
There's another reason why I strongly believe VIS will get a promo boost, found out through pushing back another layer of the kayfabe of the penny stock world. Everyone who has followed my work over the years knows that I am an investor and strong supporter of Peak Fintech Group Inc. (OTCPK:PKKFF) (PKK.C). During that time, I got acquainted with the company's IR firm, CHFIR, led by Cathy Hume. This is CHFIR's list of clients: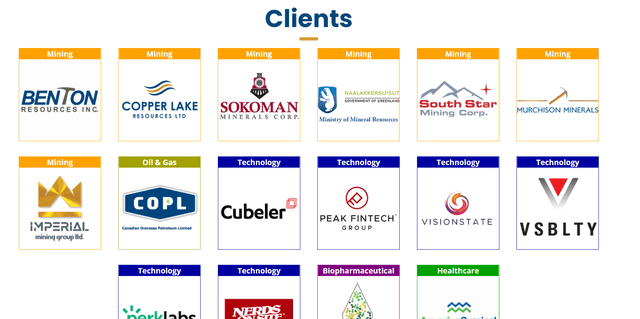 Paying particular attention to the technology companies, there is PKK. Cubeler, which is the private company created by PKK's CEO that is closely tied to PKK. VSBLTY Groupe Technologies Corp. (OTCQB:VSBGF) (VSBY.C) and Visionstate. Perk Labs Inc. (OTCQB:PKLBF) (PERK.C) and Nerds on Site Inc. (OTCQB:NOSUF) (NERD.C) are two recent additions that I'm not familiar with and may focus on at a later time. One company that is no longer on this list is Loop Insights Inc. (RACMF) (MTRX.V) but it was a client of CHFIR through 2019 and 2020. I suppose with the stock price exploding to the point it has, Loop figured it no longer needed IR services. CHFIR introduced me to Loop's management when it was trading at less than $0.10. I didn't buy in at the time, but the call did prompt me to watch them closely and I traded the stock in the $0.20's to $0.40's.
If we compare the charts of PKK, MTRX, VSBY and VIS over the past six months, we see a noticeable difference in performance: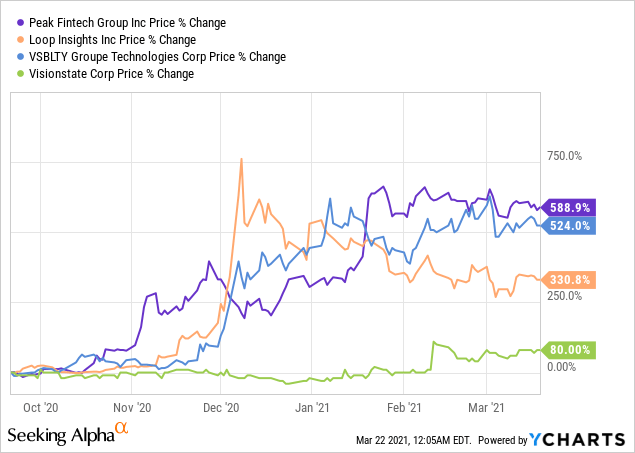 The former three stocks are all up 300-600% while VIS is up a relatively tempered 80%. In addition to being clients of CHFIR, these first three have also been featured on Wall Street Reporter, the promotion firm that has taken the penny stock world by storm by having numerous stocks rising 500% or more. It's not too hard to see where this can lead for VIS based on this obvious pattern and following the trail of contacts. 
Some cynics will complain that promotion is bad and the stocks are bound to come back down because investment interest is all manufactured. I'll use another wrestling analogy. PKK is kind of like the Bret Hart of the penny stock world. Sure, all of Hart's championships and accomplishments were scripted, but if he didn't have actual talent and an ability to draw fans, the promoters wouldn't have written him in to win. PKK's success may have been greatly aided by promoters. But if the company wasn't making legitimately good business moves, these promoters might not be so willing to stake their reputation and work a lot harder to try to push a dog. There's a big difference between promotion or IR firms like CHFIR and Wall Street Reporter versus the boiler room pump and dump organizations that send people spam either through email or actual mail. 
Applying that logic back to VIS, one thing that surprised me is that out of these four CHFIR tech companies, it's actually VIS that managed to be the first one to record a profitable quarter: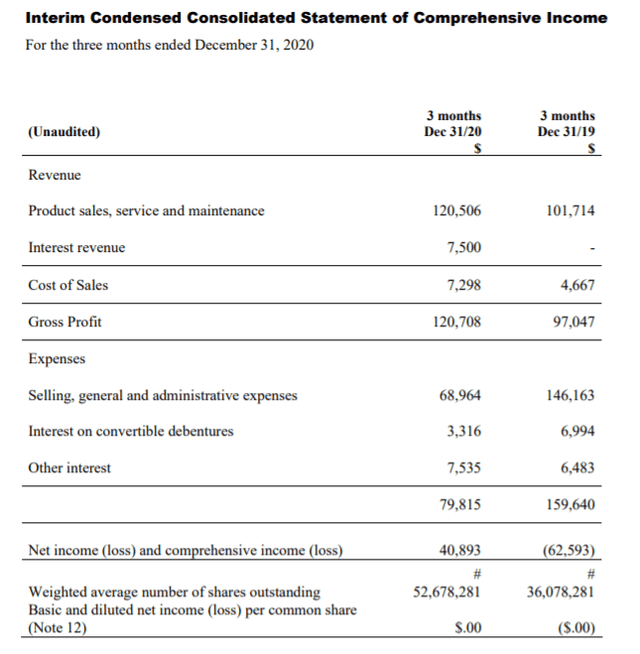 The profitability was greatly assisted by the federal government COVID payroll offset grant which helped subsidize a portion of the staffing payroll expenses. But the company did see an uptake in its WANDA sales, an IoT tracking solution for facilities management that should see an increase in demand due to COVID as malls and commercial buildings desperately try to get their foot traffic back. WANDA's development costs have already been amortized to zero which has resulted in poor operating profits in the past. However, the company expects higher margins in the near future due to increased revenues from this product which has a carrying value of zero on the books. 
The company recently released a winter newsletter that directly alludes to my investment thesis - an ability to pull in profits and a desire to sell the story to the investing public. We'll see if the plan will work, but I am making a fairly substantial near-term bet that it does. 
Analyst's Disclosure: I am/we are long VSSSF, PKKFF.
Seeking Alpha's Disclosure: Past performance is no guarantee of future results. No recommendation or advice is being given as to whether any investment is suitable for a particular investor. Any views or opinions expressed above may not reflect those of Seeking Alpha as a whole. Seeking Alpha is not a licensed securities dealer, broker or US investment adviser or investment bank. Our analysts are third party authors that include both professional investors and individual investors who may not be licensed or certified by any institute or regulatory body.