Australian companies such as Bellamy's Organic (BAL) which sell premium, organic, Australian-made infant formula have found great success not only locally but also in foreign markets such as China where parents are concerned about potential toxicity and inferior quality ingredients in local-made formulas. Australian exports of infant formula to China cannot keep up with demand at present. This has resulted in Bellamy's Australian-sold formula being resold online to Chinese buyers who are willing and able to pay up to 4 times the retail cost. In this article I will focus on understanding the potential scope of the Australian and Chinese infant formula markets as well as determining the net present value of ASX-listed darling in this sector, Bellamy's.
Understanding Infant Formula
The end-users of infant formula are babies which, for various reasons, require formula-based milk in addition to or in the absence of their mother's breast-milk. Babies are defined as infants between 0 to 12 months of age while toddlers are infants from 1 to 3 years of age. In the absence of breast milk, babies must take formula. Toddlers, on the other hand, can also take formula however it is not essential to their growth and development.
The nutritional composition of breast milk naturally changes with time as the baby grows. Infant formulas have been developed based on this fact and are typically branded and sold in 3 developmental stages:
Stage 1: 0 to 6 months
Newborn formulas are typically based on cow's milk and are whey dominant.
Babies in this age range are fed solely on breast milk or formula.
Stage 2: 6 to 12 months
These formulas are again typically based on cow's milk and are casein dominant.
In addition to breast milk or formula, babies in this age range should be introduced to solids.
Stage 3: 1 to 3 years
These formulas are again typically based on cow's milk and are more dominant in minerals (calcium, iron, and phosphorus) found in natural solid foods which toddlers should be consuming in increasingly greater proportions to milk as they grow from ages 1 to 3.
The American Academy of Pediatrics as well as the Australian National Health and Medical Research Council both agree that cow's milk should not be given to infants under the age of 12 months. However, beyond 12 months of age, pediatricians agree that there is no evidence to support that toddler formula is preferable to using cow's milk. As investors we must always ask the question of what alternative substitutes are available in the market place for the product our business is selling. My research has found that mother's breast milk is always the preferred choice over baby formula however in the absence of breast milk there are no acceptable substitutes to baby formula on the market. Cow's milk is a much cheaper and equally effective substitute to toddler formula.
Despite the above statement regarding toddler formula, Bellamy's Organic "Step 3" toddler formula has been selling out as rapidly as its "Step 1" baby formula. It appears that there is a very strong demand from parents of toddlers who are happy to continue using a trusted brand as their infant grows. This high demand has resulted in Australian retailers (supermarkets and pharmacies) of Bellamy's and other companies' formulas imposing a limit of two per customer. At the time of writing this article Bellamy's online store has all of their infant formula products listed as "temporarily unavailable" and the re-sell price of infant formula has fetched up to 4 times its Australian retail price on eBay and on Chinese e-commerce sites such as taobao.com and T-mall.
Fallout from the 2008 Chinese Milk Scandal
In 2008 China reported an estimated 300,000 infants that had fallen ill of melamine poisoning via infant formula. Six infants died from kidney damage and an estimated 54,000 babies were hospitalized. With the scandal centered on local company and market leader in the budget segment, Sanlu Group, and to a lesser degree in products from 21 other companies, the widespread nature of the incident has to this day resulted in an overwhelming preference for non-Chinese infant formulas by Chinese parents. This is great news from a marketing perspective for foreign companies trying to grow market share in China.
Chinese Market Size and Growth Prospects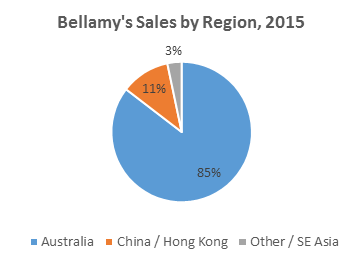 Figure 1: Bellamy's Sales by Region, 2015
The pie chart above shows that 96% of Bellamy's sales are to Australian and Chinese consumers. In Bellamy's latest Annual Report they suspected that 30 to 40 percent of its Australian sales in 2015 were resold to Chinese buyers. This grey market (enabled by websites such as eBay and taobao.com) is a clear and incredibly positive indicator of the tremendous demand within China and the growth potential.
Australia has a stable and growing market of over 300,000 new babies each year. This equates to a demographic of more than 600,000 toddlers each year. The number of newborns in Australia have been increasing by 2.2% per annum while in China the pace has been at 1.2% per annum (using the last 5 years of data). In 2015 there were approximately 17 million newborn babies in China. As of 2015 the Chinese infant formula market was estimated at approximately $18 billion USD per year and is expected to grow to $30 billion USD per year by 2017 according to consultancy Euromonitor. This significant expected increase (much greater than the 1.2% growth rate mentioned) is largely due to the Chinese government dropping their controversial, 35 year-long, one-child policy on October 31st 2015. Analysts at Bank of America Merrill Lynch state that this change in policy will equate to an additional 9.5 million babies per year for the first 5 years. While the change in policy will certainly cause an increase of newborns, other demographers do not agree that the increase will be so dramatic.
China's market for infant formula is currently about 20 times the size of Australia's and Bellamy's notes that one third of their direct sales in China (not including grey market sales from eBay or taobao.com) have been conducted through third party websites. This is positive news to investors as it means Chinese consumers are shifting to purchasing products through online stores. Online distribution models eat less into Bellamy's profit margins as compared to traditional channels such as supermarkets and pharmacies (which have higher operating overheads to recover). However, despite the massive growth potential in China's market, Bellamy's can only convert their strong brand to a profit for investors if they can rapidly increase their supply. We need to now examine if they are well set up for this growth and if the current stock price represents a realistic depiction of this growth.
Bellamy's Business Model and Financial Snapshot
While Bellamy's sells a wide range of packaged infant foods, 88% of its total sales come from their infant formula range. Ensuring that they can continue ramping up production is critical to growing sales. Bellamy's, unlike many other food producers, do not actually own the assets and factories which enable production. Rather, their business model is focused on sourcing high quality organic ingredients from Australia and from overseas, product design and testing, marketing, establishing distribution networks for their products, and building a lasting and recognizable brand. The production is taken care of by one of their partners:
Since 2006, Tatura Milk Industries Ltd (TMI), a wholly owned subsidiary of ASX-listed Bega Cheese, has been producing Bellamy's formula. In July 2015 Bellamy's signed a 6 year contract with TMI to continue producing infant formula from their Tatura factory in Victoria.
In November 2015 Bellamy's signed a 5 year contract with NZX-listed Fonterra. Production of Bellamy's formula from Fonterra's Darnum factory in Victoria is expected to begin mid-2016 and will result in a "significant lift in capacity" according to Bellamy's CEO, Laura McBain.
By Region
$000 AUD

Australia

China / Hong Kong

Other / SE Asia

Total

2015

2014

2015

2014

2015

2014

2015

2014

Sales

107,045

41,370

14,137

5,433

4,119

2,093

125,302

48,896

Profit Before Tax

11,896

1,552

417

174

669

154

12,982

1,880

Tax

3,868

614

103

-

- 63

-

3,908

614

Profit After Tax

8,028

938

314

174

732

154

9,074

1,266

Profit Before Tax to Sales Ratio

11%

4%

3%

3%

16%

7%

10%

4%

Effective Tax Rate

33%

40%

25%

0%

-9%

0%

30%

33%

Profit After Tax to Sales Ratio

7%

2%

2%

3%

18%

7%

7%

3%
Figure 2: Bellamy's Financials 2014 - 2015
As can be seen in the table above, Bellamy's managed to increase Profit After Tax by nearly 600%, up from $1.3 million AUD in 2014 to $9.1 million AUD in 2015. It must be noted that Bellamy's business model is flexible and well-poised for rapid growth as they can ramp up production by signing new deals with additional factories. Due to the steady market for infant formula and growing demand for their products it should not be surprising to hear about plans for additional capacity increases in 2017. Bellamy's has increased their market share in infant formula in Australia from 10% in 2014 to 14% in 2015. This proven success is great news for investors crunching the potential future sales figures in China.
Breastfeeding vs. Formula Rates and Trends
Before we attempt to calculate the fair value of Bellamy's it will be beneficial to get an understanding for the true scope of the market (i.e. those parents who actually purchase baby formula for their babies, as not all do). As such we must turn our attention to breastfeeding rates and trends in Australia and China. Other countries have been included in the table below for reference and to indicate that significant outliers exist across different countries and cultures.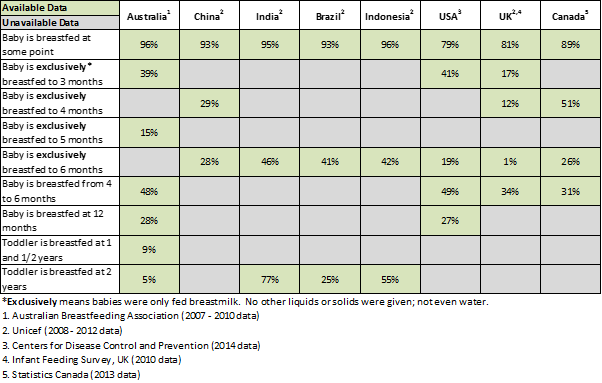 Figure 3: Breastfeeding rates around the world
The statistic of 28% for exclusive breastfeeding of babies in China up to 6 months' age is based on 2012 data and the latest data from the National Health and Family Planning Commission (2014) indicates that this has percentage has fallen to 16% in China's urban areas. According to experts, various factors have led to the declining rate in breastfeeding including lack of government support for mothers of newborns and the increased trend in women pursuing full-time careers.
Bellamy's Fair Value
The stock price of Bellamy's has increased by over 1,000% since its $1.00 IPO in August 2014. It hit a high of $16.50 per share on December 30th 2015. Because Bellamy's is undergoing such a rapid growth rate I have taken the market-share (macro) approach to estimating its future cash flows.

Figure 4: Aggressive growth in Sales results in Share Price range $14.72 - $84.51
In the above "Aggressive growth model" I have purposefully chosen Bellamy's rate of market share increase in China to be 50% per year for the first 5 years and 40% per year for the next 5 years as this results in a stock price of $14.72 which is comparable to today's levels. Under this model in 2017 Bellamy's sales to China will have more than tripled since 2015. If investors believe that Bellamy's flexible growth model of increasing production via new factories in combination with their marketing strategy in China can sustain such growth over the next decade then we can reason that Bellamy's most recent share price of $14.02 is rational. I however do not believe these growth rates to be realistic and so have created a more conservative analysis based on lower growth rates.
Figure 5: Conservative growth in Sales results in Share Price range $5.12 - $16.93
From the above "Conservative growth model" it appears that Bellamy's market price is within the bands of the analysis. This conservative model still has a very healthy yearly growth rate of market share in China of 25% for the first 5 years and 15% for the following 5 years which results in a more than doubling of sales to China in the year 2017. I believe this is a more realistic outlook to use at least until Bellamy's give more guidance in regards to how much additional production they can generate via their new partnership with Fonterra.
From Bellamy's 2015 Annual Report:
"In China, the business is focused on growing a multi-channel distribution strategy and is continuing to develop online and offline distribution of Bellamy's range, with formula as the spearhead… Looking forward beyond FY2016, we are focused on continued expansion of distribution as outlined in our strategy, and supporting this through sustainable long term arrangements with ingredients suppliers, farmers and manufacturing partners. We also look to continuing to build our innovative organic product portfolio and to achieve distribution into new markets that meet the growth objectives of the business."
Investors thinking about buying into Bellamy's right now would be better advised to wait for a better price (in the $5 to $10 range) or to wait and see whether the new production facility with Fonterra can indeed "significantly increase" supply in 2016, which is ultimately key to driving up profits after tax.
Risks vs. Opportunity
While we have established a high-growth business environment in China over the next decade, it must be reasoned that Bellamy's can only tap into this if they can successfully ramp up production. Securing additional agreements with new formula producers will ensure the problem of underproduction is mitigated. Based on Bellamy's stellar reputation and their ability to successfully market and distribute their products, securing additional production agreements should not be a significant problem.
With the China-Australia Free Trade Agreement now in place as of 20th December 2015, Bellamy's will pay significantly less or no export duties or tariffs on their China-destined exports and thus reap a higher overall profit margin on formula sold to China. While this is a fantastic new development it must be noted that it also benefits Bellamy's existing competitors as well as new entrants to the market such as Blackmores (ASX:BKL). Blackmores in particular is a concern to Bellamy's as they struck a deal with Bega Cheese in November 2015 whereby Bega's Tatura factory will produce infant formula for them in 2016 and beyond. This will inevitably eat into the maximum formula production that Bellamy's can extract from the Tatura factory and thus presents a risk until more information is released.
An additional risk lies in the capacity of governments and health organisations to influence consumer decisions. Recently the Chinese Government has been considering banning all infant formula advertising in an attempt to increase the drastically falling breastfeeding rates as discussed previously. While this is most likely to hurt budget infant formula producers, there is always the risk that China may place special restrictions on foreign companies. Chinese health authorities have in the past ordered recalls on Australasian companies; for example, in 2013 China placed a temporary Fonterra Milk Power ban. The Chinese are very sensitive to brands and a single breach of quality could spell ruin for a company in such a unique market.
Disclosure: I/we have no positions in any stocks mentioned, and no plans to initiate any positions within the next 72 hours.
I wrote this article myself, and it expresses my own opinions. I am not receiving compensation for it (other than from Seeking Alpha). I have no business relationship with any company whose stock is mentioned in this article.