Google missed its Wall Street targets Thursday, triggering a 9% slide in its shares before after-market trading. Google is Avoid/High Risk valuation in Tweaker (Image 1, below), needing higher margins and/or faster growth to earn higher valuation.
Image 1- GOOG was stretching valuation, requiring a beat to maintain price levels, not a miss!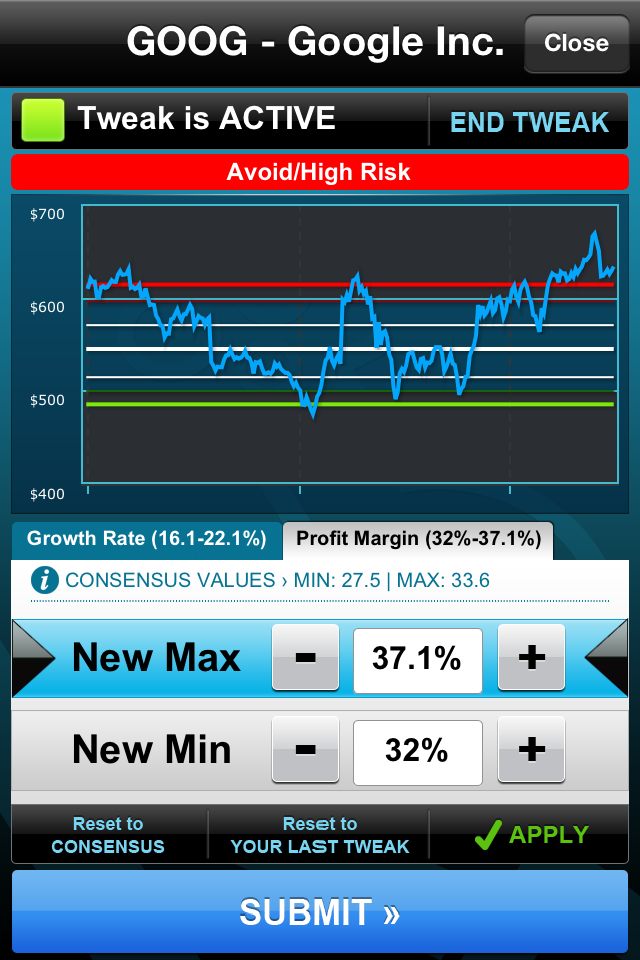 Economic pressure in Europe could have weighed Google's margins, as noted by numerous analysts.
Margins on net revenues are 42% but only 32% on gross revenues. Excluding 'certain items' as high as 37%, which is about as high as profits as a percent of revenues has ever been for any company can be, but even with that extreme level of profitability, the stock seemed overvalued unless higher margins and/or faster growth are ahead for the firm.
Expenses Offset Strong Overall Growth
Google's operating expenses outpaced revenue growth, increasing to 32% of revenue during the fourth quarter, versus 30% of revenue at this time last year. The amount of clicks on Google's search ads increased sharply during the last three months of the year, but the cost per clicks - the money that Google charges advertisers for the ads - decreased 8% from the third quarter. There was news about a 10% increase in the workforce and negative press about the difficulties with the acquisition of Motorola Mobile. GOOG has exceeded Wall Street expectations eight quarters in a row - is this a turning point in that tendency?
Growth Going Forward
Analysts project revenue will increase by 33.20% this year and another 22.80% next year. Earnings are expected to increase by 24.60% this year and an additional 19.10% next year and continue for the next five years at an annual rate of 19.10%. Those numbers are already represented in Tweaker along with Wall Street consensus growth also shown in Image 1, above. Google ad revenue continues to literally spill-off cash and sales of Android-based phones are beginning to add up. Google CEO Larry Page notes that over 250 million Android devices have been activated worldwide.
Disclosure: I have no positions in any stocks mentioned, and no plans to initiate any positions within the next 72 hours.