Unconventional oil & gas are booming, and more and more companies are getting involved in exploration and production of those assets. SeekingAlpha provides mainly high quality articles about these companies to help investors picking the most succesfull stocks (here  for instance). However, I feel that investors need to be reminded about the different plays in the US. Having the big picture of unconventional exploration and production in the US is critical to clarify and illuminate the tremendous amount of news available on the subject, which are most of the time overwhelming and a bit confusing.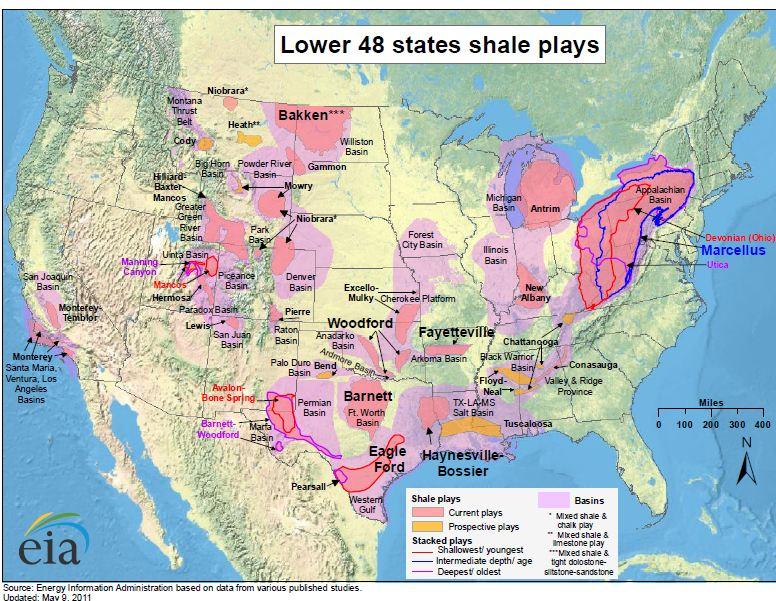 Bakken-Three Forks. Located in North Dakota, Montana and Saskatchewan (Canada), the formation occupies about 200,000 square mile. There was an initial estimate of 3 to 4 billion barrels of technically recoverable oil (USGS 2007). Recent studies tend to place the figure a lot higher, to around 20 billion barrels (http://www.nd.gov/ndic/icpress/bakken-form-06.pdf ). The shale in the basin are shallow buried (2 miles below surface) and relatively thick (140 feet). These characteristics make the Bakken an excellent candidate for horizontal drilling, explaining then why so many companies are investing in it.
Companies with large assets: OAS CLR WLL BEXP EOG


Marcellus. It is a huge gas play that extends over 600 miles through the region of New York, Pennsylvania, Easter Ohio, West Maryland and Virginia. The shale is 4,000 to 8,500 feet deep and the formation thickness is up to 1000 feet. USGS estimates the reserve to contain 262 TCF (trillion cubic feet) of recoverable gas. Iran's proved natural gas reserves are about 1000TCF or 16% of world's total reserves. I let you do the math...
Companies with large assets:   CHK RRC NFG CNX EQT  
Utica shale. The Utical shale lays a few thousand feet under the Marcellus shale. Exploration of Utica shale is recent, and has been focused mainly in Pennsylviana and Ohio. The Utica has been described to be potentially as significant as the Bakken. Natural gas estimates vary greatly, from 2 trillion cubic feet to 69 trillion cubic feet.  
Companies with large assets: CHK, APC
Barnett. The Barnett Shale is an unconventional gas play located in the Fort Worth Basin, sprawling over 5,000 square miles. The shale is over 6,000 feet deep. Home to over 10,000 wells, the Barnett Shale is currently the largest and most active shale gas play in the US. Today, the Barnett shale is estimated to hold 5TCF of gas.

Companies with large assets: CHK, DVN

Eagle Ford. The formation covers more than 2000 square miles in south Texas. The formation is 4000 to 12000 feet deep and 250 feet thick. Eagle Ford is both an oil and gas play (depending on the formation depth a particular location). The hydrocarbon reserves hosted in the Eagle Ford formation are difficult to determine because there are not enough wells and production data yet.  According to new estimations, Eagle Ford reserve may be as large as the Bakken ones.  The Eagle Ford formation has  a high carbonate content which makes the formation brittle and ideal for hydraulic fracturing.
Companies with large assets:  EOG CHK MUR APC COP

West Texas Permian. The Permian Basin is composed of a stack of both conventional and unconventional oil reservoirs, spanning 300 miles throughout West Texas and New Mexico. The basin has been produced for more than 100 years. Conventional reserves are declining, and the focus now is on unconventional oil and gas. According to USGS, 500 millions barrels of unconventional oil and 5 TCG of gas are hosted in the single Spraberry formation.  EOG, DVN, EP, AREX and BHP/HK movrf in the play by acquiring sizeable positions during the last quarters.
 Companies with large assets: EOG, DVN, EP, AREX, HK 
Mississippian shale.  Located in northern Oklahoma and southern Kansas, this oil play sprawls over 7 millions acres. The play is being by SD and CHK. The basin seems to have bright future because the shale is shallow and already fractured, making hydrocarbon production easier.

Companies with large assets: CHK, SD

Niabrara shale. Another huge new oil play, the Niabrara shale spans over New Mexico, Colorado, Utah and Wyoming. The exploration is at very early stage and started with an EOG discovery in 2009. The size of the Niabrara play is enormous and the geology complex, so it will take time to know where the play is economic.
Companies with large assets: APC, CHK, EOG

Granite Wash. Located in north Texas and South Oklahoma, Granite Wash tight sand is a deep (11000 feet)  and very thick (1500 to 3000 feet)  gas play. The production of the tight sand seems to be economical. The first year of production decline rate per well is reported to be 50% to 60%, compared with the 80% decline rate experienced with other unconventional plays.   
Companies with large assets: FST,CHK

California. According to the EIA, more than 15 billions barrels of oil are hosted in shale in the San Joaquin Basin,  Santa Maria Basin and Los Angeles Basin. 

Companies with large assets: OXY

Haynesville. Haynesville is an unconventional oil and gas shale play stretching over 9000 squares miles from East Teas to northwest Louisiana. Around 75 TCF of technically recoverable natural gas are hosted at 10,500 to 13,000 feet below the land's surface.  Petrohawk, Goodrich and Chesapeake are the largest acreage owners.

Companies with large assets: CHK, HK, GDP

Woodford. The Woodford shale is an unconventional natural gas play running through Southeastern Oklahoma. The shale depth ranges from 7,500 to 8,500 ft, with a thickness varying from 50 to 300 ft. Current reports estimate that the Woodford Shale holds around 4 trillion cubic feet of natural gas. Devon started to drill the Woodford shale in 2005. 1500 wells have been drilled since then.
Companies with large assets: DVN, CLR

New plays have recently seen some activities, such as Cody, Heath, Montana Thrust Belt… They are not reported in this article because still in the early stages of exploration. 
Disclosure:
I have no positions in any stocks mentioned, and no plans to initiate any positions within the next 72 hours.