"Trade the market you have, not the market you want" , trader saying. 
Current SP500 prices are very dangerous in my opinion. Prices are high and too rich relative to most ways to measure. Pick your indicator, and it will give you high readings and scare you away from buying this market. Moving averages, oscillators, momentum, all should be showing bad signs for the market in regard to initiating a buy position. The market at todays levels is not a good entry point. Buyers needs a reset, a discount. How can you buy here and believe there is little or no risk of a future test of lower prices?
I have included both daily and monthly charts. Careful when you look at them, the altitude makes me dizzy. 
SP500 Futures Daily Chart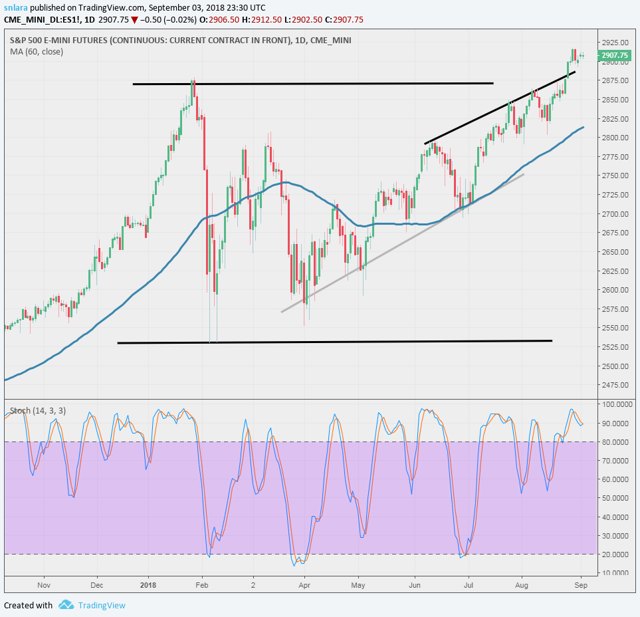 SP500 Futures Monthly Chart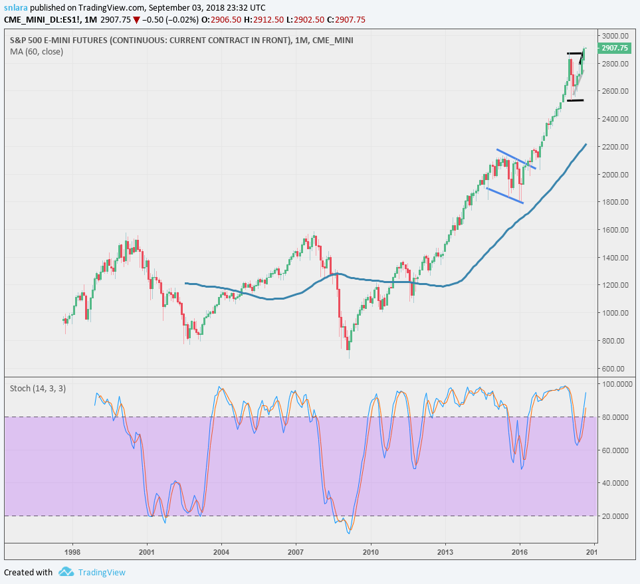 With prices at such relative high prices, you would want to believe people would be fearful, but very few are according to the VIX. Vix currently is in the low teens between 12 and 13 percent, which is only small percent higher than the 10 to 11 percent it was at the beginning of the year when the SP500 was at then record highs. The slightly higher value of VIX while the SP is at new record highs hopefully is the factoring of common sense by reasonable investors, anticipating another test of lower prices this year. This bull market since 2008/2009 has been record breaking long and strong with very much correcting and testing to the downside. I have to believe this can not continue. 
VIX SP500 Volatility Daily Chart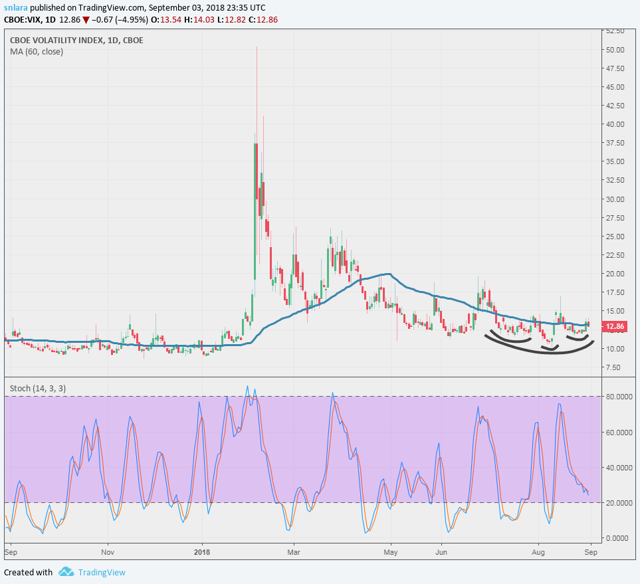 "The cure for high prices, is high prices", quote by unknown trader economist.
I believe the market is too rich and will need a discount before new buyers can step in with more capital. Price discovery will take place and prices supports will get tested. For new positions to be laid out, we need to see attractive entries. Low vix, prices above all moving averages and indicators, is not a good place to invest, its a great place to reduce a position and reduce risk. 
The sell of in the SP500 in february and April will not go away, and it will act as a magnet for a future test of support. I believe we will see those prices at 2600 to 2500 get tested and thats what we all want to see so we know the next chapter in this market. 
NOTES: These are all my opinions and not recommendations. Please speak to your financial professionals before buying or selling. Investing has financial risk of loss. 
Disclosure: I am/we are short SPY.
Additional disclosure: I am short the market using short call spreads and long put spreads.