Welcome to Elmwood Data's Research Note. This week we look at the Farrell Sentiment Index.
In this chart and analysis, we compare the S&P 500 (black line) to the American Association of Individual Investors (AAII) weekly survey. The AAII reports their respondents in three categories: bullish, bearish, and neutral. To analyze these AAII statistics, we create the "Farrell Sentiment Index," defined as the number of bulls, divided by the number of bears, plus .5x the number of neutrals = Bulls/(Bears+.5Neutrals). This data can be quite volatile week to week, so we opt to convert this formulaic data series into both 50-day (blue line) and 200-day (red line) simple moving averages, helps smooth the data and allows us to visualize the trend with more clarity.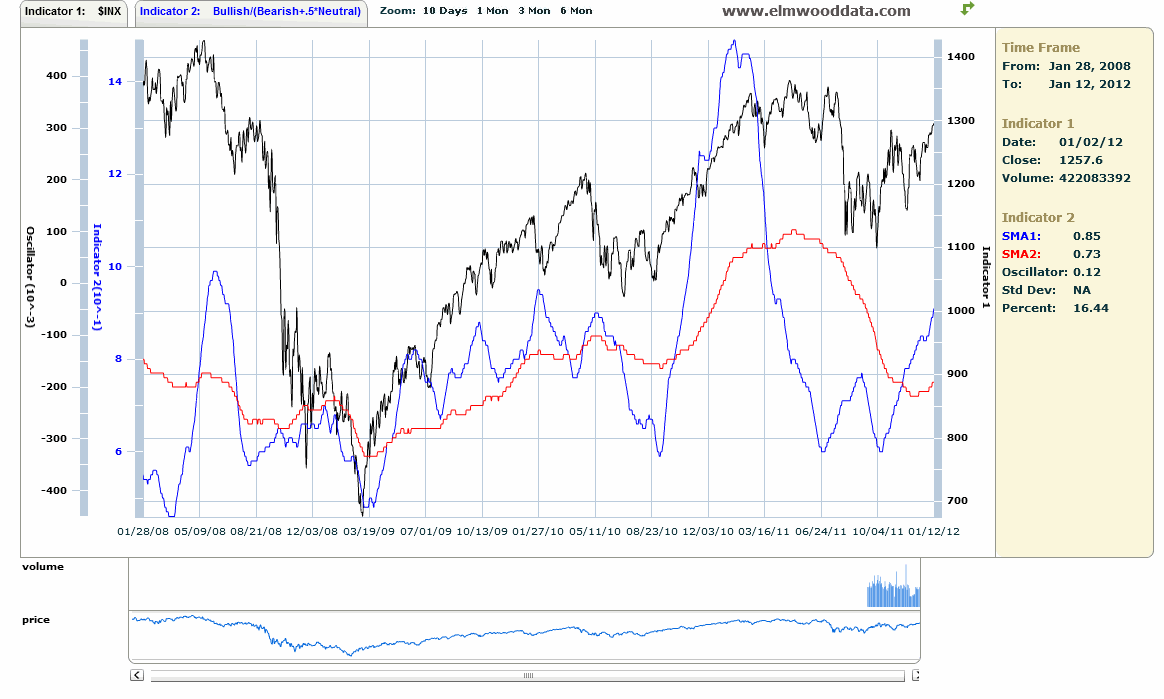 The results are astounding. When the 50-day spikes far above 200-day MA, it consistently signals at least a short-term downdraft in the stock market. Also, when the 50-day MA has a downward spike below the 200-day MA, it represents a buying opportunity. Results are equally interesting when using cross-over analysis. When the blue line runs above the red line, the S&P has an average return of +3.7%; however, when the blue line runs below the red line, the S&P as an average return of just .4%.  
Sentiment clearly is volatile over time, but it also acts as a leading indicator to the market. Large spikes up and down often signal stock market reversals and at the same time sustained trends, as when the Farrell 50-day SMA crosses above/below the 200-day SMA can act as buy and sell signals as well.
As of today, based on the position of the moving averages, it appears we are vulnerable to a correction.  Stay tuned!
To see our analytic tool in action (with complimentary dataset), please visit:
www.elmwooddata.com
Disclosure:
I have no positions in any stocks mentioned, and no plans to initiate any positions within the next 72 hours.