Welcome to Elmwood Data's Research Note. Today we are reviewing Cintas.
Cintas (NASDAQ:CTAS) is a uniform rental (~70% of rev) and sales (~10% of rev) company.   Over the years they have done an excellent job of acquiring small competitors and rolling them up into their distribution network.   The now server over 800,000 businesses and have greater than 30% market share.  Between 1992 and 2007 industry growth has averaged 4.6% versus GDP growth of 3.2%. The high growth phase for the industry, however, is largely over.  Cintas now relies more on overall job growth and cross selling other products to their existing customers.    In other words, their growth is highly dependent on the state of the U.S. economy rather than a secular shift toward uniforms.  
As Cintas has become more sensitive to the economic cycles, so has their earnings and cost structure.   Though a public stock since 1990, CTAS did not have a year with negative earnings until fiscal 2009 and 2010 when earnings fell by 12% and 21% respectively.  Input costs now also play a much larger role and should be closely monitored.   Cotton prices affect their cost of goods sold for their garment sourcing, natural gas prices are an important input for washing the uniforms, and diesel prices impact the pickup and delivery cycle.  All have been highly volatile and arguably may be future headwinds for years to come.   
As employment is so crucial to this company, we've built a model to monitor various employment metrics as they relate to the CTAS stock price.   To align Cintas' revenue breakdown with our custom data series,
we've weighted the model accordingly:  25% ISM Manufacturing
Employment
Index, and 75% ISN Non-Manufacturing
Employment
Index.  
Uniforms are no longer just a facet of the manufacturing industry, as the service sector particularly the hospitality industry has greatly adopted using uniforms in their businesses.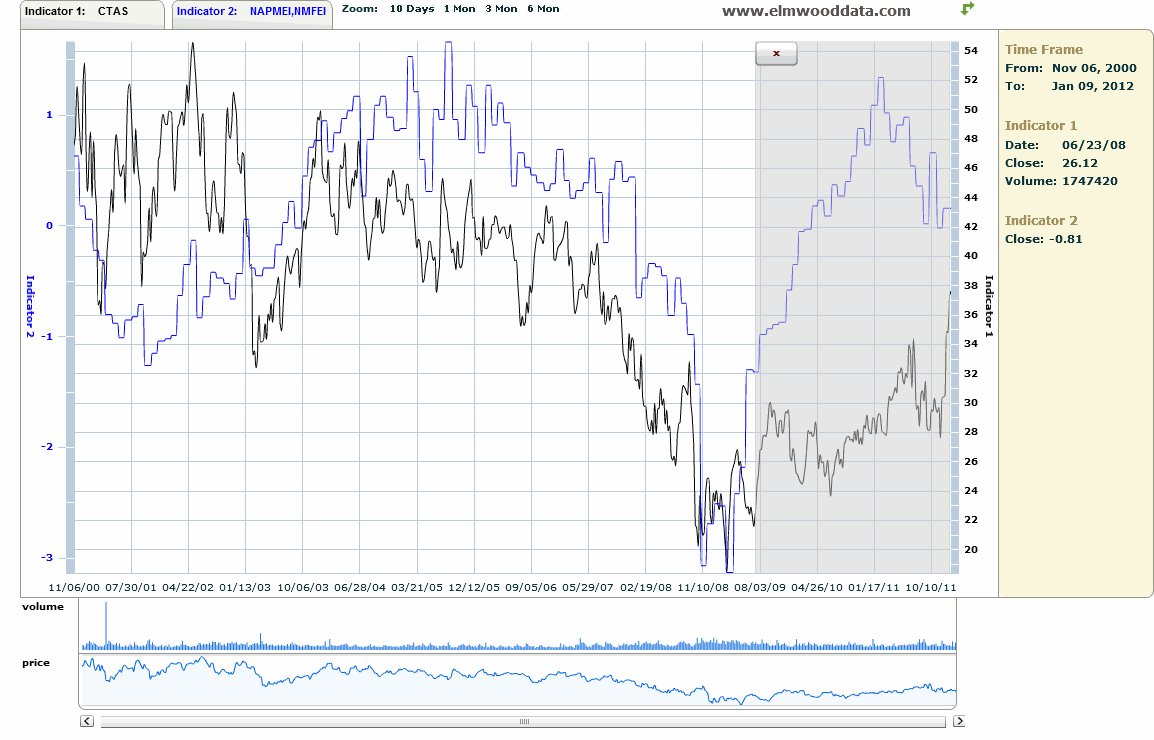 Both variables have a correlation of greater than .60 to Cintas.  Based on our lead/lag analysis, the direction of this custom model has typically led the price movement of CTAS.  If the last couple of months are any indication, the big jump in Cintas' stock price after their last earnings announcement appears to be an over-reaction.   Cintas is no longer a growth stock, rather it has taken on more cyclical characteristics and should be priced as such. Caution is warranted here.
To see our analytic tool in action (with complimentary dataset), please visit:
www.elmwooddata.com
Disclosure:
I have no positions in any stocks mentioned, and no plans to initiate any positions within the next 72 hours.