April 23, 2013 (Coinalpha.com) - Following the successful breakout above the $100 mark, Bitcoin is testing last week's highs but is encountering a new triple top resistance that must be broken decisively in order for the virtual currency to continue its recent rally.
In the last couple of weeks, Bitcoin has approached the $140 level three times and so far has not managed to breach it. Today, Bitcoin registered an intraday high at $137.68, slightly above Friday's high of $136.43.
The virtual currency now has the difficult task to challenge this new triple top resistance area for a fourth time, with the next attempt likely to come as early as tomorrow's trading session.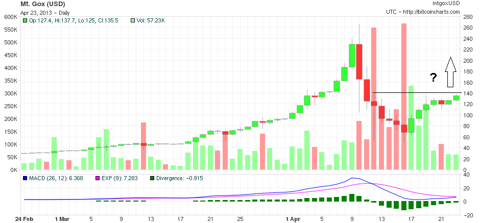 If Bitcoin manages to find the necessary strength to break above $140 on its fourth attempt, the virtual currency will maintain its bullish momentum, opening the door to a test of our next target area at $160- the approximate 50% retracement of the recent drop from $266 to $50.
On the other hand, another failure to break above the $140 triple top resistance area would be a significant sign of weakness.
Such scenario would send a warning sign that the two-week long price correction of Bitcoin's losses may be coming to an end and could give traders a green light to push the virtual currency back to support at $100.