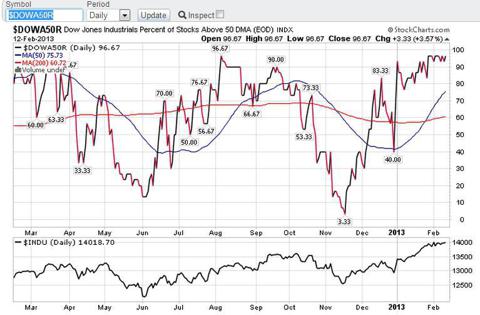 The chart above shows how high relative to the mean the market is. The Dow only has 30 stocks that represent the overall economy in the US and world because of their global reach. 96.67% are have been above their 50 day moving average. What most often happens when the markets has this condition is a "reversal to the mean" or, in other words, some sort of a price correction.
Current stock prices are definitely not at a "bottom" as seen by the chart indicator and nominal prices.
While shorting can be tempting, it can also be wildly financially risky and expensive. One strategy that might make sense to certain investors is selling option call spreads against the market that are "at the money" and higher. For those who have long positions, selling calls against positions may help act as a buffer against price drops. However, a simple stop loss order might also help reduce price risk. Any particular idea may not be suitable for all investors, so make sure you stick to any long terms strategic plan you have in place.
*This post is merely in observation to be shared for educational purposes. Not a recommendation to buy or sell. The stock market, futures, and options have financial risk of loss.
Disclosure: I have no positions in any stocks mentioned, and no plans to initiate any positions within the next 72 hours.