As you see on the chart below, in the middle of July 2012, there was almost 50% sell-off of VirnetX (NYSEMKT:VHC) shares. The major reasons are:
1. An administrative law judge sided with Apple, granting a motion to terminate the ITC investigation based on VirnetX's lack of standing.
2. Special K's article post about VirnetX called "Do you believe in fairytales, Part 1" (After brand name claim, Special K has been changed to Value Bulldog).
3. Other negative articles and posts from major media without knowing the true core of VirnetX. Sources (scroll down).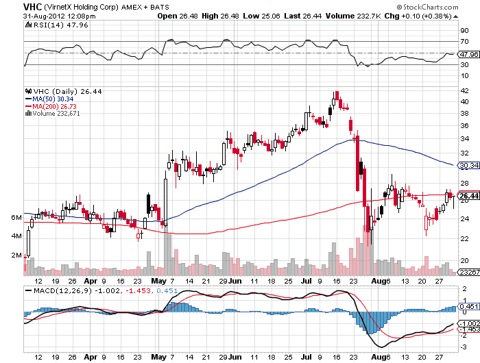 VirnetX had filed an appeal with the ITC to review the initial recommendations made by the Administrative Law Judge assigned to investigate its original complaint, filed on November 11, 2011, with the ITC against Apple Inc., to dismiss the case, based on a procedural discrepancy. The commission denied the appeal on August 20, 2012.
Now, let's spread some positivity in all that negativity going around VirnetX and the world.
1. William Blair initiated coverage on shares of VirnetX Holding Corp. They issued an outperform rating on the stock.
2. After that July 2012 sell-off, VirnetX's shares became pretty undervalued and that gives a perfect opportunity to go in.
3. VirnetX will request that ITC institute a new investigation, schedule a hearing and ultimately issue an Exclusion Order to bar importation of the accused Apple products and a Cease and Desist Order to bar further sales and other domestic commercial activities of infringing Apple products that have already been imported. The Company feels that this does not have any impact on the merits of its complaint with the ITC or the two cases pending in the Eastern District of Texas.
"We believe in merits of our case against Apple," said Kendall Larsen, VirnetX CEO and President. "We will continue to defend against any unauthorized use of our intellectual property by all means available to us under the US legal system, including in the ITC."
4. I also believe in merits of VirnetX's case against Apple and other companies that infringing on patent rights. This is United States, not Russia, where what matters is Justice no matter how big, powerful and profitable a company is.
5. The last positive thing is that all the excitement is yet to come!
I believe VirnetX will win its all cases against Apple and other companies. I am sure I will not miss that rocket ride which will break the technicals out like the great Neil Armstrong's rocket flying to some new planetary and make all analysts work hard to analyze how high new price target will be from its before recent sell-off price.
Overall, 4G communications technologies or anything related with it is a billion dollar industry. VirnetX is involved in security of 4G communications technologies. I believe that the company will have economic profits and have an impact in our daily use of 4G technologies.
About VirnetX
VirnetX Holding Corporation is an Internet security software and technology company with patented technology for secure communications including 4G LTE security. The Company's software and technology solutions, including its secure domain name registry and GABRIEL Connection Technology™, are designed to facilitate secure communications and to create a secure environment for real-time communication applications such as instant messaging, VoIP, smart phones, eReaders and video conferencing. The Company's patent portfolio includes 20 U.S. and 26 international patents and over 100 pending applications. For more information, please visit www.virnetx.com.
---------------------------
By the way and as far as I know, this is Special K and its new Lambo from recent shorting of VHC.
Once again, smile!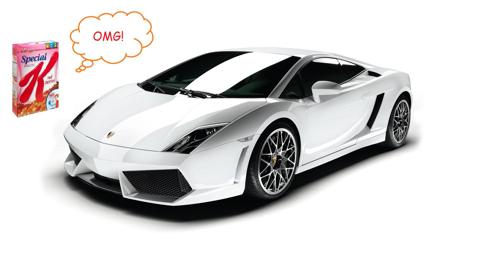 Disclosure: I am long VHC. I wrote this article myself, and it expresses my own opinions. I am not receiving compensation for it (other than from Seeking Alpha). I have no business relationship with any company whose stock is mentioned in this article.