Uranium stocks have had a terrible year and "the light at the end of the tunnel" appears no nearer than a year ago. The spot prices have been blamed for this though they reflect very little on the supply and demand of long term contracts, which make up the majority of uranium trading. The spot price decline has been blamed on several countries either selling their stocks of uranium or small independent producers not able to get contracts to supply due to the Fukushima incident. Germany has also been partially blamed for the price coming down and buyers smell blood so they have been holding back to see if they can pick up bargain basement prices.
The drop in the spot prices has trickled down to the prices of uranium exploration stocks with many "I suspect" are on the verge of collapse. This blood letting must stop soon. We saw similar situations in 2001 in the price of gold and silver and we will see it again in other commodities. When we see panic beginning in the markets such as we are seeing presently, it usually means that the bottom is near just as when we see euphoria, which usually means the top is near. The prices of uranium stocks have dropped to such a degree that large-cap and mid-cap stocks are at prices that we last saw prior to the news in 2006 of the cigar lake flooding.
For contrarians and those that believe in uranium being a good solution for the worlds energy needs and climate change, this is good news. In such situations we may choose to ignore the trend and consider fundamentals.
If one ignores the price action for a moment and concentrates on the current activities of several of the uranium mining companies, one will see a change of focus occurring where interpretations of the latest information from various press releases are indicating bullish inclines for the near future.
In the event of uranium prices beginning to move up we could possibly see a rapid escalation of uranium stock prices. This initiation would begin with major producers followed by the mid-cap stocks and finally by the explorers. Contrarian investors are always looking for signs of this to get in before the majority climb onto the gravy train. This may be followed by a lull that may throw many off the train, but I suspect that it would be temporary.
The news coming out of several large companies indicates that we may be in the process of acquisitions and mergers making the mid caps and large caps stronger taking advantage of buying out smaller companies that have done the hard work but circumstances find them between a rock and a hard place, forcing them to sell out to companies that do have a healthy financial position. Several companies currently are doing exactly that.
Currently there is one major pure play producer and dividend paying stock, which is Cameco (NYSE:CCJ), and three mid-cap producers which are Uranium one (OTC:SXRZF), Paladin Energy(OTCPK:PALAF), and Dennison Mines (NYSEMKT:DNN). These are the companies "in my opinion" whose stock prices are most likely to move first as a result of any sudden rise in demand for uranium. They are also the companies that are beginning to purchase deposits and entire companies.
There are hundreds of exploration companies out there, some of them do own respectable deposits but most of them are cash strapped currently and will most likely find it difficult to bring their defined deposits into production in the near future.
At current prices it makes sound sense to concentrate on three or four companies that are more likely to take advantage of any drop in stock prices and who have a healthy financial position and production capacity to enable them to survive in the current situation as well as expand rapidly in the future.
Cameco concentrates in the Anthabasca Basin in Canada with some interest in Australia and the USA, while Uranium one concentrates on several mines in Kazakhstan and is managing one mine in Tanzania for its major share holder; Russ Atom. Paladin is an independent company with a major mine in Namibia and Malawi, and several exploration projects in Australia. The smallest company in our list; Dennison, has a mine in Zambia, and explores in Saskatchewan (Canada), Mongolia and Zambia. Dennison has potentially a very high concentrate deposit called the Phoenix deposit on the Wheeler River project in Canada which is in partnership with Cameco.
Cameco is a pure play with several large projects including two of the highest concentration projects; The McArthur mine and Cigar lake, both of which have unusually high concentrations of uranium. High concentration deposits are desirable as they keep the costs down of mining. Presently companies that are able to keep their costs down have a greater chance of survival than those companies that may have low concentrate but large deposits. Cameco has kept its costs down, and at the same time acknowledged that this is the correct period to look for deposits to buy which would add more pounds of uranium for them in the future. They recently purchased a deposit from BHP Billiton (NYSE:BHP).
Uranium one is currently active in Kazakhstan with partnerships in several mines through its agreement with its majority shareholder Russ atom. Russ Atom is the Russian giant state owned corporation which runs Uranium mines in Russia and in Khazekstan among others through ARMZ.
Last year Uranium one sold 16% of its shares to the giant Russian company after having faced trouble with the Kazak state owned uranium company over its uranium deposits there. The partnership brought a healthy amount of cash into the company as well as shares in several active Uranium mines in Kazakhstan, which lead to Uranium one becoming a major producer having 50% in several operating mines there. This partnership with Russ atom and a healthy bank account allows Uranium one to look for other deposits in the future and get into future partnerships.
Uranium one is also going to manage Russ atom's recent acquisition of Mantra Resources in Tanzania. Currently Uranium one produces nearly 12 million pounds of Uranium. In our group this is the second largest producer. Uranium one's cash costs are very low at 14 dollars per pound allowing them to remain profitable even in the current climate with long tem contracts in place. Their production has continued to increase through out this year, with the latest figures showing a 23% increase in the third quarter and 28% in the second quarter. Companies that are facing financial issues would not be increasing production. Uranium one will be managing the Mukuju River project in Tanzania on behalf of their partners and continue to hold an option to purchase the project in the future. The company is profitable and continues to have a healthy sum after recently selling bonds in the Russian markets. Despite being profitable the decision to raise funds indicates that Uranium one will either, purchase the Tanzanian project from its partners or, alternatively may look elsewhere for another project. They may be looking at Botswana where a good sized deposit has been discovered a few years ago. Alternatively they may also consider several projects in Namibia where there are also several promising projects available.
Paladin resources remains an independent company which is actively producing uranium in Namibia, and is currently active in Malawi. A year ago Paladin managed to acquire the Michelin deposit in Nanuwat territory in Canada from Fronteer gold, which had been exploring for gold in Turkey and defining the Michelin deposit before being bought out after selling the deposit to Paladin. The Michelin deposit has approximately a hundred million pounds but, there was a moratorium that was recently lifted, providing Paladin the opportunity to move ahead and begin developing the deposit. Paladin had some further good news recently, when the Queensland government in Australia lifted the ban on Uranium mining. This will allow Paladin and its partners to develop several deposits that they have there. Recently Paladin signed an off take contract for supplying uranium to the French energy supplier EDF, taking an advance payment of US$ two hundred million for delivery in 2020. Electric generation and uranium companies are both beginning to see a looming shortage that is encouraging them to tie in uranium supplies on long term contracts. Electric generation companies have to be confident enough in the capacity of a producer to tie in a long term contract with them. This provides investors with confidence that Paladin is capable of surviving in the future.
There are some common factors in all four companies which run against the general grain of the trend of uranium stocks which, currently is downwards. They are aggressively pursuing expansion in the future by acquisition of deposits that are showing good positive results in finding Uranium and at the same time they have enough cash in hand not to sell uranium in the market at low spot prices. They are all concentrating on long term contracts. If these companies are able to thrive in such dire economic conditions, it is more than likely that they will be sector leaders in the future.
Paladin has clearly indicated that it is not willing to sell its uranium at current prices, instead this company prefers to hold onto the uranium until prices begin to rise or they may simply stop expansion.
Cameco has also indicated that it is reducing its production forcast in view of the current weakness in the price of uranium. This appears to be a cautious step and makes sound sense in the current economic climate. Surplus stock of uranium will be held until prices return to pre Fukushima levels.
All this leads us to conclude that the supply in the market will reduce over the medium term and this will be complimented by the Mega ton to mega watts program being terminated at the end of 2013. The drop in demand in 2011 was an anomaly and usually due to the nature of nuclear power, demand is constant. On the other hand supply can fluctuate. China and India continue to expand their nuclear plans and this can only add to demand. This will lead to a reversal of the current down trend.
Dennison Mines is currently in partnership with Cameco on several projects and made two interesting deals this month; They have made an arrangement with JNR resources to buy it out. and recently purchased shares of international Enexco.
Dennison owns 22.5% shares in one of the largest uranium mills which is in partnership with Cameco. Cameco also owns shares in the wheeler river project with Dennison. Dennison is the primary operative of this project. Dennison was in partnership with JNR resources on two projects which are Bell lake and Moore lake. JNR has been showing some rich uranium finds, some above 5% concentrations and Dennison would not have purchased JNR unless they were privy to some information that convinced them that there was a significant amount of Uranium on JNR's property to make it an attractive buy. Dennison has been very active in the second part of 2012; while many investors are aware of the drop in stock prices of both producers and exploration companies this fact has not escaped the companies themselves. All these companies are pure uranium companies and many of them can see that it would make sense to either sell out or partner with larger companies. Dennison earlier in the year made another arrangement with Energy fuels. It got majority share holding in Energy fuels while EF got to take over Dennison's uranium assets in the US including the operation of one of the only Uranium mills in the US. This leaves Dennison to concentrate on its Canadian, African and Mongolian assets. It continues to hold a share in one of three uranium mills in Canada, which will in a year's time begin to take in the Cigar lake material. This will bring in a significant amount of money in the coming five years as Cigar Lake gears to full production by 2018.
There is also a common contradiction in all these companies, where on the one side the price of uranium has continued to decline, which makes life difficult for the producers, but these same companies continue to buy out deposits. They appear to be very positive about uranium through their actions which indicates a great deal of confidence in the future of uranium as an energy source.
Cameco appears to work very closely with Dennison, which itself eventually may be bought out by Cameco as the Wheeler river deposit develops into possibly a significant deposit. Cameco may be shy to show interest in deposits as a fear of what occurred with Hathor resources and Rio Tinto. To avoid such a play they may let Dennison make the plays and eventually simply merge or buy out Dennison. It would be a logical move considering the two companies work very closely on several different ventures. Cameco is considering the future beyond Cigar lake, McArthur lake and the millennium deposit. Their recent purchase of the Australian deposit from BHP seems like a move to venture outside its normal borders. Cameco will probably not purchase multi mineral deposits which may leave several large deposits found by exploration companies to be looked at by companies like Rio Tinto(NYSE:RIO) and BHP Billiton which are both multi mineral mining companies.
All of the above may indicate that while the prices are reflecting a rejection of uranium stocks by investors, the larger uranium producer/cash rich companies are showing more confidence and going selectively for companies that have become weak due to the last few years of unfortunate events which have affected the stocks prices but have significant deposits in their portfolio, making them susceptible and more willing to make deals with mid-cap and large producers.
There are many exploration companies that have spent the last few years exhaustively exploring and finding great deposits which are currently viable but do not have the strength to move forward, as they are finding it difficult to raise finances in the current economic climate. In such situations stronger companies which have been spending all their time developing their own deposits but have either no interest, or have not found other deposits may take advantage and either buy out these smaller companies, or merge with them. An example of such a company is Hathor resources that was recently bought out by Rio Tinto.
For companies like Cameco it makes sense to go for smaller companies that have discovered good deposits in its neighborhood as it eventually leads to longer life for the investment it makes in infrastructure developed around its current deposits. This allows the company to significantly reduce development costs and save a great deal of time. Currently most producers are putting a hold on developing deposits but that does not account for the future and certainly contradicts their actions in the recent past on purchasing deposits versus the downward trend of the uranium sector. If a company has no confidence in their product, they will not go out to buy more raw material, rather they will begin to downsize.
Uranium was at its high of above US$ 120.00 when oil prices were hitting their highs of US$ 140.00 per barrel. Since then we saw declines in oil followed by an incline, but uranium did not follow oil after its high. It did drop to current lows, but did not rise up as the Fukushima disaster occurred but if this had not occurred we might have seen prices rise up. Despite this we do see plans for nuclear expansion beginning to take place. Initially a knee jerk reaction did occur in several countries but no viable alternative solution was forthcoming from these same countries. Germany stated that it would stop its reactors by 2030. However they did not provide a clear solution as to what would replace this gap. While some amounts of electricity may be imported from France, it is currently not possible for the French generated supply to make up for the entire shortfall that will occur. Solar and wind are alternatives but the issue of suitable land for such projects may cause German leaders to rethink their decision. In the interim they may make up the shortfall through coal and gas. If this is the case then Germany is on a path to adding a great deal of pollution not reducing it.
China has continued to expand its nuclear power program and are likely to continue to add power stations. The United Arab Emirates are also continuing their program. India is also seeking to make agreements with Australia and Canada to purchase uranium for its civil nuclear program. China and India continue to be two of the largest proponents of nuclear power. Their decision is based around an insatiable demand that continues to grow with the growth of their population and a rapidly expanding middle class. Other countries that are currently expanding their nuclear capacity are; South Korea, Saudi Arabia, Turkey, Russia, and many of the former eastern block countries.
In order to reiterate this bullish overture we should look at the price action in the leading uranium stocks.
The following charts have similar trends but there is one unique attribute that I would like to bring to your notice. None of the companies prices have dropped to as far as they did last year or 2008/2009. Crossing below last years lows will mean that we may get further downside. This is clearer on the Cameco chart. It is possible to see upside prices from here testing previous recent highs indicated by the support and resistance lines. Paladin has possibly suffered the most, as it never hits its projected production. Dennison shows a healthier chart with fewer declines. All of the charts show that prices have fallen below the 200 SMA. Often the 200SMA works as a support area for many commodities and stocks. However in these cases we are seeing significant drops below this level, showing just how over sold these stocks are. The prices of stocks are showing a decline while fundamentals above are showing a possible incline.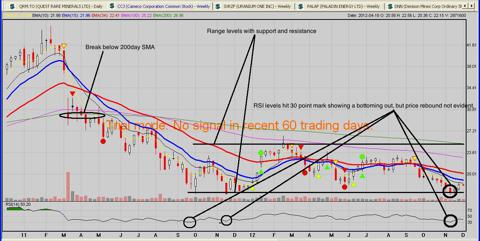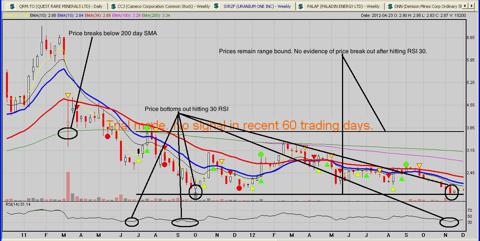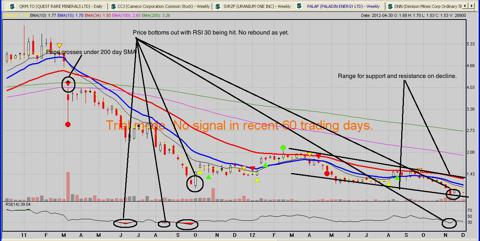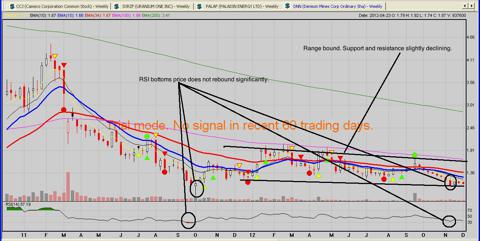 Conclusion: It is impossible to predict if these stocks have reached their all time lows, however all of the above information indicates that there is a greater probability of an incline from here rather than further declines. Confirmations will be indicated by the prices moving above the 20,50,100 days SMA. Prices of uranium stocks can accelerate rapidly and it would be prudent to keep a very close eye on the price action in the coming year as anticipation of a potential shortage looming may lead to heavy speculation. At their 2006/2007 highs, Cameco was around US$ 59.00 per share, Uranium one was at 18.50 per share, Paladin was at US$ 9.50 and Dennison was at US$16.50. At the time none of these stocks had the production or the reserves they have currently. These companies have grown while their stock prices have declined. To confirm our analysis we must wait for sharp inclines to begin before getting in.
Uranium remains unique in the market as the commodity is restricted and not open to purchase. There are very few players in the markets and even fewer producer/stocks to choose from. The main way to invest easily is through the stocks that mine the commodity and this may lead to high concentration purchasing in the very few leading stocks, which may lead to quick price hikes. Initial inclines will be initiated by contrarians, followed by trend traders and finally by institutional buyers once certain price levels are reached. We may see corrections as many investors who purchased stocks at their highs will sell out, thankful to get their initial investment back. If we can weather this correction and fundamentals remain intact, we will see inclines for over a decade, perhaps even surpassing gold's ten year old bull run. It is worth taking the risk in investing in these stocks at this time. The downside risk is limited but the upside potential is phenomenal. If the fundamentals continue to remain strong we could be seeing the beginning of a very massive bubble developing which may continue for decades to come.
Jaimin Vyas
Disclosure: I am long OTC:SXRZF, OTCPK:PALAF, DNN. I wrote this article myself, and it expresses my own opinions. I am not receiving compensation for it (other than from Seeking Alpha). I have no business relationship with any company whose stock is mentioned in this article.
Additional disclosure: I am keen on making Cameco one of my major investments in the future.