Banks of Ireland Investment Analysis


Rating: Sell
Target price: €0.052
| | | | | | | | |
| --- | --- | --- | --- | --- | --- | --- | --- |
| Market Data |   | € millions | 2010a | 2011f | 2012f | 2013f | 2014f |
| Recent price, € | 0.09 | Interest income | 5,179.0 | 4,583.2 | 4,494.6 | 5,003.6 | 5,617.3 |
| Market Cap, € mn | 3,103.6 | Operating income | -3,134.0 | -939.6 | 541.5 | 532.2 | 818.5 |
| Shares out., mn | 30,132.5 | Net Income | -614.0 | -726.2 | 463.1 | 466.1 | 708.4 |
| 52wk range, € | 0.06 - 0.67 | EPS, € | -0.16 | -0.03 | 0.01 | 0.01 | 0.02 |
Source: company reports, analyst estimates, Reuters
Summary
Bank of Ireland (BOI) is one of the largest banks in Ireland and hence bears huge importance for the country's financial system. It is no secret that financial systems of many developed nations across the world took a serious hit as a result of the US subprime mortgage meltdown and the global recession that followed, but for Ireland the impact is compounded by seriously deteriorated financial stability of the whole country. Our valuation suggests that BOI is currently overvalued.
Capitalisation
On 31 March 2011, the Central Bank announced the results of the 2011 Prudential Capital Assessment Review (NASDAQ:PCAR), requiring BOI to generate incremental equity capital of €4.2 billion. According to BOI, the capital requirement would cover:
•          the higher target capital ratios set by the Central Bank of a minimum Core tier 1 ratio of 10.5% on an ongoing basis and a Core tier 1 ratio of 6% under the adverse stress scenario;
•          a regulatory buffer of €0.5 billion;
•          the adverse stress scenario loan loss estimates.
In addition, contingent capital worth €1.0 billion was also required through the issue of a debt instrument which "under certain circumstances" would convert to equity capital.
In July, BOI carried out actions to meet the regulatory requirements. The most controversial was the "Liability Management Exercise" (LME), whereby BOI passed on a large amount of losses onto subordinated debt holders, by exchanging about €2.6 billion (nominal value) of outstanding notes for equity or cash at heavy discounts (reaching as much as 80-90%). Total equity capital contribution from this transaction was estimated at about €1.96 billion.
The second part of the capital raising activities including a rights issue of €1.91 billion (gross), fully underwritten by NPRFC. The remaining part of the €4.2 billion requirement should come from additional measures. The €1 billion contingent capital was placed with the government in the form of a 5-year Tier 2 subordinated instrument with 10% coupon, with conversion price at the higher of 30-day average price at date of conversion or €0.05 (conversion is mandatory if the Core tier 1 capital of the Group's falls below 8.25%).
BOI reports that as of 30 June 2011 (before the capital increase), its Core Tier 1, Tier 1 and Total Capital ratios were 9.5%, 9.6% and 11.0%, respectively, almost unchanged from 31 December 2010, when the ratios stood at 9.7%, 9.7% and 11.0% respectively. BOI reports that the capital increase would produce a pro forma Core tier 1 ratio of 15.4% as at 30 June 2011. Moreover, on July 15, BOI announced that it passed the 2011 European Banking Authority ("EBA") Stress Test. The test allowed for the assumption of BOI's balance sheet downsizing (normally a constant balance sheet would be considered) as an exemption and was based on full implementation of the €4.2 billion capital increase. The test assessed that in the worst case scenario, BOI's Core Tier 1 ratio would be 7.1% at 31 December 2012, 2.1 percentage points above the 5% threshold (although a new Europe-wide stress test could consider a 7% threshold).
As a result of the capital raising activities, government's stake in BOI rose significantly. However, an agreement was reached with a group of shareholders to sell to them part of government's stake, so that its total holding would be reduced to 15%. At the same time, these shareholders would hold approximately 35% of BOI's capital (subject to certain approvals).
Deleveraging
The 2011 PCAR incorporates a deleveraging plan (PLAR) which envisages a loan to deposit ratio of less than 122.5% by 31 December 2013 and below 120% by the end of 2014. This ratio would be significantly lower than 175% registered at the end of 2010, and is planned to be achieved by winding down or disposing of a portion of the company's loan portfolio over the next three years. 'Downsizing' is probably a better term to describe the planned action. Portfolio reductions envisage mainly getting rid of approximately €30 billion of BOI's non-core loan portfolios (such as UK Intermediary sourced mortgages; selected international niche businesses; certain international commercial investment property portfolios; etc.).


Impairments
In H1-2011, BOI registered lower impairments on loans and advances to customers than in H1-2010: €842 million versus €1,082 million, reflecting "Lower impairment charges on the Non–property SME and corporate, Property and construction and Consumer portfolios [...] partly offset by higher impairment charges on Residential mortgages in Ireland", although the impairment rate (as percentage of average loans during the period) remained the same as in the previous six months. BOI maintains its expectations that the impairment charges on the loans and advances to customers (excluding assets sold or held for sale to NAMA) will continue declining, and has a goal to reach impairments of 55bps – 65bps in 2014 (as percentage of average annual loan book balance).
Credit ratings downgrades
Since the end of 2010, BOI has had its credit ratings downgraded further.
| | | | |
| --- | --- | --- | --- |
| BOI - Senior Debt | 31 December 2010 | 5 April 2011 | 18 August 2011 |
| Standard & Poor's | BBB+ (Creditwatch Negative) | BB+ (Creditwatch Negative) | BB+ (outlook Negative) |
| Moody's | Baa2 (Negative) | Ba1 (Review for possible downgrade) | Ba2 (outlook Negative) |
| Fitch | BBB (Stable) | BBB (Ratings watch Negative) | BBB (outlook Negative) |
| DBRS | A (High) (Negative Trend) | BBB (High) (Negative Trend) | BBB (high) (outlook Negative) |
Cost reductions                                                                                         
BOI continues implementing cost-cutting measures in response to the weak economic environment and the planned downsizing. Its operating costs declined by 7.2% year-on-year in H1-2011 and average staff numbers were down by about 350 between H1-2010 and H1-2011 (2.4% reduction). BOI continues looking for additional savings from the renegotiation of outsourcing contracts and in other areas.
Valuation
Our valuation is based on two DCF techniques. Relative valuation is not appropriate in BOI's case: sales-based metrics like P/S are impossible to use because there is no disclosure about the nature of sales for peers on Reuters where we obtain these consensus estimates (i.e. is it gross interest income, net interest income, interest revenues plus non-interest revenues?); EBITDA-based metrics are also out of the question because of the unique nature of financial sector businesses (i.e. little depreciation, interest being part of operating income and costs). Ireland doesn't have many publicly traded banks, while non-Irish banks are undoubtedly operating in a very different environment at the moment, given Ireland's significant economic troubles compared to its neighbour – the UK (the most comparable market in terms of peer banks).
We forecast that BOI will return to profitability in 2012 as impairments should decline further. We expect the company's operations to shrink as a result of the deleveraging and downsizing efforts, but to eventually return to growth as the economy recovers.
BOI performance forecast: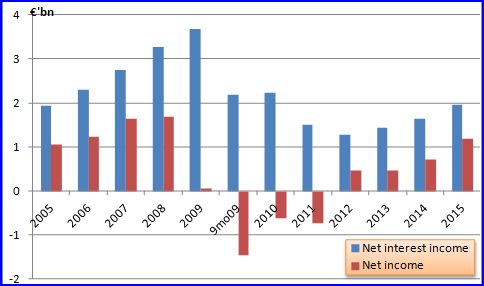 Note: financial periods prior to 9mo09 ended on March 31.
Source: company reports, analyst estimates.

DCF valuation
Since financial institutions are very different from other types of businesses, our DCF valuation will be based on two techniques: the Dividend Discount Model (NYSEARCA:DDM) and the Excess Return Valuation, as described by A.Damodaran in his book Investment Valuation.
Dividend Discount Model
Historically, BOI regularly paid a dividend, which averaged at 35.9% of EPS for ordinary shareholders between FY2005-FY2008 (old year end). Since BOI's EU restructuring plan requires that the company does not pay any dividends "until the earlier of (i) 30
September 2012; or (ii) 2009 Preference Stock is redeemed or no longer owned by the State through the NPRFC or otherwise", we assumed that the bank will resume paying dividends in 2013 at a payout ratio of 12%, returning to the historical rate in 2015. We assumed that the payout ratio will remain at this level indefinitely and that net income growth will slow down to 2% by 2020 (the assumed long-term growth rate).
Discounting the expected dividends by the estimated cost of equity of 26.9% results in a price of €0.038 per share (assuming the issuance of approximately 11.5 billion new shares to accommodate the potential conversion of €1 billion contingent capital and assuming the eventual conversion into common shares of the remaining 1.8 billion of preferred shares held by the Irish government.
The sensitivity of the DDM-derived target price to the cost of equity and terminal growth rate assumptions is shown below:
 

Cost of equity

LT Growth ↓

24.9%

26.9%

28.9%

1.0%

0.044

0.037

0.032

2.0%

0.044

0.038

0.032

3.0%

0.045

0.039

0.033
Source: analyst estimates.
Excess Return Valuation
In such a model, the value of a firm can be written as the sum of capital invested currently in the firm and the present value of excess returns that the firm expects to make in the future: Value of Equity = Equity Capital invested currently + Present Value of Expected Excess Returns to Equity investors.
The model relies on largely the same estimates as DDM: net income, dividend payout, cost of equity. We applied the same assumptions as in the DDM approach above. This approach yielded a higher valuation: €0.067 per share after dilution.
Final valuation
Taking the average of the two valuations, we obtain €0.052 per share – 49% below the current market price. If we assume that dilution from the €1 billion contingent capital will not be realised, then the final price target is estimated at €0.068 per share – 34% below the current market price.

Quant Analysis Dec 2011
The Solas Trend Finder is currently Neutral on Bank of Ireland.
Note: Chart denoted in Sterling. £0.08p  GBP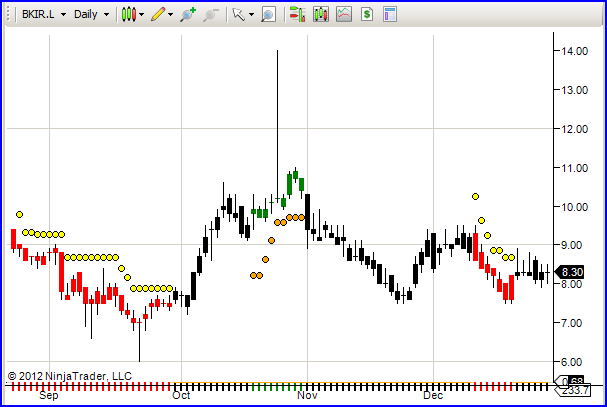 About the Solas Trend Finder
The Solas Trend Finder Software (Equities & Etfs) is designed for traders and investors who want to take advantage of short, medium and longer term trends across multiple timeframes on Global Equities and Exchange Traded Funds (Etfs).
The Solas Trend Finder analyses price action on an individual price bar basis, identifies statistically significant levels in price action and generates buy and sell signals at optimum price levels.
For more information on our systematic trading models please visit
http://solastrader.com/solas-trend-finder/trend-finder-equities-etfs/
About SolasTrader.com
Disclosure:
I have no positions in any stocks mentioned, and no plans to initiate any positions within the next 72 hours.