What follows is an article I started to write about Canadian equities/currency/economy/housing being in trouble, it got huge and I'm too busy to finish it but I wanted to share all the links and quotes if anyone is interested:
Hug a maple tree everyone! Because as trees go they are loaded and can lend money to your American National oak. You see on a per capita basis, temporarily (I will argue), and for the first time ever: Canadians are richer than Americans.
No, the price of geese and maple syrup did not rise dramatically. But housing prices did: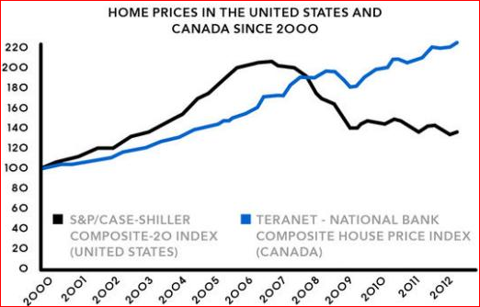 The just released July Purchasing Manager's Index is bad putrid across the board: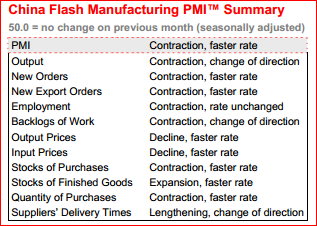 If the ruinous Chinese hard landing does in fact play out - well, it may have already started.
http://www.dailyfx.com/forex/market_alert/2012/08/10/Canadian_Dollar_Sells-off_Following_Big_Miss_on_July_Labor_Market_Report.html
The Canadian labor market appears weaker than most expect, at least according to the July reading. The Canadian Unemployment Rate inched higher to 7.3% from 7.2% as the economy shed some -30.4K jobs, well-below the +6.0K consensus forecast, according to a Bloomberg News survey. This is approximately a 4 standard deviation miss and represents a loss of nearly five times the expected gains.
http://www.businessweek.com/news/2012-08-22/carney-says-canada-may-need-higher-interest-rates
Bank of Canada Governor Mark Carney reiterated that higher borrowing costs "may become appropriate" if the country's domestic-demand driven expansion continues, even amid signs of slowing growth this quarter...While cheap borrowing costs have supported growth in domestic demand, they have also fueled household debt and housing purchases that have led to "increasing signs of overbuilding and overvaluation" in some segments, Carney said in his speech.
weak chinese manufacturing data
http://www.usnews.com/opinion/articles/2009/07/21/poll-70-percent-of-american-consumers-in-debt
http://www.economist.com/node/21557731?zid=295&ah=0bca374e65f2354d553956ea65f756e0
CANADA'S reputation for financial regulation is starry. Its banks got through the crisis unscathed. According to Moody's, a ratings agency, Royal Bank of Canada sits alongside HSBC and JPMorgan Chase in the top tier of global banks. And Canadian policymakers are old hands at pulling "macroprudential" levers of the sort now in vogue among rich-world central banks....Repeated efforts by policymakers to take the heat out of housing have not had a noticeable effect. So on June 21st Jim Flaherty, the finance minister, had another go, his fourth in four years. Some of the new measures were cosmetic. Buyers of homes worth more than $1m have been able to get mortgage-default insurance from CMHC with a downpayment of only 5%. In practice, it is hard to find buyers in this bracket who do not have lots of equity in their homes. But after July 9th mortgages for homes of this value will not be eligible for CMHC coverage.

Other measures have more teeth. The maximum amortisation period for a mortgage will now be 25 years, down from 30. That should hurt demand: last year about 40% of new mortgages were for terms longer than that. Refinancing a home will be allowed only up to 80% of its value, down from 85%. Homebuyers will have to demonstrate their housing costs are no more than 39% of their gross household income. On top of Mr Flaherty's measures, the Office of the Superintendent of Financial Institutions, Canada's banking regulator, slapped a loan-to-value limit of 65% on borrowing against home equity.

Craig Alexander, the chief economist for TD Financial Group, estimates all this will be the equivalent of about a 1% rise in mortgage rates for most homebuyers. He believes that will produce a slow unwinding of the housing market. If he is right, and Mr Flaherty's various interventions avoid the collateral damage that would be caused by an actual interest-rate rise, Canada's admirers will have another thing to swoon over
Now in retrospect it does look like countries such as Spain and Ireland whose house price booms were linked to massive capital inflows and a lack of monetary sovereignty should have done something different. In particular, it seems that they should have been running giant fiscal surpluses to build up a war chest that would have let them do stimulative fiscal policy in the event of a crash. But can you imagine this actually happening?

Recall that in the United States, the emergence of a modest fiscal surplus in 1999-2000 prompted immediate political pressure for massive tax cuts. George W. Bush argued that the surplus was evidence that the government was overtaxing the public. Alan Greenspan argued that if the surpluses were left in place, they would lead to socialism. A non-indebted government, after all, is a government that's buying up the means of production.
http://www.theglobeandmail.com/report-on-business/economy/economy-lab/why-have-home-prices-soared-its-fundamental/article4437090/
just before the U.S. housing bubble burst the U.S. S&P Case-Shiller Composite-20 Index of housing prices had doubled from its Dec. 31, 1999 value. A Canadian equivalent, the Teranet-National Bank Composite House Price Index has more than doubled since 1999
http://www.cicsnews.com/?p=1192
The real cause of the switch in household net worth standings is much more mundane: a drop in housing prices in the US. As the National Post's Andrew Coyne notes, home prices declined by nearly one-third in the US from 2006, when the US was ahead in household net worth, to 2011, when the wealth comparison used in the report was done, while they remained steady in Canada, and this accounts for almost all of the drop in the average household net worth in the US relative to that in Canada. A commodity boom driving up the value of the Canadian dollar also helped Canada's relative position.
http://www.canadianbusiness.com/article/96145--tsx-down-retail-sales-add-to-economic-concerns-fed-keeps-stimulus-hopes-alive
Statistics Canada reported that retail sales fell 0.4 per cent, against expectations of a 0.1 per cent rise.
Chinese car maker Geely Automobile Holdings Ltd. said first-half profit was flat and trading conditions in the world's biggest auto market in the second half of 2012 "are expected to be more challenging."
Royal Bank of Canada (NYSE:USA)(NYSE:RY)
As a practical matter, central banks tend not to be independent of political influence, especially from the financial sector. However it is reasonable to ask why the central bank is not doing what it is supposed to do. Suppose the Bank of Canada announced a 1 percentage point increase in the overnight money rate and that it would continue to increase interest rates until house prices fell by 30 percent, or whatever amount it considered appropriate.
It is difficult to believe that this policy would not quickly deflate the bubble. This may not be pretty (if the bank had been awake it would have done this 5 years ago), but it would be better than letting the bubble just continue to grow. And what is the Bank doing that is more important, targeting 2.0 percent inflation?
Both BHP and Vale have recently shuttered potash projects
OH YEAH. Europe.
http://www.huffingtonpost.ca/2012/07/30/canadian-real-estate-bubble_n_1719331.html?utm_hp_ref=canada-business
The New York debt-rating firm revised its outlook downward on Royal Bank of Canada , Toronto-Dominion Bank (TSX:TD), Bank of Nova Scotia (TSX:BNS), National Bank of Canada (TSX:NA), Laurentian Bank of Canada (TSX:LB), Home Capital Group Inc. (TSX:HCG) and Central 1 Credit Union.

"A prolonged run-up in housing prices and consumer indebtedness in Canada is in our view contributing to growing imbalances and Canada's vulnerability to the generally weak global economy, applying negative pressure on economic risk for banks," S&P said Friday.
http://www2.macleans.ca/2012/08/22/why-canadian-homeowners-are-now-likely-just-as-vulnerable-as-americans-were/
1) First of all, unlike Canadians, Americans can deduct the interest they pay on their mortgage from their taxes, which explains why Americans have traditionally carried more real estate debt than us. The same mortgage is simply more affordable in the U.S. than in Canada based on a similar income.

2) A standard U.S. mortgage term is 30 years while in Canada it is five years, meaning U.S. homeowners are much more sheltered from the risk of rising interest rates. This also represents a massive incentive for U.S. homeowners to take on larger mortgages and not pay them off as quickly as Canadians, who must be continually cognizant that interest rates and hence payments may reset substantially higher at their next mortgage renewal.

3) Finally, despite the fact that housing prices in Canada have been climbing for the past 10 years or so, Canadians' home equity is lower today than in was in 2000. This speaks quite strongly to how down payments have deteriorated over time and home equity withdrawals via refinancing have spiked.

4) The calculations both Statistics Canada and the Federal Reserve use to measure average equity include households with no mortgage as well. This becomes problematic when one tries to compare Canada to the U.S. because significantly more Canadian households own their homes outright than Americans do. According to the Canadian Association of Accredited Mortgage Professionals, an estimated 39.2 per cent of Canadian have no mortgage at all. According to the 2007 American Community Survey, by contrast, only 31.6 per cent of Americans own their homes mortgage-free. All this means is that Canada's equity numbers are skewed upwards, masking the potential vulnerability of Canadian owners with a mortgage sitting at the bottom of the credit pyramid. If we could strip out households with no mortgage from both Canada and U.S. estimates, I suspect we would find that the equity position of Canadian households looks remarkably similar to that of the U.S. at peak. And it's this group, after all, that we are most concerned with.