Here is an update on my point of view on 4 stocks that I've written about and 1 new one, all of which I am thong.
$GTXI #layoffs #CFOsplit #nochange
GTXI laid off most of its workforce and had collective belt tightening for its executives with pay reductions. A commenter called it "survival mode" and others have suggested that this is a good thing, and that is how I see it. GTXI is still a high-risk/high-reward play, and the recent developments are not bearish in my opinion.
"But the CFO left!"
The science guys and other execs stayed, I think the CFO may just not have wanted to take a pay cut on a company that is not a sure thing, lots of CFOs seem like conservative types.
$MNKD #EnthusiasticCFO #goodnewsisgoodnews
Sticking with the conservative CFOs theme - MannKind CFO Matthew Pfeffer bothered me a little with his tone in the past. Specifically there were several times during conference calls and presentations in the past year where he seemed to make a point to distance himself from the party line, like saying "I am not part of the claims being made here, I'm just a finance guy" without saying it. I don't think he did not believe in Afrezza, I think he's just conservative.
But his tone and words were completely different at the Morgan Stanley Healthcare Conference several weeks ago. He spoke like a man that is confident of good things to come, and I doubt it's because he's a riverboat gambler now. He's at the center of partner talks, and it seems to me he likes what he sees. If MannKind does indeed partner up soon we can look back at Mr. Pfeffer's bullish turn as a tip-off.
How to play it? If MNKD's upside does indeed play out the best way to play it in retrospect will have been options, but I say stick to the common stock. There's 3 big possible catalysts in my opinion: a possible partner before FDA, an FDA approval, and a label recommending for use in type 2s. I really can't decide which would be the biggest and I don't know the exact timing, even if everything played out bullishly.
$IMUC #nonewsisgoodnews
IMUC has had a fine and pleasant roller coaster of a time, bouncing around and coming right back to where it was when the independent monitoring team recommended continuing the ICT-107 trial over the Summer. But every day that has gone by since then IMUC has gotten a little more intrinsically valuable.
It is possible that if the ICT-107 study concluded today, it could show excellent results (because of rolling admissions and a possible low hurdle in the placebo group). But it is more likely that no news is good news, that the trial not ending means longer survival benefit. All is quiet on the western front. The longer it stays that way the more the trial seems like an obvious success, and the upside is very high.
How long until Mrs. Market is convinced and takes the plunge? Some have suggested that if the trial is still not over by the end of the year it will be seen as a likely success. I have no idea what will happen with IMUC's price day to day, but the fact is that things could not be playing out better from a business perspective - the trial was continued and is still running. As a reminder management is blinded until the trial is over.
$HYGS #friendslikethese
Hydrogenics gets our "with friends like these, who needs enemies" award. Why is that? Because last quarter HYGS put up a pretty sizable $3 million and change loss, after nearly being profitable the quarter before. But - and this is a Fat Albert sized but - more than half of that loss was a charge from the stock appreciating. HYGS basically doubled during the 2nd quarter, and as the executives are partially compensated with stock, the dramatic rise caused a large paper loss, having nothing to do with business. The stock retreated in Q3 so there should be a built-in bump when HYGS reveals results, but the story here is not a quarter-to-quarter one, Hydrogenics is one of the best positioned players in a burgeoning hydrogen economy, and like the other stocks discussed here, the upside is very high.
$WSR #growthonsale #yieldherIbarelyknewher
I grew up outside of Reading, PA, the poorest city in the US. I had a friend whose dad would carry a gun to collect rent in Reading. He had bought a house super-cheap, fixed it up, and rented it out. Even at a young age I knew this was not for me - lots of paper work, followed by lots of painting, then shooting.
But a good REIT could buy distressed properties, do all the painting and shooting for you, and because of the economies of scale managing multiple properties, would actually give you a better return.
Let's see: paper work, painting, and bloodshed OR do nothing and get a better return.
So the hunt was on to find a REIT that fit the mold. That was what I had in mind when I came across Whitestone REIT.
Whitestone does not fit the mold exactly, but they have a very good business. Whitestone basically buys distressed and/or foreclosed strip malls ("community centers") and fixes them up with signs, painting, lighting, parking, and landscaping, and then rents them out. They do this mostly in the Houston and Scottsdale areas, so while they are small they have economies of scale by concentrating on several fast growing areas. The management team has been doing this for a long time, and they are very good at it.
The only problem with WSR was that after its IPO a few years ago the stock rose steadily and never really went on sale. Properties and Funds From Operations have been steadily or even rapidly growing, and the stock never really took a breather.
Never took a breather, that is, until all REITs got destroyed by the Fed's taper talk over the Summer, and this looks like an unmitigated gift for would-be WSR shareholders.
WSR is an equity REIT. It buys, fixes up, and rents out real physical locations. Contrast this to a mortgage REIT, which typically borrows money at a rate lower than mortgages pay, and buys mortgages with that money, often with a lot of leverage that makes these products very sensitive to lending rates. Equity REITs should not have gotten destroyed the way mortgage REITs did, but that's what happened.
In addition to that WSR just closed a financing deal to issue shares and raise money, which is exactly what you want a healthy equity REIT to do, because what they do with that money makes the shares more valuable, even considering dilution. Nevertheless, even though the move was telegraphed loud and clear, the announcement meant WSR got sold off again.
After trading at close to $18 a few months ago WSR closed around $13.50 yesterday, a full 25% drop - and all the while WSR's business is getting better and better.
In the most recently reported quarter (Q2), Funds From Operations were $4.6 million, up 62% year-over-year, and the growth has been steady and continuous. That $4.6 million will include at least another $400K from properties brought under management in Q2, and should also continue to expand as management executes its growth strategy. But if we just pro-rate the $4.6 million we get $18.4 million in FFO.
That $18.4 million against last night's close of $13.38 would make for a capitalization rate of 8% by itself ($18.4 million annually divided by $230 million market cap) and mean that WSR earns its market cap every 12.5 years, or has an adjusted PE ratio of 12.5.
That's pretty good, but WSR is growing quickly, 62% last quarter, and that $18.4 million number will be passed quickly.
Believe it or not the biggest criticism of WSR is that its dividend is too high, but in my opinion it is only going higher. In Q2 FFO produced 26 cents per share, but WSR pays a 9.5 cents per share dividend every month. That means that its income from operations does not cover its dividend of 28.5 cents per quarter. This is by design, it is to keep the stock price up so that issuing shares raises more money. This is accretive even while dilutive because management has been executing beautifully. So people don't like that the dividend is not covered - but soon enough the dividend should be covered, passed, and raised.
At $13.40 WSR is yielding 8.5%, and offers a lot of growth. The pole-axing that many REITs have taken has unfairly knocked WSR down, and we are thankful as we took a position yesterday for the first time. The latest financing went off at $13.54. Last year a similar financing went at $12.80, and the stock briefly dipped below that before taking off again.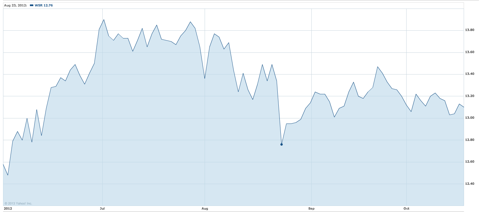 WSR is on sale here, and looks a chance to get a high yielder going higher.
$DollarSign #HashTag
I'm currently working on another article, email joespringernews@gmail.com to be added to my free newsletter.