The Powder River Basin has a whole lot of "clean" coal, and even though the EPA seems set against all coal right now, the PRB may end up a great energy investment one way or another.
So we took note when Arch Coal (NYSE:ACI), the largest miner in the PRB, hit a 52-week low today.
Time to buy?
They've got a moon-sized deposit of coal, but also an ocean of debt, and a peninsula of no-earnings. Their debt is not due for a few years, but it appears as it is today they would likely not get reasonable financing and may have to declare bankruptcy.
Their current debt is being sold by its owners as if the risks have increased substantially. Bonds issued a few years ago yielding 7.25% are now paying twice that, reflecting a lot more risk. This has accelerated sharply in the last 2 weeks: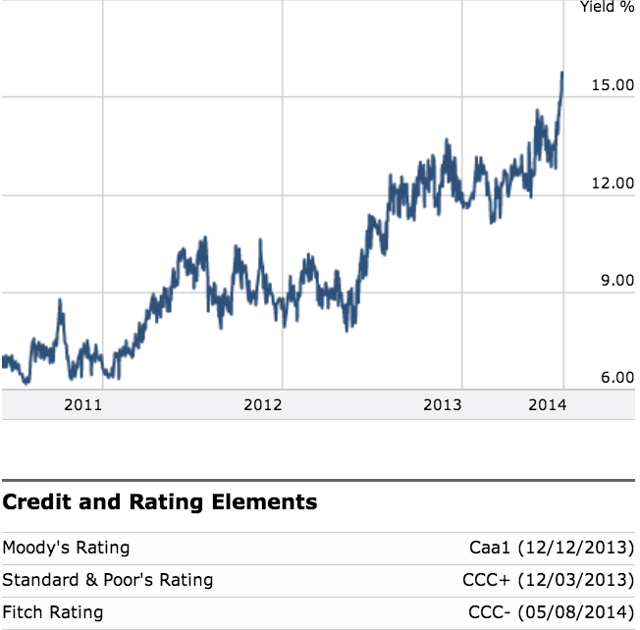 The last 2 weeks seem like a death knell, and Arch is not alone.
Coal miner Alpha Natural Resources (ANR) is in a similar situation: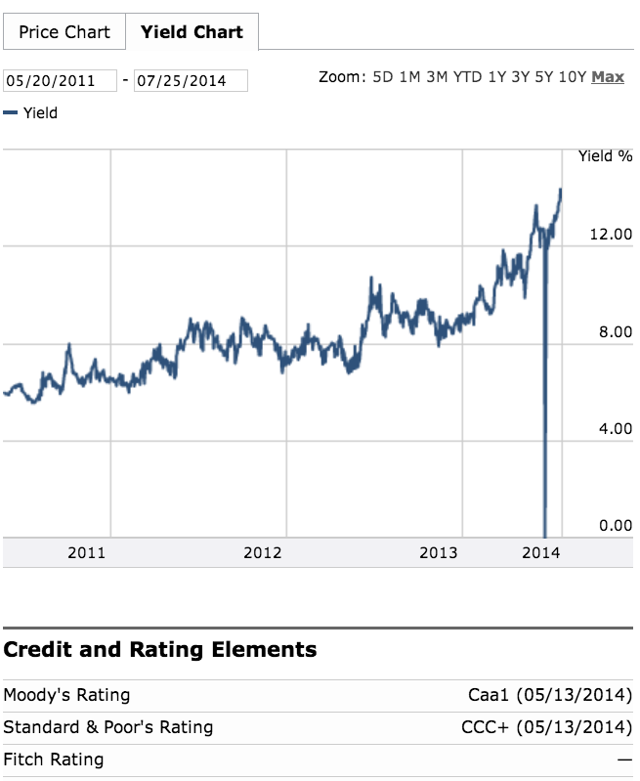 Walter Energy (NYSE:WLT) also looks like its days of borrowing are over: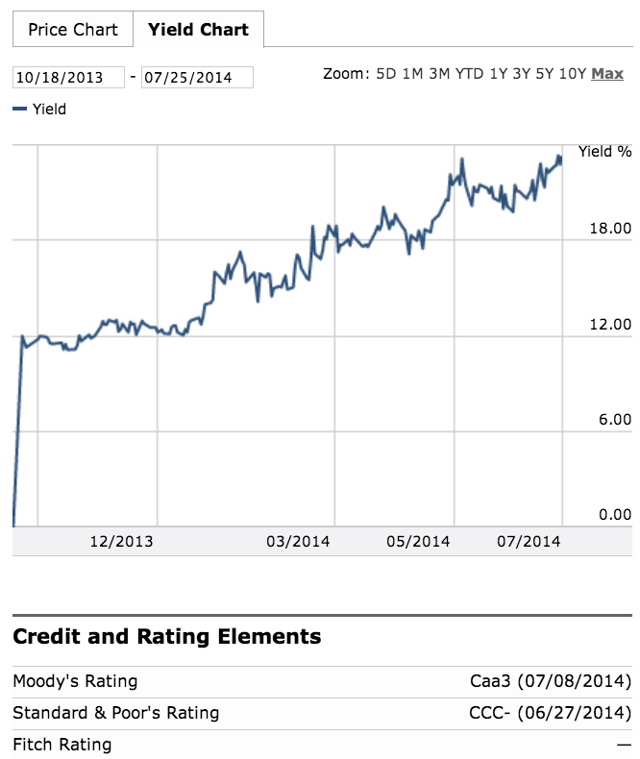 Peabody Energy (NYSE:BTU) still looks better than the three in trouble, but they are viewed with increasing risk: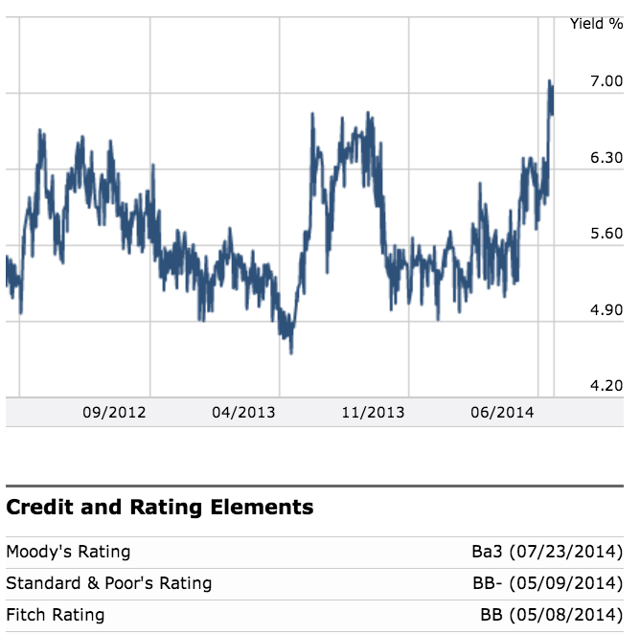 Is there any good news?
The last couple of weeks has not been kind to Consol Energy (NYSE:CNX), but they still look in good shape: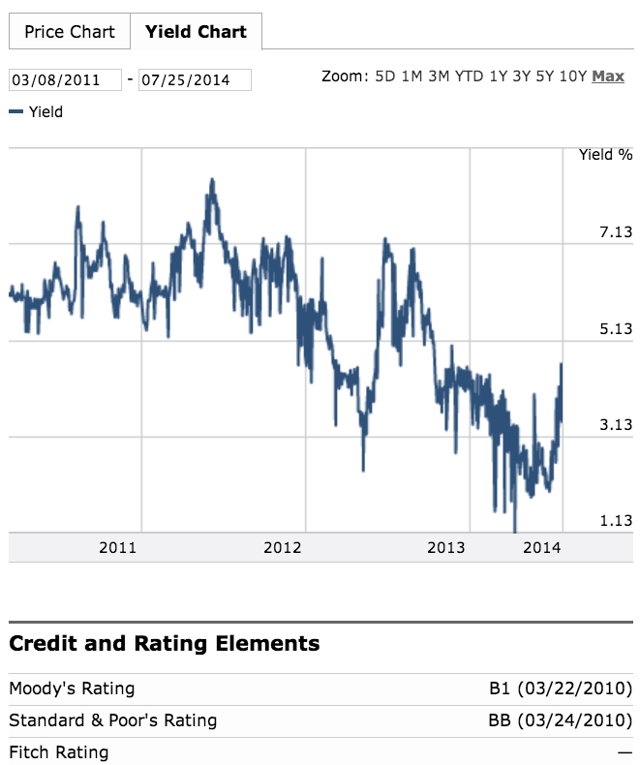 Finally, it looks like PRB pure-play Cloud Peak Energy (NYSE:CLD) is in good shape, the debt is sought after: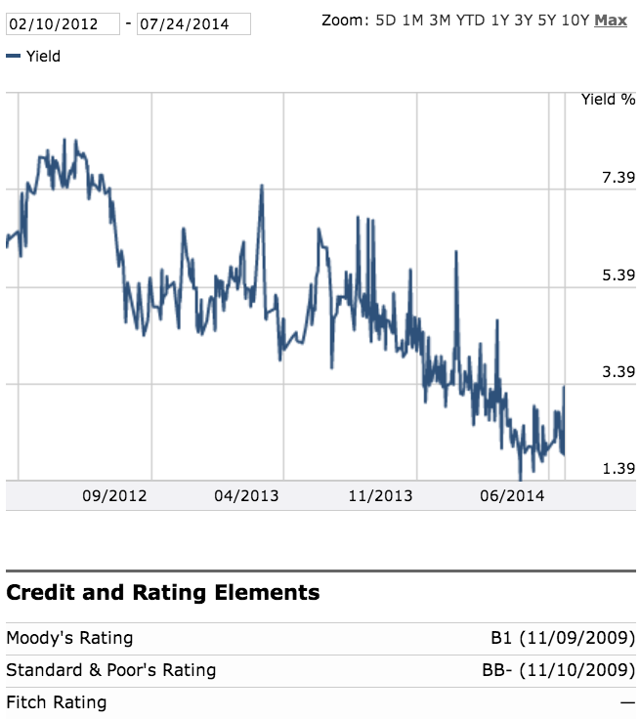 Coalclusion
In the past two weeks it appears that the collectively perceived credit quality of Arch, Alpha, and Walter have taken major hits. It seems like they will need some luck to avoid eventually running out of money, not being loaned any more, and declaring bankruptcy. This may not happen for years, but it seems like the decision has already been made by the bond market.
This could prove a boon for the companies that are expected to survive, notably Cloud Peak and Consol, and perhaps Peabody. It could be that these companies are able to borrow more and pick up assets at fire sale prices as the troubled three sell to stay afloat.
Update
It's worth comparing these charts to the entire high yield (aka "junk") corporate bond market:
The insatiable thirst for yield has created a lot of demand for below investment-grade bonds (again "junk", anything below the top 4 investment grades like AAA, AA, A, BBB).
The fact that the three troubled companies' debt is unwanted against historically high demand is noteworthy.