We liked Zeltiq (NASDAQ:ZLTQ) a couple of years ago, we tweeted a number of times and made a video, and then we followed that up with an article. The article needed work -- we agreed with the SA editors who sent it back to us -- but we did not have time to fix it.
Zeltiq has more than quintupled since then, so we thought we would publish the draft in its original form from January 3 2013:
Once upon a time doctors noticed that kids sucking on popsicles experienced thinning of their cheeks - called Popsicle Panniculitis -and today we have a very compelling fat loss procedure called CoolSculpting by Zeltiq Aesthetics .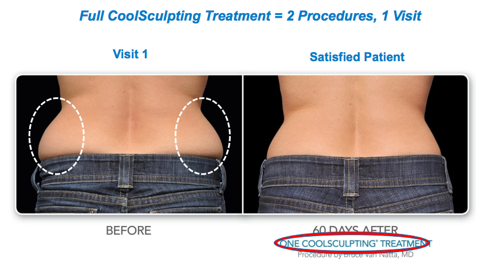 A happy fact of nature is that fat tissue is much more susceptible to cold than other human tissue, and Zeltiq has developed a technology that sucks in love handles, cools them off (crystallizing the fat cells), and lets nature take its course (metabolizing the dead cells away).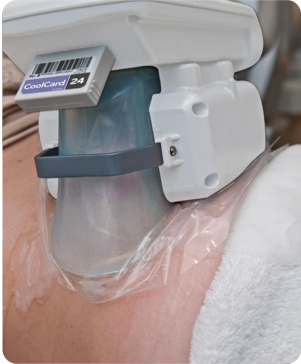 Here are 7 reasons we think ZLTQ is going to be a big winner:
1) It's Safe
The procedure, which just plain looks safe, has been done roughly 400,000 times on the flanks (love handles) in the US and also on "everything below the neck" around the world. No cuts, general anesthesia, intense energy bursts, or other surgical/technological risks.
2) It's Durable
The dead fat cells stay gone, just as in liposuction. One of their test subjects several years ago agreed to do one love handle and not the other (could not find the picture but the CEO showed it at the presentation linked above) and the results are what you would expect from an effective and durable treatment.
3) The Market Is Enormous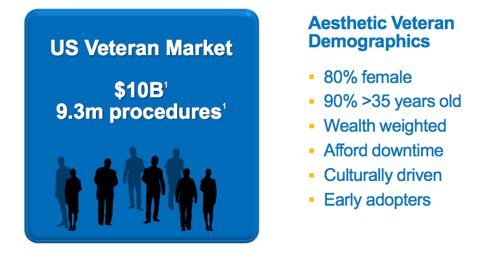 Right now the market for aesthetic procedures is about 20 million strong in the United States and they spend $10 billion annually. This "veteran market" is mostly comprised of older, well-to-do women. This is a market that:
can afford expensive treatment
has down-time to recover
is accustomed to the pain that accompanies many aesthetic procedures
Enter Zeltiq's CoolSculpting, which:
is affordable (about $1600 for a treatment)
requires no down time
"breaks the pain game" - the procedure is very tolerable (it's cold), especially relative to other more painful body sculpting alternatives (liposuction and other surgeries, concentrated energy delivery like lasers, etc.)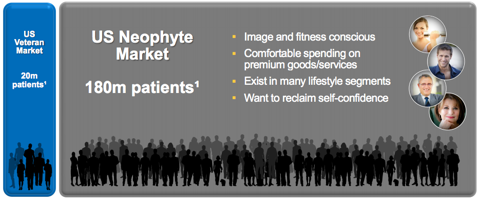 The money, down-time, and pain mean most professionals never consider aesthetic procedures. CoolSculpting opens this market up to most everyone that goes to the gym (or wishes they did!). That market is nine times the size of the one traditional aesthetic procedures target.
4) Their Product Is An Annuity
As of last quarter the company had sold 1,257 of its machines into US practices, and they think they can bring that number up to 4,000 or 5,000 as they market their product. That's good one-time revenue for Zeltiq - but they also get paid every time that the machines are used. Right now almost half of their income is from these uses and as they place more machines into the field - sewing the seeds of long-term income - that number will only climb higher. While most of their work is done machines are plugging away for shareholders. Nice work if you can get it.
5) Their Balance Sheet And Fast Growth Make Dilution Unlikely
While the company is not profitable yet they are nearing profitability and have plenty of cash to tide them over. Here is a speculative stock that is unlikely to be diluting its shares.
6) Insiders Are Buying
They have a new CEO and CFO (same guy right now). The old ones drove the stock into the ground.

But they have been replaced, the stock price has found stability, and insiders are buying:

7) It's A Possible Takeout
See if you can spot a pattern involving CEO Mark Foley here:
Mr. Foley spent 17 years in senior operating roles in both and start-up medical device companies, most recently founding and serving as Chief Executive Officer of Ventrica, Inc., which was acquired by Medtronic in 2004. Before Ventrica, Inc., Mr. Foley worked for several medical device companies, including Perclose (acquired by Abbott), Guidant, DVI (acquired by Eli Lilly), and U.S. Surgical (acquired by Tyco).
And One More
Right now Zeltiq is approved for procedures on the flanks in the United States, but they feel their product is very safe and effective and think that they can get the "everything below the neck" approval in the US like they have abroad.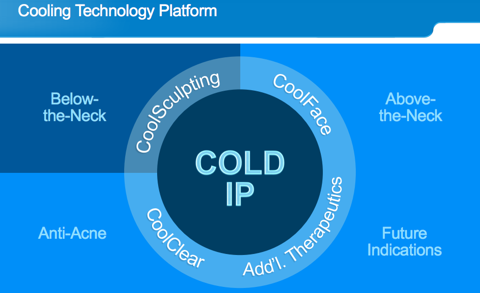 They also have their eyes on "above the neck" approval (does my face look fat?) for fat cells but also for acne - preliminary evidence is suggesting that this type of procedure could be used on sebaceous glands to alleviate acne.
Conclusion
This company's closest peers include Cytori Therapeutics Inc. (NASDAQ:CYTX), Cutera, Inc. (NASDAQ:CUTR), Cynosure, Inc. (NASDAQ:CYNO), PhotoMedex, Inc.(NASDAQ:PHMD), Boston Scientific Corporation (NYSE:BSX), and probably most notably Solta Medical Inc (NASDAQ:SLTM).
Solta recently announced a surprise down third quarter in the US for its popular non-invasive ultrasound body contouring product Lipsonix. While management said the drop resulted from focusing abroad, we think CoolSculpting may be eating their lunch. Listen in on ZLTQ's third quarter conference call November 7th for an update (also, there will be one time charges this quarter associated with the departed management).
This is an exciting company. As a person that never seriously considered aesthetic procedures before this one sure does ring different - it's relatively painless, fast, easy, effective, and cheap. If you are thinking that people are going to line up to have this procedure as they become aware of it, then we are in agreement. Buy Zeltiq while you can.