In a stunning piece on the New York Times, we learn that Facebook (FB) gave device makers, including BlackBerry (BB), deep access to data on users and friends.
We already knew this about FaceBook due to the Cambridge Analytica scandal where Cambridge Analytica misused the private information of tens of millions of Facebook users.
But BlackBerry? 

Apparently, BlackBerry was one of these FaceBook partnerships whereby the device proper has access to user data including FaceBook friends.
After connecting to Facebook, the BlackBerry Hub app was able to retrieve detailed data on 556 of Mr. LaForgia's friends, including relationship status, religious and political leanings and events they planned to attend. Facebook has said that it cut off third parties' access to this type of information in 2015, but that it does not consider BlackBerry a third party in this case. (emphisis added.)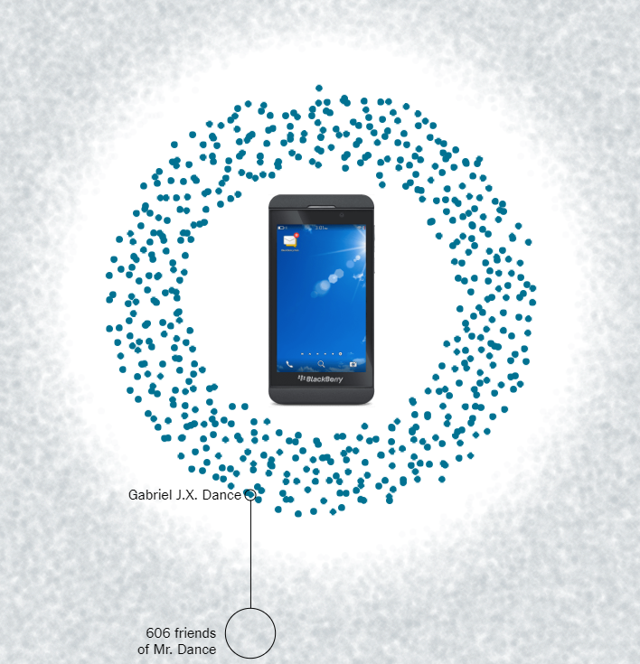 The Hub app was also able to access information — including unique identifiers — on 294,258 friends of Mr. LaForgia's friends.
Source: New York Times
BlackBerry has a legacy of security, or as BlackBerry explains: "There are phones that say they are secure and then there are phones that live and breathe security. Phones with BlackBerry® software or apps don't just tack on security, it's built-in. BlackBerry is trusted by thousands of companies and governments around the world to securely enable business on mobile." (emphasis added.)
Built-in to be sure!
In all fairness though, BlackBerry's not alone here as Facebook has reached data-sharing partnerships with at least 60 device makers — including Apple, Amazon, Microsoft, Samsung in addition to BlackBerry.
But BlackBerry is different!
BlackBerry has a storied history of privacy. BlackBerry smartphones have even been seen on U.S. President Obama and German Chancellor Merkel. 
What concerns me is that not only wasn't this "friends" access disclosed by BlackBerry, but it was woven into the very fabric of the device so that users had no way to adjust the privacy settings. Furthermore, as The Times found: BlackBerry apps can obtain data about a user's Facebook friends, even those who have denied Facebook permission to share information with any third parties.
Was BlackBerry even aware that they were accessing and otherwise using user-friend data that they should never have had access too? Were they even asking the question?
BlackBerry runs a nifty little site called BlackBerry Fact Check.
This would be a great opportunity for BlackBerry to "fact check" both this article and the one published by the New York Times article and explain in detail just what apps had what access to what data. 
Hat's off to the New York Times reporters
My hats off to GABRIEL J.X. DANCE, NICHOLAS CONFESSORE and MICHAEL LaFORGIA over at the New York Times for the excellent research and reporting.
Investor Take Away:
This is a serious black eye for a company that prides itself on user privacy. 
I'm not really all that surprised Google (GOOG) and some others would partake in such a windfall of user data, but BlackBerry?
I am quite frankly shocked.
If your investment thesis is based upon blackberry's commitment to privacy, then please carefully consider the information in this note. 
Invest Accordingly.
Disclosure: I/we have no positions in any stocks mentioned, but may initiate a short position in BB over the next 72 hours.
Additional disclosure: I frequently trade BlackBerry on both the short and long side.