Texas-based Rainey Circuit LLC (the current holder of the patent,) is suing both Twitter Inc. (TWTR) and BlackBerry Ltd. (BB) for alleged infringement of U.S. Patent No. 8,131,824, which describes a method of sending multimedia messages with notifications and previews.
Rainey sued BlackBerry Thursday in Texas federal court and brought a nearly identical lawsuit against Twitter Friday in Illinois federal court, alleging the companies are infringing Rainey's U.S. Patent No. 8,131,824, which describes a method of sending multimedia messages with notifications and previews.
Law360 (Paywall)
Method for the transmission of multimedia data utilizing a signaling signal in a telecommunications network
The invention claimed is: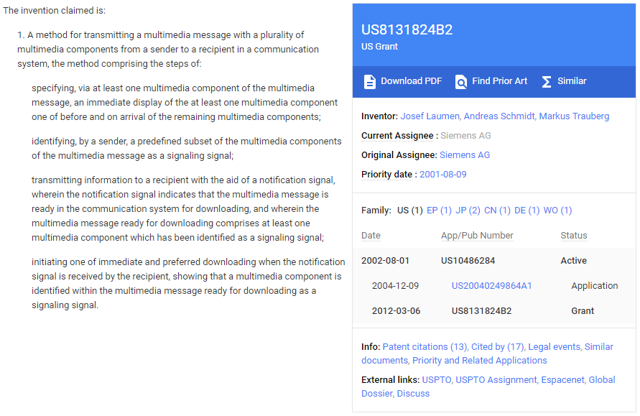 Rainey says neither Twitter nor BlackBerry should be allowed to offer services that display a preview of multimedia content and a "play" button since Rainey holds the patent to that method. 
"Once a video has been sent using the BBM Mobile Application, the recipient will receive an immediate display of a preview image of the video at the same time or before the video itself and its components (e.g. image and audio) are received," Rainey says in its suit against BlackBerry, arguing such a system infringes claims of its patent. (emphasis added)
Raney Circuit LLC claims that Twitter's messaging functions essentially the same way.
"The accused instrumentality operates on the video message such that at least one multimedia component (e.g. preview image) is immediately displayed at the recipient side before the arrival of the remaining multimedia components," Rainey says in its suit against Twitter.
But it doesn't end here...
BlackBerry is suing Facebook for other aspects of instant messaging
Apps including Facebook, Instagram and WhatsApp use some messaging capabilities that were originally designed by BlackBerry, a BlackBerry spokeswoman said in an email. "We have a strong claim that Facebook has infringed on our intellectual property, and after several years of dialogue, we also have an obligation to our shareholders to pursue appropriate legal remedies." 1,2
And it gets worse. Facebook purchased some patents to countersue BlackBerry. 3
But didn't BlackBerry get out of the phone business?
For the most part, yes. But often these suits involve past damages, and the priority date on the patent goes back 17 years. So this could be a problem for the once smartphone maker. More concerning still is BlackBerry's ongoing sales of BBM Enterprise, which also makes use of the technology contested in the lawsuit.
Investor takeaway:
This lawsuit comes at an unfortunate time for BlackBerry, especially as it's still struggling to turn itself around. 
In light of this new development, I currently rate BlackBerry a Hold. I don't like betting on intellectually property outcomes, but would rather invest in BlackBerry's new security story which is just starting to gel.
Invest Accordingly.
Disclosure: I am/we are long BB.
I wrote this article myself, and it expresses my own opinions. I am not receiving compensation for it (other than from Seeking Alpha). I have no business relationship with any company whose stock is mentioned in this article.
Additional disclosure: I am long both Twitter and BlackBerry