A quick follow-up of my recent post (Mar. 21, 2018), Tesla's Technicals Say Sell: Tesla's technicals still say sell, even more convincingly than three days ago.

The chart
First things first, here's the chart I'm about to comment.
Chart is as of Friday, March 23, 1 hour 20 minutes before market close. Tesla (TSLA) is drifting lower today.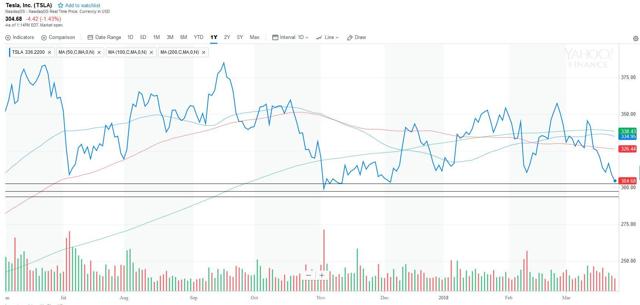 (Click to enlarge)
Tesla stock price is below 50-day, 100-day, 200-day moving averages. There is no magic by itself to the 50-day, 100-day, 200-day moving averagse. However, many investors believe that a stock trading below those levels is bearish. Sometimes this belief on the part of a large number of investors becomes a self-fulfilling prophecy.  
It's below below support level at $313,56 
It's making lower lows
It's approaching the following three supports: $295.46, touched on 5/4/2017 (the lower black line); $299.66, touched on 11/2/2017 (the black line in the middle); $303.70, touched on 12/5/2017 (the higher black line).
I dare to say that a close below $293.00, better below $290.00 as we humans are more attracted by round numbers, over the following days, would be very bearish and would open the possibility of further, protracted slides of the stock price.
Disclosure: I am/we are short TSLA.
Additional disclosure: I wrote this article myself, and it expresses my own opinions. I am not receiving compensation for it, not even from Seeking Alpha. I have no business relationship with any company whose stock is mentioned in this article. Additional disclosure: I am short TSLA via options. Material presented here is for teaching and entertaining purposes only. It is not intended to be taken as financial advice, a recommendation to buy or sell the stocks mentioned above. Investing includes risks, including loss of principal.