So you have some money that you'd like to invest in Cannabis? Who are you going to invest it with? Your cousin Jimmy used to get some pretty good stuff in high school, so that's always an option. Or you could invest like an insider alongside the most successful marijuana investors on the planet. Due to the recent drop in share price of Canopy Rivers, this investment is setting up to be a very interesting opportunity.
First and most importantly you are investing with the best quality management in the cannabis industry. Bruce Linton, Sean McNulty, Peter Hatziioannou have very clearly demonstrated their vision and ability to make deals.
As CEO, Bruce Linton took Canopy Growth Corp from micro-cap to world leader in short order. McNulty and Hatziioannou were advisors to Canopy Growth on Merger & Acquisition issues. Their fund XIB financial owns 5.7% of Canopy Rivers. Look to the deal Canopy Growth made with Constellation Brands to see the value they created for shareholders.
Furthermore with the recent price drop of over 50% from the initial high price following the IPO, the current prices are "only" a 17% premium over the latest round of private funding that was raised over the Summer. Canopy Rivers raised over $100 million CAD at $3.50/share CAD. With a current price of $4.11/Share CAD (10/23/18) shares are attractive. If you think a 17% premium is a lot, consider that their last venture (Canopy Growth) has skyrocketed since January 2016 ($2.96-$61.30 CAD)
A look inside:
Canopy Rivers is functioning like a venture capital firm with investments covering the entire Marijuana ecosystem.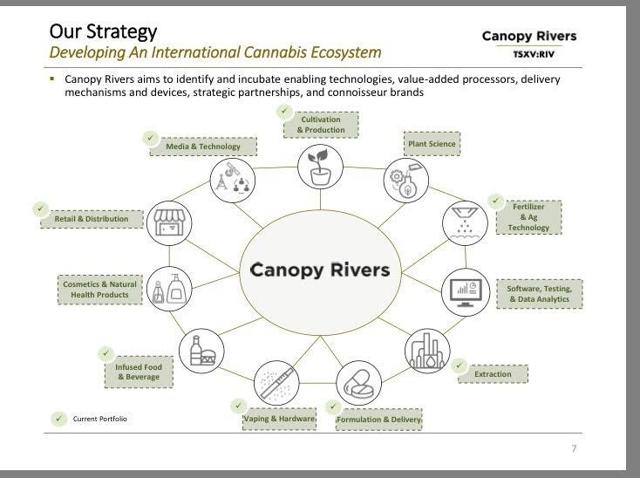 They currently have investments/partnerships with 11 companies, four of which are public at the moment. The partnerships are structured in various ways including royalty streams, preferred stock, warrants and common equity.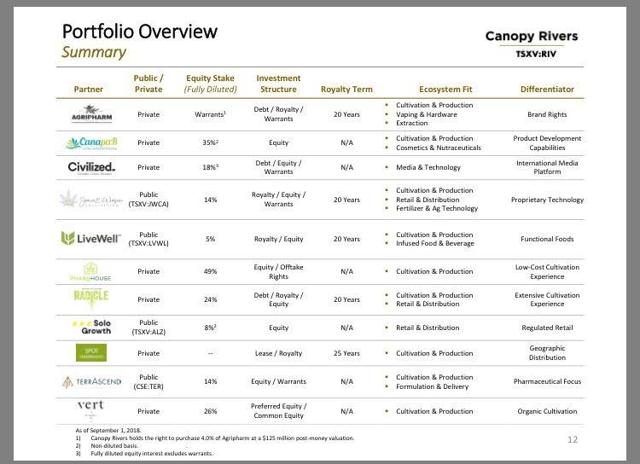 Many of the investments and partnerships involve smaller craft cannabis brands. This is a really smart move because one of the most significant risks for the larger growers is the commoditization of the product, over production, and price drop. Having a stable of craft brands that command premium pricing could offset some of this risk. Notable brands Greenhouse Seeds and Strain Hunters will be grown in partnership with Agripharm. Strain Hunters can be seen on the HBO/ Vice Channel series bearing their name.
To see the potential impact of craft brands in the marijuana industry, consider the craft beer revolution and what that did to the brewing industry. Radicle and Gage brands are another example of the premium small batch brands that are part of the Canopy Rivers ecosystem
Looking at the organization of the company, they have structured these deals in order to have "steady and predictable" royalty streams through the royalty agreements lasting 20 to 25 years.
Rivers shareholder should also benefit from the potential upside with future IPOs.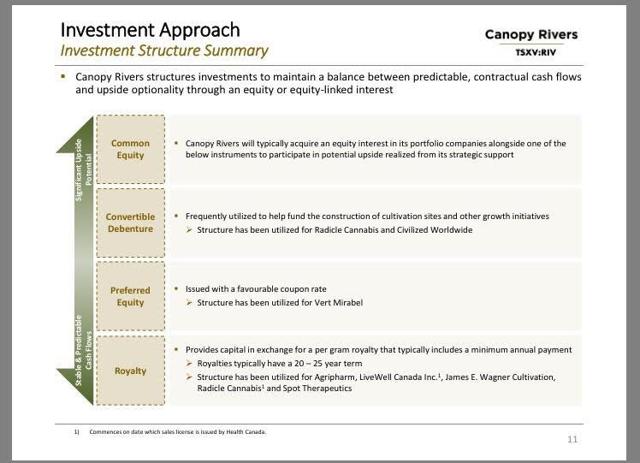 Investments in public companies
Canopy Rivers investments in publicly traded companies can be valued by looking at the market cap of each of the companies. The total of Canopy Rivers ownership in these four companies is $136,780,000.
LiveWell: 5% ownership $120,000,000 mkt cap= $6,000,000
TerrAscend: 14% ownership 786,000,000 mkt cap= $110,040,000
James Wagner Cultivation: 14% ownership $75,000,000 mkt cap= $10,500,000
Solo Growth: 8% ownership 128,000,000= $10,240,000
Total value of stakes in publicly traces companies: $136,780,000 CAD
While the total is a small fraction of Canopy Rivers Market Cap ($936,792,736 CAD), investors should remember that this company is essentially a venture-capital company focused on cannabis companies. You are buying visionary managers and savvy dealmakers in an industry that has enormous growth potential
Risks
The cannabis space has been very hot in the last year and valuations across the industry are very high. A selloff in these stocks would likely take Canopy Rivers down with it and if the industry were to see a crash in share prices the ability to IPO companies from the partner companies would be reduced.
To Summarize, Canopy Rivers represents a compelling opportunity to invest with the most successful Cannabis investors in the world. The recent drop in price makes the opportunity even more enticing. For investors who can tolerate risk and want exposure to the global cannabis industry we recommend buying Canopy Rivers.
Disclosure: I am/we are long CGC, CNPOF.
I wrote this article myself, and it expresses my own opinions. I am not receiving compensation for it (other than from Seeking Alpha). I have no business relationship with any company whose stock is mentioned in this article.