Technical indicators can be used to identify long-term stock price entries and exits
Fundamental valuation can be used to rationalize overvaluation or undervaluation
A short-term technical view may indicate a trading channel opportunities for the stock
Apple is definitely a great company that has generated significant earnings and returns for its long-term investors. However, a great company does not necessarily always play out as a great stock investment given many reasons and certain situations. Although I highly recommend investors to first look into a company's fundamentals and determine its worthiness, technical analysis can be a great tool to finding patterns and pricing opportunities. In this article, I will attempt to provide a technical and charting opinion on the company. If you are interested in the fundamental perspective of the company, you can also view my previous article on Apple where I attempted at creating a discounted cash flow valuation and presented the rationale for my projections.
Chart is sourced from Morningstar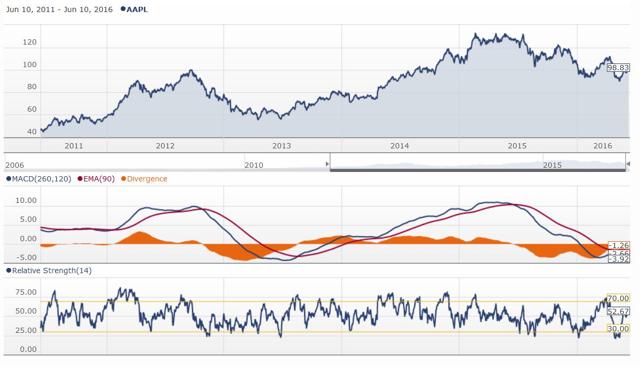 Technical analysis is not necessarily always for the short-term players, but it can also be used for identifying long-term trends. For instance, using the MACD indicator, an investor could have been better informed on buying or selling into long-term price trends from the crossovers. For instance in mid-2012, the selling signal would have helped investors avoid the severe drop to early 2013, and also enter a position in mid-2013 that would have been a great entry point for the run through to 2015. Similarly, the indicator would have informed investors to exit in mid-2015 to avoid the drop to today's levels. From the chart, we are seeing that the current price levels based on MACD are very attractive for going long the company, and that the downtrend is about over. For short-term volatility, the Relative Strength indicator can indicate whether a stock is overbought or oversold. When combining the two measures, it is possible that 2016 might be the bottom of where Apple might rebound.
Chart is sourced from Morningstar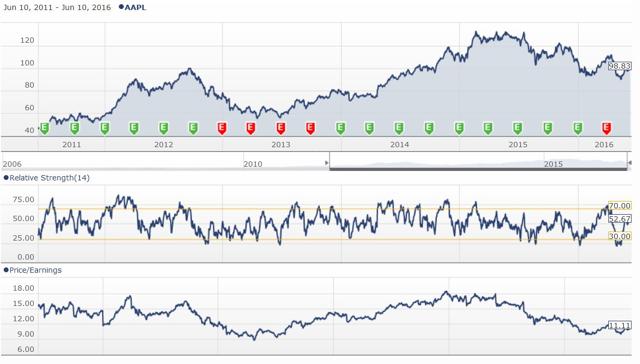 On a more fundamental basis, we are also seeing that Apple has a valuation trading range. The street generally sells out at earnings roughly around 15-18x and buys in closer to 9-11x. Currently, the P/E ratio is closing in at trading levels near its historical lows at the 9-11x levels, which is roughly where it traded at back in 2013. This may possibly signal that the stock has been depressed enough to levels similar to that with the 5 th generation iPhone. With Warren Buffett also making a stake in the company just a couple weeks ago, it goes to show that valuation levels are potentially very attractive and that there must be a wide margin of safety at these current price ranges. In contrast, the basic argument to the valuation at this point is that the consensus feels as if there is not a very bright future in the company and the stock will flat-line or continue to decrease.
Chart is sourced from Yahoo Finance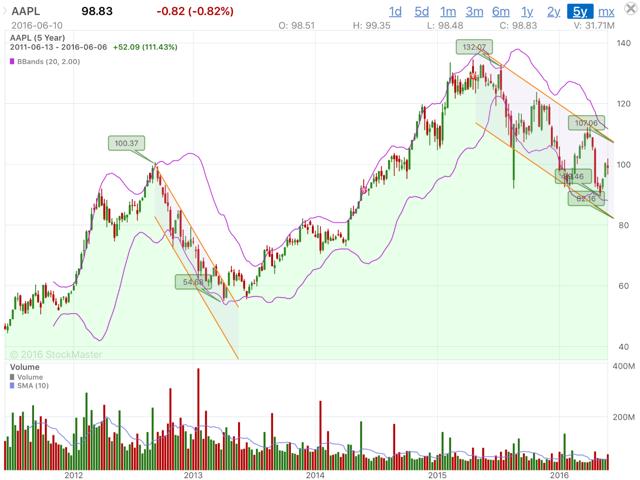 On a more short-term observation, Apple appears to have certain trading patterns when going through the severe price drops. For the current drop in 2016, it could maybe fall at similar levels as it did in 2012. For instance, the 2016 level could drop $45 from the high point of $132 like it did back in 2012 or it could drop on a relative basis of -45% from the high point to reach a bottom of $73. If Apple can potentially find a rebound, then I would assume a similar run up of the stock would happen like it did from 2013-2015. In terms of the trading channel in mid-2015 to 2016, it is possible that a short-term trade to sell at $107 or at the top yellow line is possible. Similarly, a purchase at the bottom line or $82 is possible as well if the price were to fall down further. For price appreciations exceeding $107 we can expect a breakout higher, and price depreciations below $82 suggest even further breakdowns lower.
In conclusion, Apple is a great company and a very great long-term stock. There are many charting aspects that support a long-term purchase on the company's stock and suggest that current price levels are quite attractive. On both technical and fundamental charting measures, the company appears to be trading at very attractive levels. On a more short-term basis, there are patterns that have seem to be repeating past results that could be taken advantage of by traders.
Disclosure: I am/we are long AAPL.