Detroit may be filing for Bankruptcy, but its main industry is doing the exact opposite. The automobile industry is exploding to near 2007 highs, and creating opportunities for investors to profit. While corporate earnings are slowing and the tech and banking industries are hitting a summer slowdown, nothing is decelerating the sale of new cars. Here are the three automobile stocks that are providing investors with summer profits.
Ford
Ford (NYSE: F) continues to beat earnings estimates. Just recently Ford's second quarter revenue rose to $38.1 billion, 15% higher than the previous report. Speaking of the car industry in general Ford Chief Executive, Alan Mulally, stated in an interview, "This is a growth industry." And he is exactly right. After five years of the automobile industry working out its bailout issues, consumer decline in purchases, and a glut of car lines, the remaining companies which were able to navigate the difficult path are now entering a phase of growth. This growth caused Ford to post an 11% year-over-year revenue gain in the second quarter. Not to mention Ford's July F-series pickup sales were up 23% compared to last year.
It doesn't just stop there for Ford. Ford currently is by far the strongest positioned automobile company. As shown in the chart below, Ford posted the strongest return for investors over the last year. With well segregated car lines, at profitable price points, Ford is making consistent and steady gains, all while not having to pay back any bailout funds. Revenue jumped to a new high of $38 billion last quarter, but Ford's ability to control operating expenses to return a net income of $1.2 billion or higher per quarter, is putting money in investor's pockets. And the best part, Ford is paying a consistent and growing dividend throughout the process. Looking forward, consumers are buying, and Ford is well positioned, to continue to return value to investors.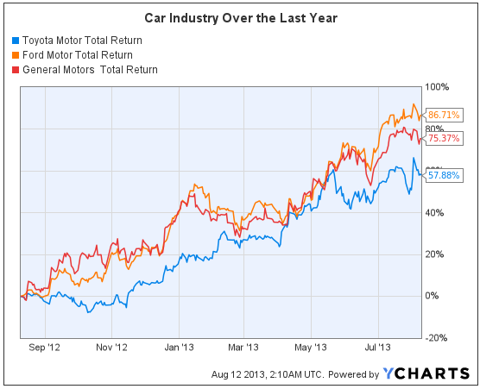 General Motors
Unlike Ford, General Motors (NYSE: GM) took as much government bailout money as possible. In fact the figure ballooned to a hearty $50 billion. Accompanying the bailout, GM's stock left the market under government sanctions, then public again over the last few years, making for a very bumpy ride.
But General Motors is regaining its form. Just releasing its second quarter earnings last week, General Motors posted a 16% year-over-year increase in sales. Just in July alone, General Motors led the way of all car manufacturers with 234,071 total units sold. More encouraging for investors, General Motors reported its full size GMC Sierra and Chevrolet Silverado pickup sales were up 44% compared to last year. This increase in a model area of high profit margin for the company led to a hearty $1.4 billion net income for the second quarter. By effectively learning to handle its debt, General Motors just turned in its sixth consecutive positive net income quarter. All great signs for investors that as the bailout payouts decrease in the coming years, General Motors is poised to take off.
Toyota
The third automobile giant, Toyota (NYSE: TM) , is creating summer fireworks of its own. For starters Toyota's net income is growing consistently by quarter in 2013. Toyota recently posted earnings of $1.79 per share at June 30, 2013, up 93% from a year ago. Numbers strong enough for Toyota to raise its earnings expectations for the next year to $240 billion a 8.8% increase for 2013. All great signs for investors. A truly global company, enjoying strong earnings demonstrates the sky's the limit for Toyota.
Drive away with automobile stocks
The car industry shows no signs of slowing. Strong sales and growing profits are new keys for the three companies above. Take your pick, you can't go wrong with the Automobile industry at the moment.
Disclosure: I have no positions in any stocks mentioned, and no plans to initiate any positions within the next 72 hours. I wrote this article myself, and it expresses my own opinions. I am not receiving compensation for it (other than from Seeking Alpha). I have no business relationship with any company whose stock is mentioned in this article.