Overview
Big 5 Sporting Goods Corporation (NASDAQ:BGFV) is a sporting goods retailer in the western United States with over 400 stores with an average size of 11,000 sq ft.  They sell athletic equipments, apparel, shoes, and accessories, as well as outdoor and athletic equipment for team and individual sports, camping, hunting, fishing, winter and summer recreation. They compete with Dicks Sporting Goods Inc (NYSE:DKS) but with a smaller store placed more conveniently to the customer.  Think of it as the Aldi of sporting goods.  It won't have everything you can get at Dicks but it's closer and more convenient if you need an essential item.  It's also good if you are steering your daughter away from the phrase "I love Dicks" because millennials can't be bothered to say the full name. It's a great store and so is BJ's Wholesale Club but ... Look at the time, lets move on.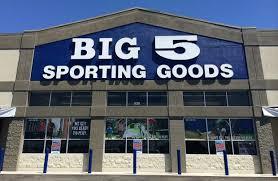 Firearms and Hunting
Look no further than American Outdoor Brands Corp (NASDAQ:AOBC) or Sturm Ruger & Company Inc (NYSE:RGR) to see how firearm sales have continued to fall in 2017.  Big 5 has been impacted by this downtrend and there appears to be no immediate relief in sight.  It is possible that the 2018 elections may give the democrats more control to push for smart gun control.  If this occurs it may send sales higher once again unless people have finally realized that gun control is not going to happen under either party despite the public approval for change or countless preventable tragedies.
Winter Sporting Goods and Climate Change
The latest 8-K stated "Our December sales were impacted by a decline of nearly 50% in our core winter product categories as a result of significantly warmer than normal weather conditions and one of the driest periods on record in many of our market areas."
Without facts to the contrary this must be true?  If anyone has reliable weather forecasting I know a buyer that would have a liked to know this information.  If you haven't read their financial statements this is risk is repeated everywhere.
I think the biggest takeaway here is that since Big 5 has no stores in the northeast they were not able to transfer inventory to areas experiencing record cold.  There is value in a larger scale operation like ... Dicks Sporting Goods Incorporated.  I would like to see Big 5 try to offer better national ecommerce or Amazon integration to unload inventory when this occurs again because California weather is unpredictable.  Anything is better than more negative surprises.  Maybe fire the head of winter purchasing or maybe not.
Amazon Effect & Sales
Big 5 has been impacted by the growth of online sales but many people underestimate the need for immediate pickup of items for youth sports and overestimate Amazon.  The bulls call for Amazon to ship everything using second day delivery but the reality is that there is no real substitute for immediate pickup in certain circumstances.  For instance your son breaks or loses an item right before practice.  Should I tell my son he can't go to practice because I am going to order his item online and he won't have it today? The coach forgets to send a complete list of items and you find out at the last minute.  None of this ever ever happens!
Whether you believe me or not the overall sales numbers have been resilient as shown below.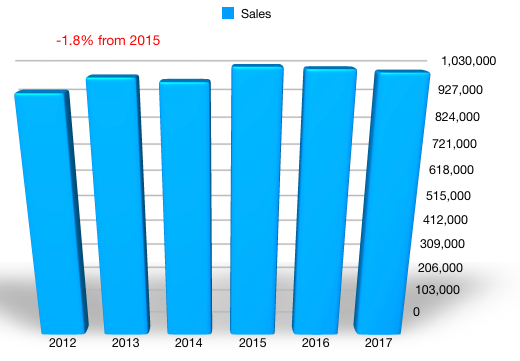 It is possible the reason Big 5 sales have not grown is due to Amazon but that hardly makes the case for Big 5's demise. If anything it reinforces the notion that Big 5 is adapting to the Amazon effect from a sales perspective and they are not seeing a large decrease in sales.  $1 Billion in sales is nothing to write off as irrelevant.
Earnings
Since we do not know where in the range of $0.52 to $0.57 2017 will fall I went with $0.52.  Clearly this is not the most beautiful chart but that is not the point here.  BTW who ran this company in 2013 and what happened to them? I digress.  Yes 2017 was down.  Yes Amazon is a behemoth and Jeff Bezos is going to rule the world before he escapes earth to colonize elsewhere in his very own rocket. I do not deny this but it is also apparent Big 5 could live quite profitably in a niche of its own creation with very minor changes.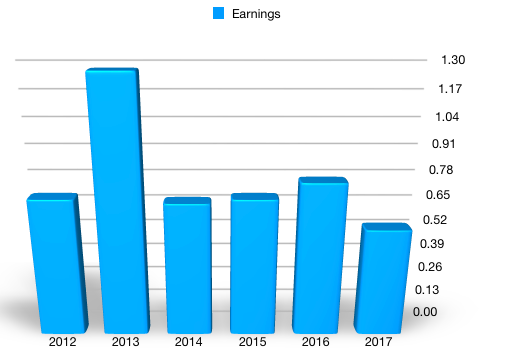 Summary
I am trying to paint the picture that Big 5 is neither a signature Tesla Roadster that does 0-60 in 1.9 seconds nor is it a Ford Pinto.  The reality is that Big 5 faces challenges from competitors, industry trends, weather, supply chain management, hedge funds shorting, and fickle consumers. It is very easy to yell the sky is falling and this company is going out of business but there are no facts that support this narrative.  The company is profitable with reasonable debt and positive free cash flow.  The real question is what is it worth given the appropriate safety margin for the risk?
Price to Earnings
If they report $0.52 earnings for 2017 that would give it a PE of 11.63 at $6.05.  This is below average but not unreasonable considering the profile.  Prior to Jan 9 they made $0.65 through the first 3 quarters and were expected to earn $0.25 to $0.30 for a total of $0.90 to $0.95 a share.  Had they hit this number the short squeeze would have to been ignited but they did not.  Since they missed by $0.40 the stock proceeded to drop $1.80 following the announcement. I think this was an overreaction but let's focus on next year.
2018 Earnings
Big 5 has not provided guidance but the big question is whether or not you believe the 4Q was the beginning of a death spiral or a one off weather event.
Insider Purchasing
It has been well documented that Director HONEYCUTT VAN B has an impeccable timing for buying and selling this stock. He started buying again in  Aug and Nov amassing 91k shares. The August purchases could not have foreseen the fourth quarter trouble but what about the November purchase.  All I can say is this is quite peculiar and somewhat backs up the notion that this was a weather driven miss that will be temporary.  Why else would a proven insider purchase shares on the open market.  I think time will prove him right again.
Sales
Big 5 stated in their latest 8-K that "Same store sales decreased 9.4% for the fourth quarter of fiscal 2017 compared to a 3.1% increase in same store sales for the fourth quarter of fiscal 2016."
Big 5 also stated "Same store sales decreased 1.2% for the fiscal 2017 full year."
So if 4th quarter sales were down 9.4% from last year but overall sales only decreased 1.2% then we are left with the realization that sales increased for the first 3 quarters.  In the age of "fake news" the math still must add up. If that is true then not only does that mean the weather really did impact the fourth quarter but that sales would have grown! Lets not get ahead of ourselves but it is an important observation.  If "what if's" mattered I would still have 50 bitcoin but instead the CA weather was bad and I have 0 bitcoin.
Estimated Sales for 2018
As stated if you believe that the 4th quarter was temporary then you can scratch that out replace it with $0.25 if California had a normal winter which is on the low end of the $0.25-0.30 guidance. Doing so would have given you $0.90 profit but I want to be ultra conservative.  Lets take another $0.20 or 22% decline in profits for whatever reason you want!  Let's call it $0.70 for 2018.  As a sanity check the average earnings for 2014-2016 is $0.71 so we are well within the ball park but if you call in the next 5 minutes we will throw in .....
Trump Tax Plan
The corporate tax rate went from 39% to 21% (was it 22%?) and retail businesses always pay the top rate. In the Big 5 financial statement the tax line almost perfectly equals 39% after tax.  If we look at the last four quarters of income tax that Big 5 paid we can estimate the tax change to the best of our ability. We come up with $6.30M or $0.30 a share in estimated tax savings.

If the tax plan starts in 2018 and they earn $0.70 + $0.30 Tax Savings it would become $1.00 in earnings.  That is a pretty big deal and 2018 is starting to look good but I have some bad news for you ...
CA Wage Increase
For those that are not familiar Big 5 has 50% of their stores in California and they passed a multiyear plan to increase the minimum wage. In 2018 minimum wage will go up $0.50 an hour.  It will go up more in future years but I firmly believe companies will do a combination of productivity improvement and a few cent price increases to offset the labor.  Price increases are controversial and could help online sales but overall I do not think it will be the death of retail stores in California that some are stressed about.  I also think CA may revisit this depending on how this plays out. California cannot allow the unemployment rate to spike due to this legislation but my point is that this is not a concern for 2018. With that said lets subtract $0.10 from our projection of $1.00 - $0.10 = $0.90 for 2018.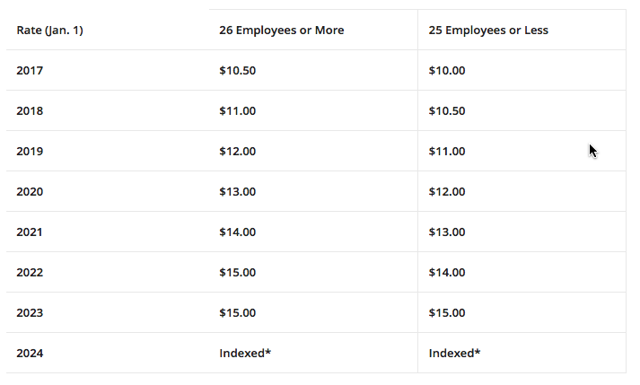 Short Float is over 60%
The short interest will cause a short squeeze and it will inevitably cause the price to rise faster and father than if it wasn't shorted to the extreme but I do not want to get into that math here.  Remember let's go conservative and just ignore it.
Stock Buyback
Big 5 does buyback shares and it will raise earnings per share but for this conservative estimate I am going to leave that out on purpose as well.
Value based on 11 PE?
If you forget about the short squeeze and you agree that an 11 PE is fair and at a discount to the historical average then that means the fair value of BGFV with $0.90 earnings is $9.90 a share.
Value based on Book Value?
As of the 3Q of 2017 here is the math. Total Assets of $441.394 but let's subtract goodwill of $4.433, other assets of $2.919, and $6.0 write off due to tax changes.  That gets us a conservative $428.042 or $428M.  Subract total liabilities of $237.91M for a total of $190.132 or $9.01 per share.
Value based on Sales
This is tough.  Dicks trades at a price to sales of 0.46 and Big 5 trades at a price to sales of 0.14.  I cannot argue that Big 5 deserves the same value or $18 per share even though that is exactly what it would take. Therefore lets note it and move on.
The only interesting item here is the possible value BGFV would be to DKS. Dicks could buy BGFV for inventory cost, eliminate competition, and then potentially get rewarded by its own shareholders to the tune of 2X the acquisition cost. In the end this is another dream where I wake up wanting to go back to the dream but you never can return to the same dream. I have tried.
In Conclusion
I set out to prove that while Big 5 Sporting Goods is not a perfect stock it does a have a value that far exceeds the current price even considering the most conservative estimates for next year.  While I believe it is being unfairly shorted that is the right of those shorting the stock.  It our job as investors to uncover these gems in our hunt for alpha. I hope you enjoyed my first article and that you can ignore any honest mistakes I may have made.
Disclosure: I am/we are long BGFV.