Having just published a fresh new edition of The Black Swan Portfolio here are some of the latest performance figures on the service. To learn more about how I've calculated the figures please read this post. 
The Black Swan Portfolio 
The service contains two virtual portfolios with distinct goals:
Protect capital

Generate returns
These portfolios are referred to as the
Númeraire Repository of Value

The Black Swan Portfolio
Together you could view the two as a barbell portfolio:

Safe assets on the left (Numeraire Repository of Value) and risky assets on the right (The Black Swan Portfolio). See diagram below: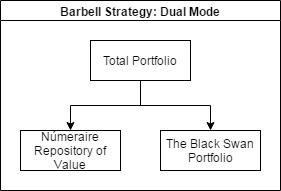 31.37%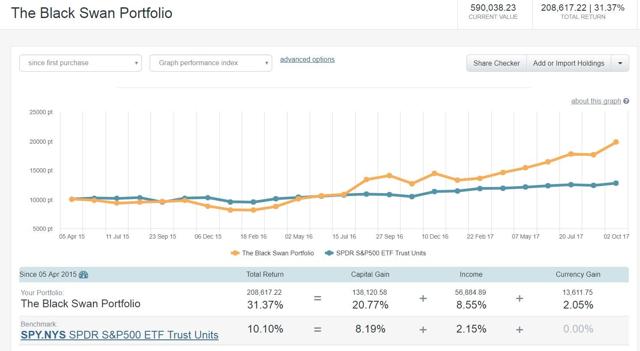 Year-to-date we achieved a 21.07% total return which beats the S&P 500's 13.94% total return. The resulting compound annual rate of return of 31.37% is highly satisfactory but also exceeds my expectations as a sustainable long term rate of return on selections by a mile.
2.7%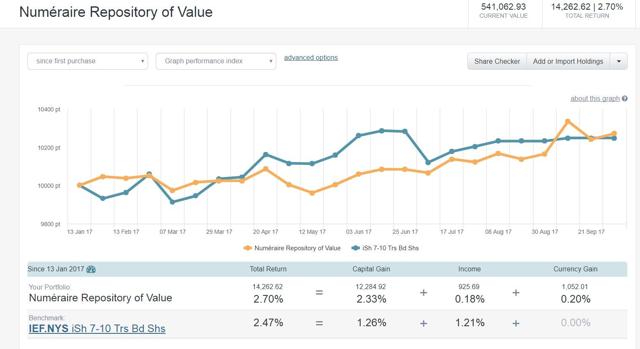 The Númeraire which is our cash alternative added 2.7% since inception at the start of the year. It outperformed a 7-10 year Treasury ETF by a razor thin margin and lately picked up a little bit of volatility. It's an ongoing goal to improve the portfolios resilience. Some of the individual components are extremely volatile but are in there to help with this goal.
Asset allocation
The actual selections are reserved for subscribers but I wanted to share the diversification report as it gives an idea of what I'm working on within The Black Swan Portfolio (in case my publicly available articles don't). 
Join us
If you do like my public stuff please join the service. I'd be glad to have you on board and have you benefit from the premium service. 

There is currently a free trial period available so you can sample the service at no risk.