Take a look at the chart of the SPY. All analysis points to the downside.
From the chart below, the SPY prepared a nice head-and-shoulders pattern which broke to the downside basically to 130 or 1300 on the S&P 500. The 1300 mark is a major point of confluence for traders and investment managers. At this level traders and managers have automated buy orders, which appropriately kicked in. As the chart points out, level "X" indicates the break down. Level "A" indicates the low of the breakdown. As we approach "A" volume begins to increase which is a bearish sign. Once we reached point "A" we begin to get a pull back to "B". "B" showed bearish signs since the pull back is on lower volume. The horizontal dotted lines represent Fibonacci retracement lines. Pull back "B" has retraced to the 23.6 level, which is a weak pull back but still appropriate. There still remains room for a pull back to the 38.2 and 50 levels which would be a price between 133.85 and 135.20.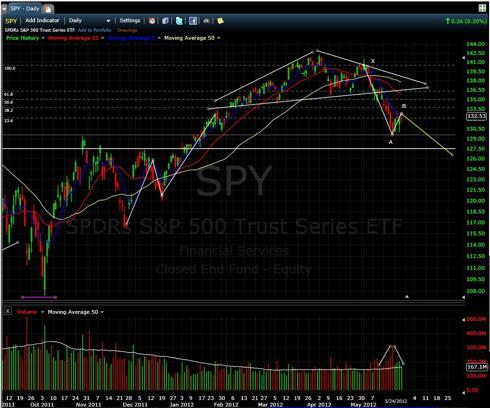 The yellow line attached to "B" indicates my estimated price route. I believe that going into June we will see the SPY decline to 120 by the end of July.
The old adage, "Sell in May and go away" will come true. This cycle carries a very real psychological truth. Most Americans take summers off. As such, they are less interested in the markets and are more interested in vacation time. That is a plain truth.
The ICI index that measures retail investors cash inflows and outflows to the markets indicates that retail investors are pulling money from the markets. Additionally, the looming problems facing Europe are enough to caution most investors. It is not necessarily that the news is negative, it is that the there is no positive news.
Disclosure: I am short SPY.
Additional disclosure: I own the 131 put option on the SPY. It expires August 2012.