On Jan 28th 2014, Blackberry (BBRY) released the OS 10.02.1 update for its BB10 smartphones. This particular update came with a whole host of goodies and refinements. There were roughly 12 updates in total, one of which was a differentiating pseudo FM tuner. However the update that I was crossing my finger for did not come to fruition.
What was on my wish list, was the simple ability to download android apps directly from the Google (NASDAQ:GOOG) Play Store or Blackberry World.
This concept of downloading and using android apps on a BB10 is not very far fetched at all. In fact there are rumors that BBRY is considering a select number of android apps to be available for download in Blackbery World in its OS 10.03 release. The reader can consider that many BB10 users have been side loading android apps for months already. Not to mention an "unofficial" Google Play download center called 1mobile market is fully functional (see picture below).
1mobile market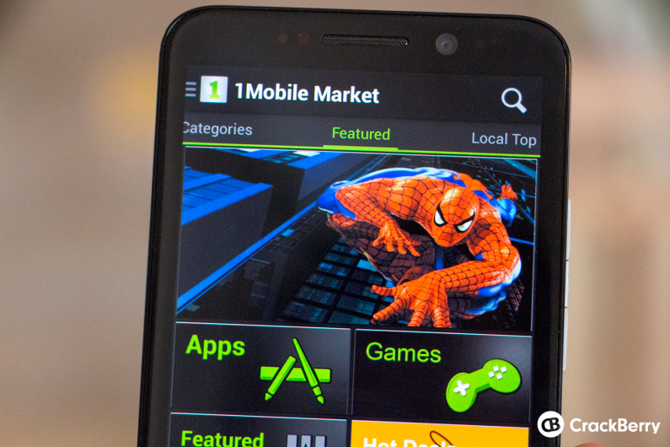 As for BBRY's share price, it is common knowledge that there has been quite a recent run up in the past month alone.
BBRY 1 Month Chart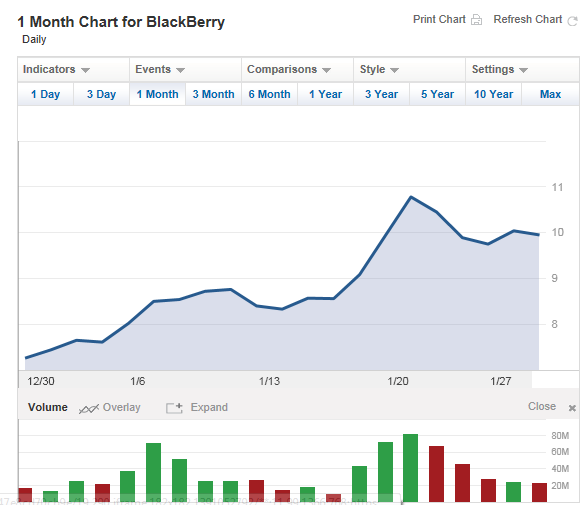 Some of the reasons for this run-up, could be attributed to all the recent moves that CEO John Chen has be able to accomplish in such a short period of time. Mr. Chen's recent notable moves are the Foxconn deal to outsource BBRY handset manufacturing, in which low cost BB smartphones are already slated to be released soon. Moreover some additional momentum for the stock was created by the slate of new and experienced executives added to Chen's team. Additional notable events worth considering were the adding of cash to the balance sheet by virtue of a 1.25B convertable debt issue, and the sale of real estate assets respectively.
Furthermore it is worth mentioning that there is at least some positive traction for BBM with its 40M+ users, and a special release for android rumored soon. Last but not least, there was additional speculation of a suspected short squeeze after Citron Research a notoriously known short, claimed that the shorts had it all wrong and set a price target of $15. Citron even went further to comment that BBRY could double. SA author George Kesarios recently wrote an investigative article into this short squeeze theory. Mr. Kesarios ended up presenting facts that showed the short interest has dropped slightly, but is still holding fast at historically average levels.
I have personally be long BBRY for quite sometime, and have been a bull since late 2011. However I have since had my lunch handed to me, as my Jan BBRY OTM LEAP calls expired, only to watch in horror as they went ITM on the following Monday. As a result I have since learned a costly lesson to buy back call contracts or any option contract for that matter, when they are profitable and not to be so greedy. Another lesson and pattern that has repeated itself many times over is to sell into the BBRY earnings release.
That said, even though I did not get my wish or profit on my call options, I am still long BBRY shares. I see value in the company, and I believe that the next catalyst for the shares will be proper support of directly downloadable Android apps. As for the security concerns that come along with android, the use of BB balance could be used to offset this risk by loading android apps to the personal side only.
Having the ability to download android apps directly to a BB10 device silences the "not enough apps" crowd once and for all. Moreover this utility brings immense value to BB10 users. For example if the app isn't native to BB10 devices, simply download a stable and tested android version. In my opinion given the choice, smartphone users in general would prefer the BB10 OS experience, and the fit and finish of the BB10 smartphones, versus some of the regular android devices currently available. When users pair the potential availability of android apps with Blackberry's ironclad reputation for security, it only equates to a potential game changer, and thus a potential short squeeze for BBRY's shares. I can make this statement and stand behind it by just considering the recent volume and price reaction on for BBRY on mere speculation that the DoD was purchasing 80,000 BB10 devices.
A challenge that could exist would be users of Blackberry not even bothering to go to Blackberry World first for their downloads, in lieu of just visiting Google Play. As a result Blackberry may be worried about some potential loss of stickiness in customer loyalty. For this reason, I believe that GOOG would support BB10 devices access to the Play Store, as it would only helps to promote the android ecosystem. The reader could also consider that GOOG appears to becoming device agnostic as they just sold and jettisoned their Moto handset business to Lenovo.
BBRY needs to do something in regards to officially supporting and allowing for android app usage on its BB10 devices. Otherwise this black market for android apps via 1mobile market is just going to grow.
With that my message to John Chen is simple; clearly there is a demand for android apps on BB10 devices, and your customers are going to find away around official support one way or another (as they already have). So please consider that it would be better to have an official Blackberry solution for your customers demands.
Disclosure: I am long BBRY. I wrote this article myself, and it expresses my own opinions. I am not receiving compensation for it (other than from Seeking Alpha). I have no business relationship with any company whose stock is mentioned in this article.