Last week, the Pedigrees overtook the Dogs, picking up a slight lead. Lest anyone think that meant the Dogs were done for, no such luck. This week's results have the Dogs back in the lead by 30 BPS (these guys are keeping this a close race).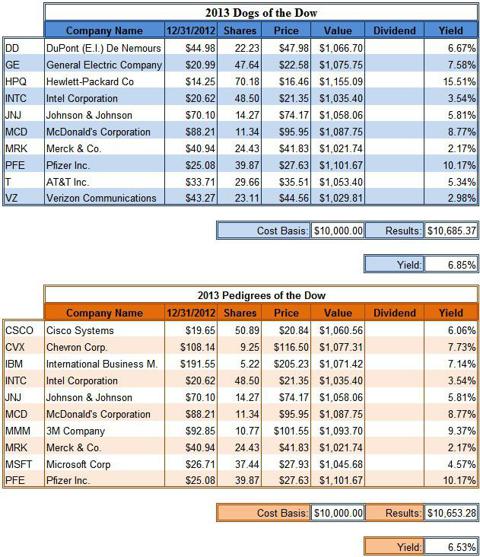 The Pedigrees are sticking together as a pack, with Intel (NASDAQ:INTC) and Merck (NYSE:MRK) bringing up the rear. Pfizer (NYSE:PFE) is cruising (mostly because of its Zoetis (NYSE:ZTS) IPO) at > 10%
The Dogs seem to be more stretched out, with Hewlett-Packard (NYSE:HPQ) leading with 15.51% (I wish they'd made it into the Pedigrees), followed by Pfizer. What's helping the Dogs is that AT&T (NYSE:T) and Verizon (NYSE:VZ) have gotten their acts together.
Of course, it's earnings season, and investors seem to be happy with the way things are going. The next few weeks should be interesting, as most of these guys haven't discussed their 2012 earnings yet.
Disclosure: I am long PFE.