It's earnings season, and investors seem to be pleased with the way things are going (especially considering today's nice up day). The Pedigrees are still in the lead, but the Dogs are presenting something of a real challenge this week - the Pedigrees lead has been cut to less than 70 BPS - it was almost 400 BPS last week.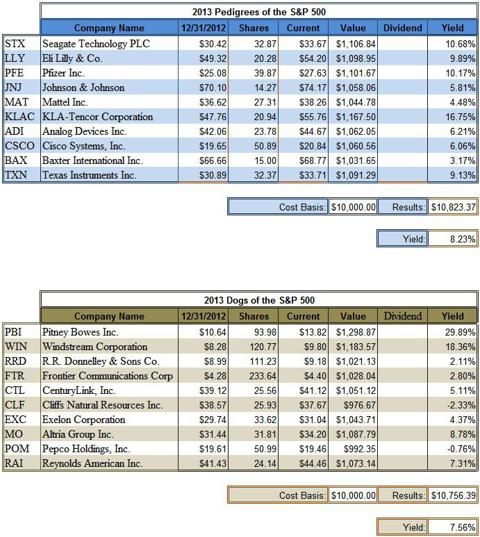 The key to the Dogs' performance still seems to be the numbers being posted by Pitney Bowes (NYSE:PBI) and Windstream (NASDAQ:WIN) really digging in with yields of 29.89% and 18.36%, respectively.
On the Pedigree side, Seagate (NASDAQ:STX) dropped in share price by almost 10%, leaving Pfizer (NYSE:PFE) and KLA-Tencor (NASDAQ:KLAC) to pick up the loss with their yields of 10.17% and 16.75%, respectively (even though KLA actually dropped back a bit).
Disclosure: I am long PFE.