While the Dow has had a down week due to some poor earnings reports, the S&P hasn't fared too badly - both teams are up this week, with the Pedigrees opening up a substantial lead (167 BPS) over the Dogs.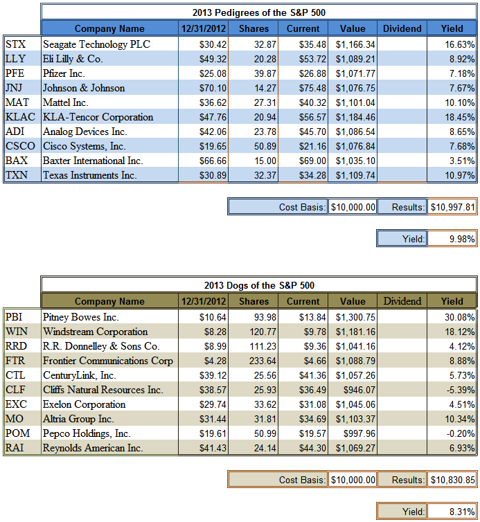 All of the Pedigrees are doing well, although Baxter (NYSE:BAX) is weakly bringing up the rear. Four Pedigrees are running in the double digits, with KLA-Tencor (NASDAQ:KLAC) leading the way with 18.45%.
The real story, however, is the phenomenal performance of Pitney Bowes (NYSE:PBI), which has increased by a whopping 30.08% Windstream (NASDAQ:WIN) and Altria (NYSE:MO) are doing their share, as well. The rest of the Dogs are a mixed bunch, and also-rans Cliffs (NYSE:CLF) and Pepco (NYSE:POM) are still going the wrong way.
Disclosure: I am long PFE.