We are nearing the end of Q1. The Dogs of the Dow continue to increase their lead over the Pedigrees of the Dow, and this continues to be due to the stellar performance of Hewlett-Packard (NYSE:HPQ); otherwise, both teams are performing fairly closely. Here are the roundups: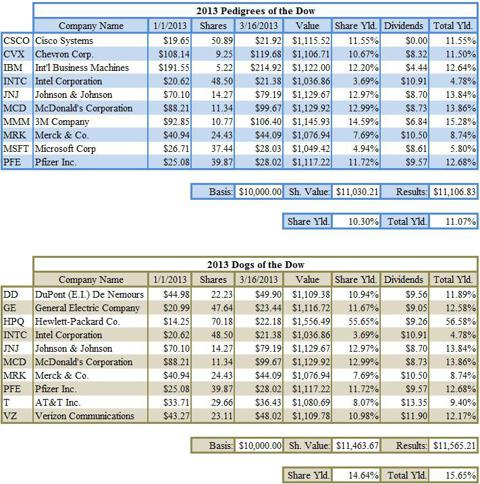 There is very little to add, as the results are in keeping with those of the past few weeks, particularly when compared to the performance of the Dow Jones Industrials as a whole. If there is a cause for concern, Intel Corporation (NASDAQ:INTC) seems to be in a sustained funk - it is down again, and is the worst performer in both teams. Another concern is Microsoft Corp (NASDAQ:MSFT), which is only about 100 BPS ahead of Intel.
As noted last week, if we were to factor HP out of the competition, both teams would be, for all intents and purposes, neck and neck.
Disclosure: I am long PFE.