As we close in on the end of Q1 it seems that most of the members of the "Dogs" team are pushing hard. The "Pedigree" team is coasting, though, with a 631 BPS lead.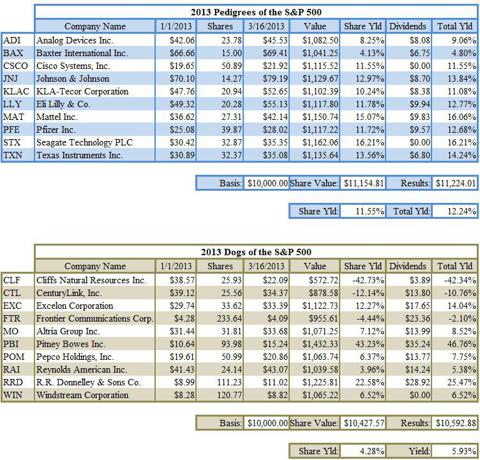 Pitney Bowes Inc. (NYSE:PBI) continues to be to the Dogs of the S&P 500 what Hewlett-Packard (NYSE:HPQ) is to the Dogs of the Dow - fast growing. Unfortunately for the Dogs of the S&P 500, though, is the fact that Cliffs Natural Resources Inc. (NYSE:CLF) is running backwards at -42.34% (total yield). Two other Dogs are in the negative yields: CenturyLink, Inc. (NYSE:CTL) and Frontier Communications Corp. (NYSE:FTR). On the plus side, R.R. Donnelley & Sons (NASDAQ:RRD) is hot at 25.47%, helping Pitney Bowes to offset the three negative performers.
Some dramatic shifts among the Pedigrees have managed to slow them down a little. KLA-Tecor Corporation (NASDAQ:KLAC) lost 525 BPS from last week, now at 11.08% from 16.33% last week. On the other hand, Seagate Technology PLC (NASDAQ:STX) popped 937 BPS to 16.21, up from 6.84 last week (!). Seagate's performance helped to offset a downward trend among many of the Pedigrees.
Disclosure: I am long PFE.