This is more like it. Although the week started off unhappily, it ended up with a couple of good days to wipe out a lot of the damage done in the past couple of weeks. (I have this gut feeling the week coming up will not be quite so nice.)
The Dow: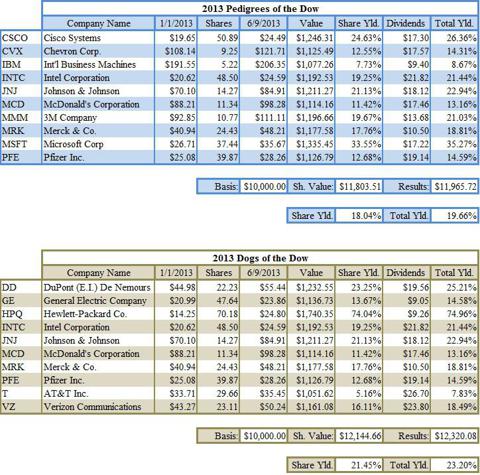 Most companies were up, and an increase of about 2% per company seems to have been the average. Cisco Systems (NASDAQ:CSCO) and Verizon Communications (NYSE:VZ) seemed to do particularly well, while AT&T Inc. (NYSE:T) seems stuck in the mud. Both teams are on a par with where they were three weeks ago.
The S&P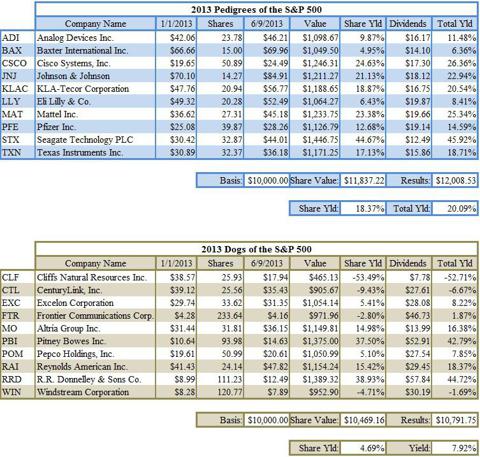 The Dogs of the S&P seem to have pulled up lame. If a couple of companies hadn't paid dividends this past week (notably Frontier Communications Corp. (NYSE:FTR)), the team as a whole would have been down for total yield. Four companies are now in the negative yields, and only Pitney Bowes Inc. (NYSE:PBI) and competitor R.R. Donnelley & Sons Co. (NASDAQ:RRD) seem to be doing very good. You-know-who just keeps getting further behind; if it were possible to make substitutions, this company would be a major candidate for getting cut.
Disclosure: I am long PFE.