For the most part, this was a good week, although it seemed to start off with a little hesitancy. Of the four teams, only one ended the week down, and it shouldn't come as too much of a surprise that it was the Dogs of the S&P 500 that dropped a bit. There also didn't seem to be any real surprises, either: Hewlett-Packard (NYSE:HPQ) continues to barrel along; Cliffs Natural Resources (NYSE:CLF) continues to lose.
The Dow figures: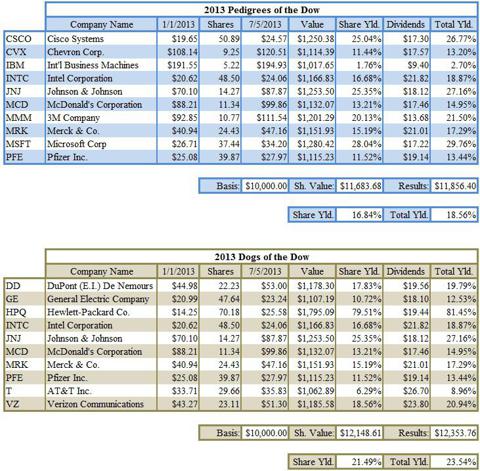 IBM (NYSE:IBM) is a bit disappointing, and AT&T (NYSE:T) is still running a bit low. Otherwise, these two teams continue to perform pretty much as they have so far this year.
The S&P 500 data:
It strikes me that Baxter International (NYSE:BAX) and Eli Lilly (NYSE:LLY) are doing more poorly than they started out, and Seagate (NASDAQ:STX) is doing its version of HP. Five Dogs are running share yields in the negative numbers, which doesn't help things for the Dogs. Pitney Bowes (NYSE:PBI) and R.R. Donnelley (NASDAQ:RRD) continue their winning ways, with Donnelley showing up with a total yield of almost 65%. Both of these Dogs are doing quite well.
Disclosure: I am long PFE.