A very odd week, and a two-month-long vacillation in the markets continues. The Pedigrees seemed rather listless, while both Dog teams seemed to fare fairly well.
The Dow: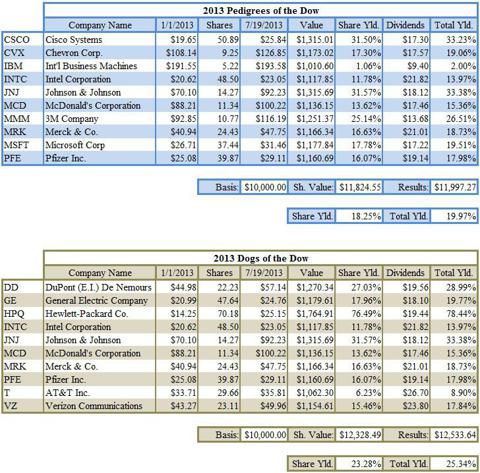 The biggest surprise may be the 1580 BPS drop for Microsoft Corp (NASDAQ:MSFT), which have some of my colleagues claiming the market is about to crash. Quite frankly, I'm fairly surprised that Microsoft had been doing as well as it had. For the Dogs, Dupont (DD) had a very nice week, which was offset by the very poor week Hewlett-Packard (NYSE:HPQ) had.
Overall, both teams down from last week, the Dogs only marginally, and the Pedigrees by about 150 BPS. What makes the week really odd is that the Dow itself was up, as was DIA.
The S&P: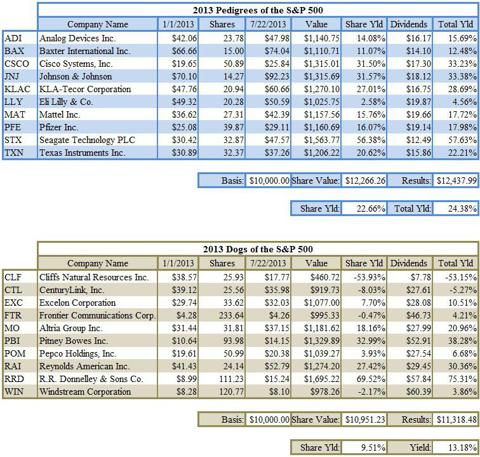 The Dogs did very well this week, as just about everyone but Windstream (NASDAQ:WIN) was up; for the Pedigrees, on the other hand, Mattel (NASDAQ:MAT) was down in the neighborhood of 1271 points. The Dogs are still trailing everyone, and the Pedigrees are still leading everyone, but the difference is not so remarkable as it has been.
On the whole, my take on the current state of the market is that we are seeing the correction people had been talking about during Q2. For two months things have been very unsettled, and I think they shall stay unsettled for a while. It won't be until Q4 that we see a more steady, gradual growth in the market - nothing like the first five months of this year, but trending up, nevertheless.
Disclosure: I am long PFE.