Well!
The end of another quarter. Government is shut down. And I'm a couple days late with this post.
And I don't think anyone really gives a darn about any of those.
Everyone is wondering, What Would Joe Do?
Last week ended on a decidedly down note as people wondered what was going to happen with the government. Given today's response so far, I think the fear last week was that some kind of compromise would be worked out. It wasn't, so ... government shuts down on Monday, market's up on Tuesday.
Go figure.
The Dow:
Only thing to point out is that Chevron (NYSE:CVX) replaces Hewlett-Packard (NYSE:HPQ) for the Dogs. I had already PICed Chevron. Everything is down, IBM (NYSE:IBM) actually goes significantly negative.
The S&P 500: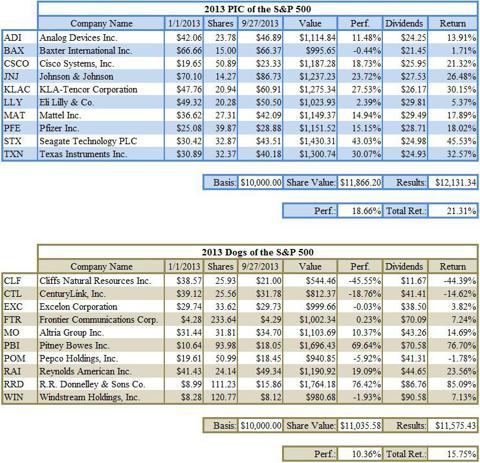 Same as above - most things are down, with the Dogs suffering. Baxter (NYSE:BAX) is negative, and the usual gang of suspects is negative for the Dogs (except for Frontier Communications (NYSE:FTR)!).