I have initiated a position in Focus Ventures (FCV on the TSXV) this past week because I believe in Simon Ridgway, the CEO and chairman, and I think the company provides the most leverage to a recovery in agricultural commodities, which I believe to be "the last cheap commodity" at this point in time.
To be precise, the last cheap sector within the mining industry. While I still believe nickel and copper are a bargain as well, the base metals mining stocks are already up hundreds of percent, and considering my lukewarm feelings on the world economy and base metals in the near term, I do not believe now is the time to be buying base metals miners.
Unlike other commodities, agricultural commodities haven't experienced a major breakout yet. They are currently up less than 10% from their 2016 bottom, as measured by the Rogers International Commodities Index - Agriculture (NYSEARCA:RJA).

The exact commodities that should provide the most upside to a return of positive sentiment in agriculture are potash and phosphate rock because they are "hard commodities" like metals that must be mined and therefore react to supply/demand imbalances the most violently, since you can't just turn a mine on or off as quickly as a farm or oil well, for example.
Potash and phosphate rock are irreplaceable in creating potassium and phosphorus fertilizers so the demand picture is relatively consistent, with more than 2% demand growth for the forseeable future. As long as the world population is growing and they seek to further increase crop yields through more fertilizer usage, there will be increasing demand for these commodities.
However, just like all commodities after 2011, potash and phosphate rock prices have suffered.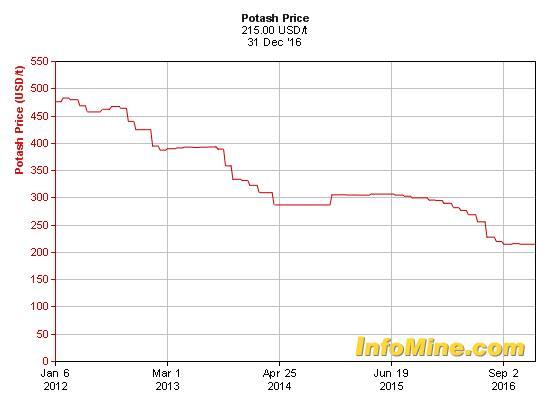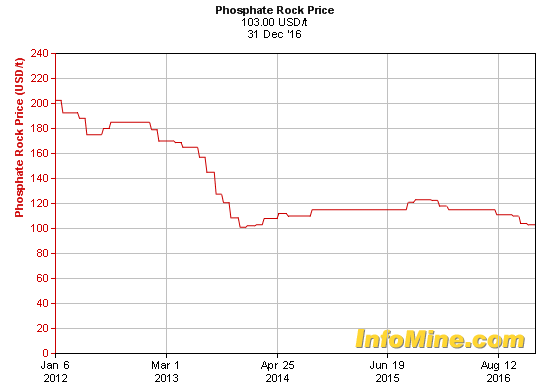 I don't know whether the bottom is in or not, but considering most other commodities experienced a strong bounce, an investment is worth the risk. I have been rewarded for such contrarian actions in the recent past: After most of the metals rallied in November but uranium marched below $20, I made some investments in some $5M-$15M companies that had large, advanced uranium projects in Namibia, and that paid off spectacularly (100%-200% gains in two months).
So now that the potash/phosphate rock thesis has been laid out, I'll explain why I've chosen to invest in Focus Ventures.
First of all, it is a relatively advanced phosphate rock project in Peru with a completed pre-feasibility study, so it's easy to get a handle on the size and economics of the project. If phosphate rock prices can recover 50% from here, then their project is worth hundreds of millions. Compare that to their fully diluted market cap of just C$11M, and you can see there's a lot of room to run.
Second, the CEO and Chairman, Simon Ridgway, has been successful in the mining sector in the past, having co-founded Fortuna Silver Mines (NYSE:FSM). In February, he acquired another 500,000 shares (C$25,000) of Focus Ventures on the open market, so he's got his skin in the game too.
Third, the company is trying to raise C$4M in a private placement by the end of this month, and I believe they will be successful in raising the full sum. This will provide them with plenty of cash to "weather the downturn" as investors wait for phosphate rock prices to rise.
I'm starting with a very small position, making Focus just 1.25% of my investable assets. If they are successful in raising the C$4M and the price stays flat or goes lower, I will double or triple my investment.
Disclosure: I am/we are long TSXV:FCV.