$NMUS FULL CEO Interview A Sit Down With Nemus Bioscience; Cannabinoids In Focus - Nemus Bioscience, Inc. (OTCMKTS: $NMUS) | Seeking Alpha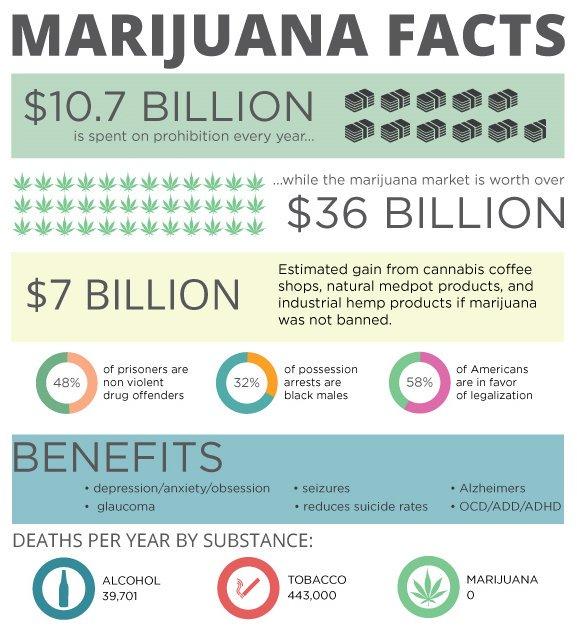 $NMUS February 16, 2017 NEW Investor Presentation Posted to Website
www.nemusbioscience.com/about-us/default.aspx
Investor Presentations
www.nemusbioscience.com/investor-relations/events-and-presentations/presentations/default.aspx
DIRECT LINK TO PRESENTATION
s2.q4cdn.com/753474459/files/doc_presentations/2017/Nemus-Public-Deck_Feb-2017_FINAL.pdf
GW Pharma Oncology Is Potentially Under-rated
Mentions $NMUS
seekingalpha.com/article/4049512-gw-pharma-oncology-potential-underrated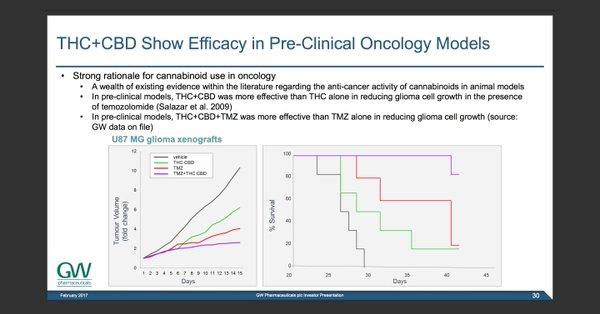 A Sit Down With Nemus Bioscience; Cannabinoids In Focus
Feb. 1, 2017 11:06 AM ET Nemus Bioscience, Inc. (OTCQB:NMUS)
Summary
Cannabinoids are fast becoming an interesting market with proven efficacy for a host of disease and illness.
Separating cannabinoid companies from marijuana stocks is a critically important aspect of investing in the sector.
NMUS is well connected with educational institutions, has some strong license agreements and may capitalize from increased interest in cannabinoid based therapy.
I have received enough questions from followers about Nemus Bioscience that my curiosity was finally piqued to the point of action. While Seeking Alpha has certainly presented a fair share of information and analysis about NMUS, the time is probably ripe for management to provide a detailed update as to the current state of NMUS, as well as to provide guidance on its near term ambitions.
Being that as it may, I went straight to the source, and NMUS management was more than receptive to providing some current data and to provide investors with a fresh take on what NMUS is working to accomplish.
From my point of view, NMUS is growing and is charting a course for growth in the near term. From managements perspective, they are already well on their way.
Q. In looking at NEMUS' portfolio of cannabinoid product candidates and the unique relationship with The University of Mississippi, can you provide us with an overview of the pipeline and patent portfolio?
The University of Mississippi has held the only contract to cultivate cannabis for research purposes on behalf of the Federal Government since 1968. By virtue of the University's 49-year experience with the Cannabis plant, Nemus benefits tremendously from the University's knowledge. Nemus is the sole developmental and commercialization partner with the University and has exclusive, global licenses to intellectual property related to these molecules.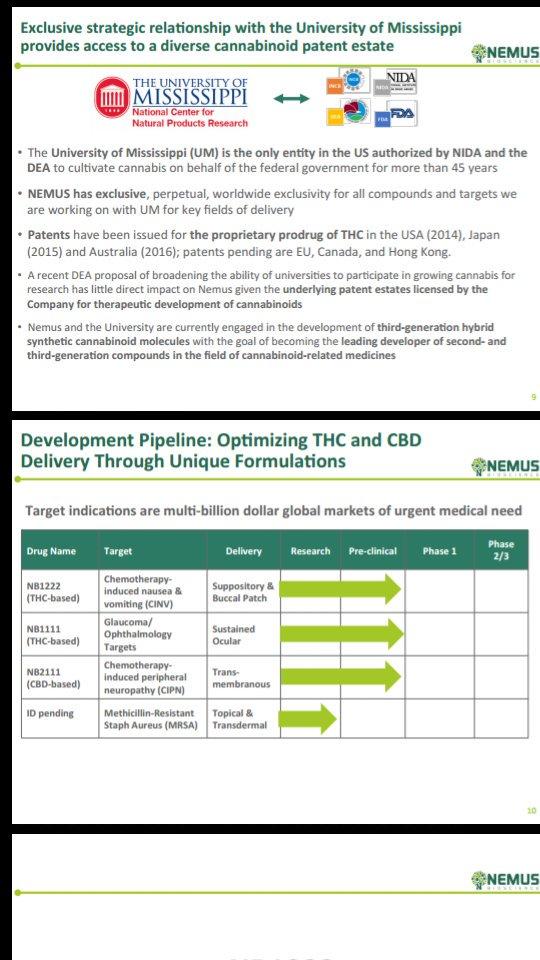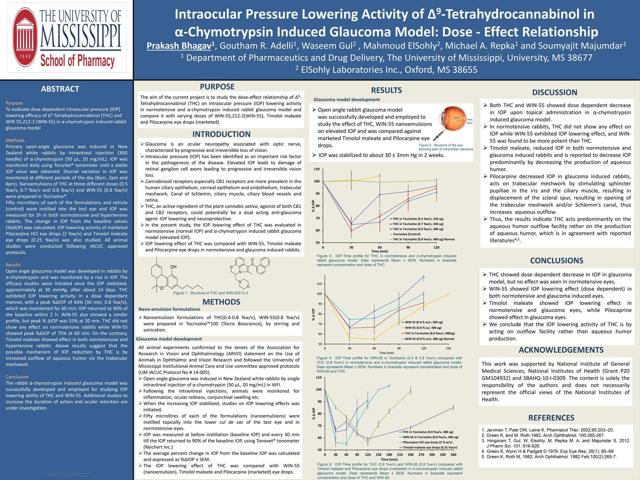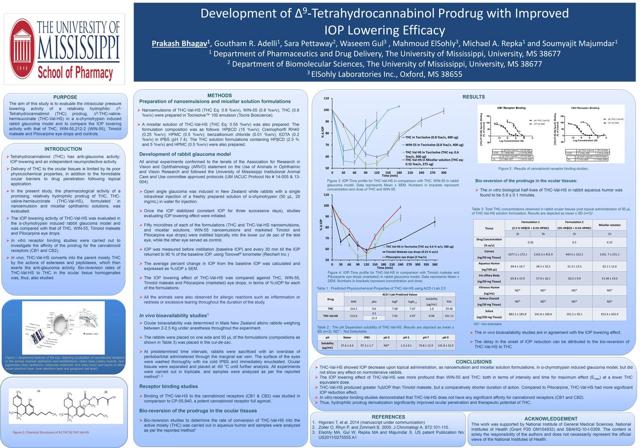 Nemus Bioscience Announces Licensing Agreement with the University of Mississippi (UM) for a Cannabinoid-Based Anti-infective Platform Directed Against Drug-Resistant Organisms
www.nemusbioscience.com/investor-relations/investor-news/investor-news-details/2017/Nemus-Bioscience-Announces-Licensing-Agreement-with-the-University-of-Mississippi-UM-for-a-Cannabinoid-Based-Anti-infective-Platform-Directed-Against-Drug-Resistant-Organisms/default.aspx
01/11/2017
Download this Press Release
COSTA MESA, CA / ACCESSWIRE / January 11, 2017 / NEMUS Bioscience, Inc. (NMUS) announced that the company had signed a licensing agreement with the University of Mississippi (UM) for a platform of cannabinoid-based molecules (UM5070) for potential anti-infective use against bacteria, viruses, and fungi. The agreement culminates roughly one year of screening and target molecule identification studies especially focused on therapy-resistant infectious organisms like methicillin-resistant Staphylococcus aureus (MRSA).
Brian Murphy, M.D., M.B.A., Nemus CEO and Chief Medical Officer, with expertise in infectious diseases commented, "Resistance to anti-infective therapies is a growing global health crisis that has significant impact for patients and their families, as well as society in the form of increased health-care management budgets to control the spread of these diseases. In addition to MRSA, we have seen a rise in resistant strains of fungi like Candida and Aspergillus, and among families of multiple viruses. While there has been a concerted effort to develop new therapeutic agents, some of these therapies have significant side-effects, cumbersome dosing, and are extremely expensive to manufacture. Cannabinoids offer a class of molecules notable for their safety profile and, through our manufacturing relationships, we believe these can be produced in a cost-effective manner."
"Cannabinoid receptors are located in just about every major organ in the body and are involved in cell-signaling related to the inflammatory response, healing, and even the development of scarring and fibrosis," stated Dr. Mahmoud ElSohly, professor at the National Center for Natural Products Research at the University of Mississippi. "In working with Nemus, we have developed a diverse platform of cannabinoid-related molecules that have therapeutic potential based on different routes of administration and activity against specific infectious organisms."
"This anti-infective platform will constitute the NB3000 series of Nemus molecules and formulations. In addition to developing this pipeline, the company is assessing the potential commercial value outside of the human anti-infective space to include veterinary and the anti-biofilm markets," stated Dr. Murphy. "Given the bandwidth of potential uses, Nemus expects to actively pursue partnering opportunities for these candidate molecules with a goal that the monetization of these assets can be optimally leveraged."
Those licenses include access to intellectual property for both a prodrug of tetrahydrocannabinol (NYSE:THC) and an analogue of cannabidiol (NYSE:CBD). The THC-prodrug is being developed as a therapeutic agent for glaucoma and chemotherapy-induced nausea and vomiting (CINV). The analogue of CBD is being explored as a possible therapeutic for chemotherapy-induced peripheral neuropathy (CIPN) and other pain syndromes. Lastly, Nemus is developing cannabinoid-based platforms for use as anti-infectives, especially for use against bacteria and viruses that have developed resistance to established therapies.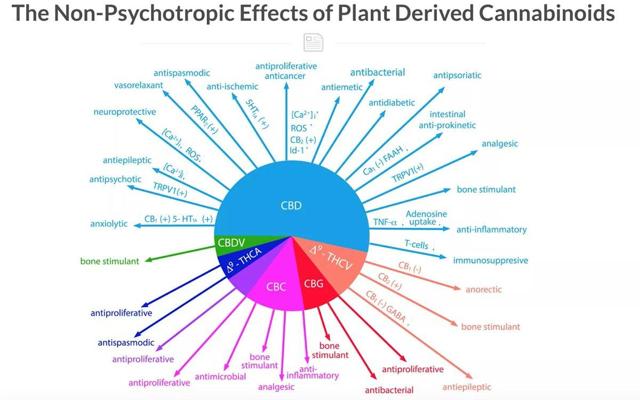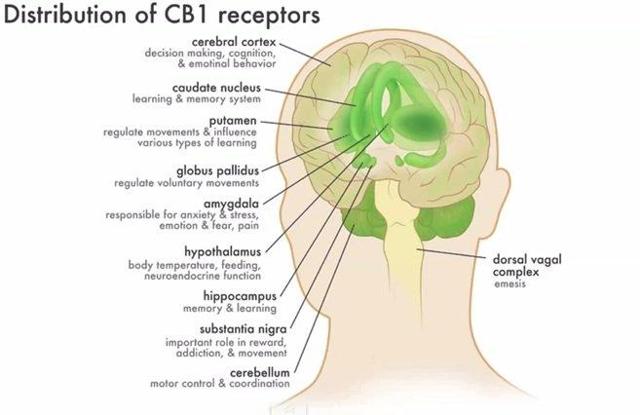 Research
Cannabinoids are a class of chemically diverse compounds that are extracted from the cannabis plant. These compounds express their physiological response by binding to specific cannabinoid receptors (CB1 and CB2), which are found throughout the body. The spectrum of available research suggests that some cannabinoids exert multiple effects on the human body, including but not limited to: impacting the immune response, nervous system function and repair, gastrointestinal maintenance and motility, motor function in muscles, pancreatic functionality and blood sugar regulation, and integrity of function in the eye, including the optic nerve. Cannabinoid molecules have been studied widely, and published data point to the potential efficacy of these compounds in treating many disorders or alleviating disease-associated symptoms.
Known Effects of Cannabinoids
WHAT ARE CANNABINOIDS?
Cannabinoids are a class of diverse chemical compounds that are extracted from the Cannabis plant.
Cannabinoids act specifically through CB1 and CB2 receptors. These receptors are found throughout the body and are involved in many physiological processes.
Cannabinoids can specifically have impacts on the immune system, nervous system and the body's organs.
PRIMARY CANNABINOIDS:
There are 6 key cannabis extracts (of over 100) that have been shown to produce pharmacodynamic effects through their affinity for CB1 and CB2 receptors as shown in the chart to the right.
Q. Often times investors confuse pharmaceutical-based cannabinoids with plant derived products. Can you give a layman's overview of the difference and significance from a regulatory standpoint?
The Cannabis plant is known to have more than 100 different cannabinoid molecules. These molecules can possess diverse activity at the cellular level in multiple organs in the body. Plant-derived molecules are very hydrophobic or not that soluble in water. The lack of significant water solubility makes these molecules difficult to administer into the body, especially by oral ingestion. Nemus' cannabinoid molecules have been re-engineered to make them chemically more hydrophilic or water soluble, so they can traverse cellular membranes easier with the goal that they can be absorbed in a more predictable and safer way. Patents have been issued for compounds licensed by Nemus that have intellectual property claims related to composition of matter, methods of synthesis, and methods of use.
Nemus cannabinoid molecules are being chemically synthesized to meet purity and scale-up criteria for eventual commercialization. The synthetic manufacturing process must meet DEA and FDA specifications for cannabinoid-based drug product. Furthermore, Nemus plans to conduct the necessary pre-clinical and clinical studies so these molecules meet the specifications to be an approvable drug product.
Q. In terms of competition in the space with GW Pharma, Zynerba, and Insys, how do you feel NEMUS should be compared?
Nemus is an early-stage developmental company compared to the listed cannabinoid-market incumbents. We aspire to be a second-generation market disruptor.
a) Nemus does not rely on plant extraction for its drug product candidates and in fact, by virtue of biosynthetic manufacturing, can potentially develop high-purity active pharmaceutical ingredients (APIs) with associated shorter manufacturing times.
b) Nemus's portfolio consists of re-engineered cannabinoids, a prodrug of THC and an analogue of CBD. These drug product candidates are designed to have multiple routes of administration specific to the disease indication that could potentially give Nemus a competitive advantage on issues of bio-distribution, bioavailability, and pharmacokinetics.
c) Unlike companies that use traditional plant cannabinoids, Nemus' licensed bio-engineered molecules have been issued patents for composition of matter as well as methods of use. Consequently, Nemus may not have to rely on orphan indications for market exclusivity but could approach entire therapeutic areas globally. These markets, namely glaucoma, pain, methicillin-resistant Staphylococcus aureus (MRSA) and CINV, are all multi-billion dollar global opportunities with an urgent medical need for newer, safe and effective therapies.
d) Nemus currently holds some market distinctions, including, to our knowledge, being the only cannabinoid company developing a portfolio of drug candidates for use in ophthalmology, with a leading indication being glaucoma; the only cannabinoid company developing an anti-infective platform against multiple infectious agents; the only cannabinoid company utilizing biosynthetic manufacturing; and the only cannabinoid company with prodrug and analogue capability with multiple potential routes of administration including ocular, trans-mucosal/buccal, transdermal, and transmembranous delivery that avoids first-pass metabolism by the liver.
Q. With GW Pharma being the most advanced in the clinic with a market cap of almost $3 Billion, how do you see NEMUS moving forward with GW having the first mover advantage?
With a pipeline bio-engineered with the goal of better target-organ access, we believe Nemus can be a classical second-mover to capitalize on unmet medical needs of first-in-class drugs. Those needs include: more rapid onset of action, predictable bioavailability and pharmacokinetics, routes of administration that avoid first-pass liver metabolism, versatility in dosing mechanisms, and efficient API manufacturing. We believe Nemus will be able to enter large therapeutic areas versus having to focus on orphan indications.
Q. From a regulatory standpoint at the federal level and some of the laws that have been passed, do you believe the current administration will loosen plant-based cannabinoids versus pharmaceutical, and how would that impact your business model?
Time will tell what the new administration's position will be. For pharmaceutical developers, the pathway to drug approval is carefully delineated and all drugs must meet the criteria set by the regulatory agencies. If marijuana is re-scheduled as a Schedule II drug, pharmaceutical developers will be required to conduct clinical trials and have scientifically rigorous data to make claims about and promote the medicinal benefits of the Cannibas plant as was done with other Schedule II medications like oxycontin. Nemus plans to conduct research and development in accordance with FDA standards so the proper regulatory filings can be made to reach drug approval.
Q. Looking forward at how you advance your portfolio, should investors be looking at structures such as co-development or licensing agreements, and are there examples of such in the cannabinoid industry?
It will come as no surprise to anyone that drug development is time consuming and expensive, especially on a global scale. Nemus has access to patents and compounds that have shown activity in both in vitro and animal testing. To maximize shareholder value, Nemus is open to explore strategic collaborations with partners that can help expedite our goals to commercialize our pipeline. That collaboration could possibly take the form of a co-development deal, an in-licensing of our products, or an outright acquisition of a promising platform, especially one that requires resources that an early-stage biotechnology company may not have.
Mature companies in the cannabinoid sector like GW Pharma have also partnered with larger firms, especially those that can provide development capital and provide sales capabilities in overseas territories. We anticipate that this will be more the rule than the exception as breakthrough companies in the pharmaceuticalized cannabinoid space expand their capabilities.
Q. In closing, given all of the developments that have occurred both in NEMUS and the cannabinoid sector over the past year, what should investors focus on in 2017?
I believe investors will see strides in the cannabinoid sector beyond pain and epilepsy as companies like Nemus advance other cannabinoid molecules for newer indications. I feel the cannabinoid sector is a hyper-competitive space and there will be greater emphasis to expand treatment options utilizing different routes of administration to enhance safety and the clinical response. Nemus has licenses from the University of Mississippi that allow the company to develop unique methods to administer our novel forms of cannabinoids and we look forward to introducing these approaches into the development pipeline in 2017.
End interview
While technically not a marijuana stock, NMUS will most likely rise and fall with the sector, at least until the market fully understands the differentiating features of the company. NMUS is certainly a stock to keep an eye on in the near term, as cannabinoids are becoming increasingly popular in clinical trials and are demonstrating significant therapeutic benefit for a host of disease and illness.
Thanks to Brian Murphy and the rest of the management team at NMUS for taking the time to update shareholders. While all small caps have risk, the ones that have a clear plan of action hold the most promise of making it out of penny land alive. For NMUS, as long as management can stay focused to their tasks at hand and remain steadfast to their corporate responsibilities, they may fare well in the next 12-24 months.

About Us
NEMUS Bioscience Inc. is a biopharmaceutical company focused on discovering, developing and commercializing new chemical entities from a class of chemically diverse compounds called cannabinoids. These molecules display pleiotropic activity by virtue of selectively binding to two types of cannabinoid receptors (CB1 and CB2 receptors) located throughout multiple organ systems in the body. NEMUS Bioscience Inc. is developing novel and proprietary classes of product candidates that are designed to improve therapeutic options through enhanced chemical engineering that allow drug candidates to have more predictable bioavailability and pharmacokinetics leading to optimized efficacy and safety.
NEMUS Bioscience Inc., a Nevada corporation is listed on the OTC Bulletin Board and trading under the symbol NMUS.
VISION
To offer physicians and patients the medical benefits of "condition-specific" cannabinoids to alleviate symptoms associated with a range of diseases.
MISSION
To become a leading developer of cannabinoid-based therapeutics to address unmet medical needs on a global basis.
WHY NEMUS Bioscience Inc.
Building a proprietary product pipeline focusing on the spectrum from extraction processes to molecular design and unique methods of cannabinoid drug delivery to address medical needs in multi-billion dollar global market opportunities.

NEMUS Bioscience Inc. is currently the only partner of the University of Mississippi for the development and commercialization of these botanically-derived cannabinoid drugs.

The University of Mississippi is currently the only US entity authorized by the Federal government to cultivate cannabis on behalf of the Federal Government and also holds a DEA registration to conduct cannabinoid-based molecular research.

The University has more than 45 years of intellectual capital in the chemistry and physiology of cannabinoid molecules making the the team one the top recognized leaders in the science of cannabinoid-based therapeutics.

NEMUS Bioscience Inc.'s strategy is not limited to the sole use of either natural or synthetic inputs.

NEMUS Bioscience Inc. has a management team with proven pharmaceutical and biotech development experience on a global scale.
Slide 3
•••
Slide 3
Slide 2
Slide 1
Our Partners
DreamTeam: TEVA, Valeant, Allergen and Merck...
www.nemusbioscience.com/investor-relations/corporate-governance/board-of-directors/default.aspx
Meet Our Team
www.nemusbioscience.com/investor-relations/investor-news/investor-news-details/2016/Distinguished-UCSF-Professor-Donald-I-Abrams-MD-Joins-Nemus-Bioscience-Advisory-Board/default.aspx
Distinguished U.C.S.F. Professor, Donald I. Abrams, M.D., Joins Nemus Bioscience Advisory Board
01/04/2016
Download this Press Release
COSTA MESA, CA (Accesswire, January 4, 2016) - NEMUS Bioscience, Inc. (OTCQB: ) has announced that Donald I. Abrams, M.D., Professor of Clinical Medicine at the University of California, San Francisco (U.C.S.F.) and Chief of the Hematology-Oncology Division at San Francisco General Hospital, has joined the company's Scientific Advisory Board. Dr. Abrams, who earned his medical degree at the Stanford University School of Medicine, will provide consultative expertise in the areas of cancer research and the development of palliative care programs using cannabinoid-based medicines. In addition to his current research duties, Dr. Abrams also serves as an integrative oncologist at the U.C.S.F. Osher Center for Integrative Medicine and was co-editor of the Oxford University Press textbook of Integrative Oncology. Nationally, Dr. Abrams has served as President of the Society of Integrative Oncology and is a member of the National Cancer Institute's (NYSE:NCI) Physician Data Query: Complementary and Alternative Medicine (NCI:PDQ® CAM) editorial board.
"Dr. Abrams is a very valuable addition to the NEMUS family of researchers," stated Brian Murphy, M.D., M.P.H., who holds the dual roles of CEO and CMO at the company. "He was at the forefront of clinical research early in the HIV/AIDS epidemic and has since become a leader in the field of integrative medicine, incorporating a variety of techniques focused on a holistic approach in supporting patients through their cancer care. Of particular relevance to NEMUS, Dr. Abrams' research has examined the potential benefits of cannabinoid compounds for their safety as well as adjunctive medicines for patients with cancer, HIV and sickle cell disease. He is deeply interested in investigating their role as anti-cancer agents."
"One of the major challenges in optimizing the therapeutic potentials of cannabinoids is delivering these compounds in an effective, targeted way," commented Dr. Abrams. "The unique prodrug platforms that NEMUS is developing present an important opportunity to leverage the benefits that these molecules can provide to patients dealing with debilitating illnesses. I look forward to collaborating with the company and its research partner, the University of Mississippi, in examining the range of therapeutic benefits these molecules could hold."
"The recent in-licensing of CBD derivatives to complement our pro-drug THC program opens up three distinct areas of research in oncology for NEMUS while adding another market dimension to our current focus in ophthalmologic diseases like glaucoma," noted Dr. Murphy. "In addition to the potential direct anti-cancer activity of cannabinoids, NEMUS will also assess our CBD derivatives in cases of chemotherapy-induced peripheral neuropathy (CIPN), and our proprietary prodrug of THC as a treatment alternative for chemotherapy-induced nausea and vomiting (CINV). Having Dr. Abrams' counsel in these areas is very important to NEMUS and we are delighted he has joined our advisory board."
EXECUTIVE MANAGEMENT
Brian Murphy , , MD, MPH, MBA , , Member - Board of Directors, Chief Executive Officer and Chief Medical Officer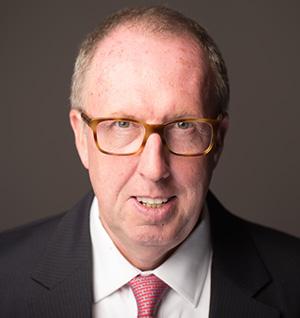 Dr. Murphy has more than 15 years experience in drug development and evaluation, both from the academic and industry perspective. He most recently served as the Chief Medical Officer of Eiger Biosciences. Previously, Dr. Murphy was Chief Medical Officer at Valeant Pharmaceuticals International (NYSE:VRX) where his responsibilities also included oversight of Global Medical Affairs and Pharmacovigilance. Dr. Murphy also served as Medical Director, then Vice President of Marketing and Commercial Strategy of Hepatology for InterMune, Inc. (NASDAQ:ITMN). Prior to InterMune, Dr. Murphy was Medical Director of North America for Antivirals/Interferons at Hoffmann-LaRoche. Prior to joining industry, Dr. Murphy was Assistant Professor of Medicine at New York Medical College and was Director of the Clinical Strategies Programs at St. Vincent's Hospital in New York City, the lead hospital of the Catholic Healthcare Network of New York. Dr. Murphy is board-certified in internal medicine and completed his residency in internal medicine at Tufts-New England Medical Center and served as Chief Medical Resident in the Boston University program. He went on to complete parallel fellowship tracts at Harvard Medical School, one in internal medicine/clinical epidemiology at the Massachusetts General Hospital and the other in medical ethics addressing issues of distributive justice and access to care. Dr. Murphy earned his MD, MPH (general public health), and MS (pharmacology) degrees from New York Medical College and is a graduate of the Harvard School of Public Health (MPH in Health Policy and Management). He earned his MBA at the Columbia University Graduate School of Business.
Elizabeth (Liz) Berecz , , MA, CPA , , Chief Financial Officer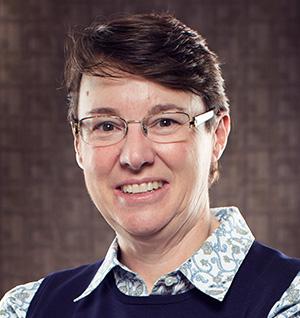 Elizabeth Berecz is a seasoned financial executive with over 20 years of experience holding senior level positions in both private and public companies. She has proven success in leading strategic planning, financial reporting, and global system implementations for companies of various sizes. Liz started her career at Price Waterhouse Silicon Valley where she spent five years auditing several high profile public companies in the technology industry. She then spent 10 years holding key leadership positions in various publically held Companies including Quantum Corporation (Corporate Controller), Business Objects (VP Finance and Administration), and Excite (VP Finance), followed by 10 years of key leadership roles in privately held Companies including CFO positions with Optical Shop International, StarTrac Inc., Power Balance Technologies, Inc. and most recently Bentley Mills, Inc. She also serves as an Adjunct Professor of Accounting and Finance at the University of San Francisco. Elizabeth received her BA in Economics from Stanford University and a MA in Sports Management from University of San Francisco.
Cosmas N. Lykos , , Esq , , Executive Chairman and Co-Founder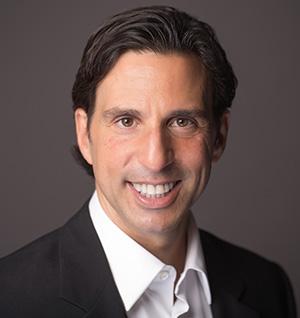 Cosmas Lykos co-founded Nemus in 2012 and has served as its Chairman of the Board of Directors since August 2014 as well as a strategic advisor since inception. After graduating with Honors from Duke University School of Law in 1993, Mr. Lykos began his career at Gibson Dunn & Crutcher, LLP, an international full-service law firm, as a corporate associate until 1998. From 1998 to 2004, Mr. Lykos served as Vice President of Business Affairs, General Counsel, Secretary and Chief Compliance Officer of RemedyTemp, Inc., a NASDAQ publicly-traded temporary staffing firm with over 250 directly-owned and franchised offices nationwide. From 2004 until 2008, Mr. Lykos served as Vice President of Business Development, Chief Legal Officer, Secretary and Chief Compliance Officer of Oakley, Inc., a NYSE publicly-traded sports and technical eyewear, apparel, accessories and retail company. In January of 2008, he became Co-owner and President of the Optical Shop International, a designer and distributor of licensed eyewear brands, including Chrome Hearts and Blinde, through two wholly-owned foreign subsidiaries with a direct and distributor sales network in over 60 countries around the world. Primary responsibilities included developing and implementing OSI's vision and strategies and the management of its foreign subsidiaries, sales, legal, human resources, finance and administrative functions. In January 2011, Mr. Lykos negotiated and consummated the sale of OSI to its primary licensor, Chrome Hearts LLC. From January 2011 through present day, Mr. Lykos has been engaged to provide management and legal advisory services to Chrome Hearts Eyewear LLC and Chrome Hearts LLC. Mr. Lykos has extensive public and private company board of directors experience. As Chief Compliance and Legal Officer and Secretary of both Oakley, Inc. and RemedyTemp, Inc., Mr. Lykos attended all board of director meetings and board committee meetings. As an angel investor, Mr. Lykos has made minority investments in various private companies and has served on their Board of Directors including Dragon Alliance, LLC, a youth lifestyle action sports brand selling eyewear, goggles and apparel in over 40 countries, and Lookmatic.com, an internet e-commerce eyewear company, selling prescription frames and sunglasses direct to consumers.
$NMUS about to file NEW DRUG APPLICATION NDA with FDA. NMUS read this news from last year. Forward looking to today's time frame.
www.nemusbioscience.com/investor-relations/investor-news/investor-news-details/2016/Nemus-Bioscience-Provides-Corporate-Update-on-Prioritization-of-Developmental-Pipeline/default.aspx
$NMUS Share Structure - as of Feb 1, 2017
Source: otcmarkets.comAuthorized Shares: 236,000,000
Outstanding Shares: 22,438,163
- Restricted 13,494,621
- Unrestricted 8,943,542
- Float 5,005,713 a/o Mar 23, 2016
Change $
0.004

Change %
0.99%

Tick

close Market Information

Listed On

OTCQB - U.S. Registered (OTCQB)

Exchange

OTCQB
Profile for GW Pharmaceuticals Plc (NASDAQ:GWPH)

 

| | | | |
| --- | --- | --- | --- |
| $ 123.74 RT | -0.56 (-0.45%) | Volume: 348.79k | 4:00 PM EST Feb 24, 2017 |
| | | | |
| --- | --- | --- | --- |
| After Hours: $ 123.74 | 0.00 (0.00%) | Volume: 3.51k | 4:31 PM EST Feb 24, 2017 |
 
 
 
 
 
Business Description:
GW Pharmaceuticals PLC is engaged in the research, development and commercialisation of cannabinoid prescription medicines using botanical extracts derived from the Cannabis Sativa plant.
 
Address:
Sovereign House, Vision Park, Chivers Way, Histon, Cambridge, GBR, CB24 9BZ
Telephone:
+44 1223266800
Website:
http://www.gwpharm.com
Facsimile:
+44 1223235667
Email:
info@gwpharm.com
Details
 
 
 
 
 
 
CEO:
Justin David Gover
Employees:
496
Market Cap:
3.12b
Issue Type:
CS
Auditor:
Deloitte LLP
Last Audit:
Unqualified Opinion
Indices:
Drug Manufacturers - Major
Change $
0.56

Change %
0.45%

Tick
$NMUS Compared to $CNBX-(Market Cap $340.08 Million ) --(Shares Outstanding 114.1 Million Shares) finance.yahoo.com/quote/CNBX CNBX is a biotechnology pharmaceutical company. The Company is engaged in pharmaceutical development. The Company is focused on development and licensing of cannabinoid-based treatments and therapies. It develops and markets various therapies and biotechnological tools aimed at providing relief from ailments that respond to active ingredients sourced from the cannabis plant. These tools include delivery systems for cannabinoids, personalized medicine therapies and procedures based on cannabis originated compounds, and bioinformatics tools. The Company's flagship product is CANNABICS SR. CANNABICS SR is a technology for a long acting oil capsule that provides administration of cannabis. CANNABICS SR is composed solely from food grade materials and delivers effects for over 10 to 12 hours. The delivery method enables a once per day dosing regimen of medical cannabis to patients. It has not generated revenues.
Detailed Quote for Cannabics Pharmaceuticals Inc (OTCQB:CNBX)
Change $
0.22

Change %
6.88%

Tick
Business Description:
Cannabics Pharmaceuticals Inc is engaged in the development & marketing of therapies & biotechnological tools aimed at providing relief from ailments that respond to active ingredients sourced from the cannabis plant.
 
Address:
No. 3 Bethesda Metro Center, Suite 700, Bethesda, MD, USA, 20814
Telephone:
+1 877 424-2429
Website:
http://www.cannabics.com
Facsimile:
N/A
Email:
N/A
Details
 
 
 
 
 
 
CEO:
Thomas E. Mills
Employees:
2
Market Cap:
340.08m
Issue Type:
CS
Auditor:
Weinberg & Baer LLC
Last Audit:
Unqualified Opinion with Explanation
Indices:
Biotechnology
Detailed Quote for OWC Pharmaceutical Research Corp (OTCQB:OWCP)
Change $
0.335

Change %
18.01%

Tick
Business Description:
OWC Pharmaceutical Research Corp engaged in the research & development of cannabis-based medical products for the treatment of multiple myeloma, psoriasis and fibromyalgia as well as development of a cannabis soluble tablet delivery system.
 
Address:
22 Shacham Street, PO Box 8324, Petach Tikva, ISR, 4918103
Telephone:
+972 39171921
Website:
http://www.owcpharma.com
Facsimile:
N/A
Email:
N/A
Details
 
 
 
 
 
 
CEO:
Ori Goore
Employees:
4
Market Cap:
297m
Issue Type:
CS
Auditor:
M&K CPAS, PLLC
Last Audit:
Unqualified Opinion with Explanation
Indices:
Drug Manufacturers - Specialty & Generic
seekingalpha.com/article/4041487-sit-nemus-bioscience-cannabinoids-focus
Is Nemus Bioscience An Investment Opportunity In The Cannabis Space?
Previous Article By Nick Cox
seekingalpha.com/article/3227536-is-nemus-bioscience-an-investment-opportunity-in-the-cannabis-space
Twitter - Nemus Bioscience
Contact Us
(949) 396-0330
E-MAIL: HELLO@NEMUSBIO.COM
600 ANTON BLVD, SUITE 1100, COSTA MESA, CA 92626
Disclosure: I am/we are long NMUS.
Additional disclosure: Disclosure: I am currently holding a long position in $NMUS and reserve the right to make short term investments in any of the stocks mentioned in the article above. I AM NOT AN INVESTMENT ADVISOR AND THIS SHOULD NOT BE USED TO MAKE INVESTMENT DECISIONS. THIS IS SOLELY FOR INFORMATIONAL PURPOSES ONLY. EVERYONE IS FULLY RESPONSIBLE FOR MAKING THEIR OWN INVESTMENT DECISIONS AND SHOULD CONSULT AN INVESTMENT ADVISOR BEFORE CHOSING TO DO SO. PENNY STOCKS CONTAIN A HIGHER LEVEL OF RISK AND INVESTMENT EXPERIENCE. AS THEY ARE HIGHLY SPECULATIVE This Article consists of Research compiled from other Seeking Alpha Contributors, Nemus Bioscience publications and Company Press Releases. I am not receiving compensation for it (other than from Seeking Alpha). I have no business relationship with any company whose stock is mentioned in this article. Editor's Note: This article covers one or more stocks trading at less than $1 per share and/or with less than a $100 million market cap. Please be aware of the risks associated with these stocks.