After reading the Barron's article on Friday by Tiernan Ray (see link below), the only thing that is clear about the Uni-Pixel story is that nothing is clear or straight forward about Uni-Pixel. BTW-the story was published after the close on Friday.
Just a few thoughts: -Cody Acree, The Williams Financial Group analyst, appears to be, for whatever reason, completely married to Uni-Pixel. -Judging by the comments from investment sites, message boards and forums-investors are having a very difficult time being objective about this stock and are clearly breaking the cardinal rule of "not falling in love with a stock" -By any standards, the current stock price is way over inflated for a company that has no revenue from this new technology, zero, nada, zip. -When ANY STOCK sells off more than 25%, on more than 6x its normal volume on NO NEWS-watch out! Let me repeat, down 25% on more than 6x its normal volume...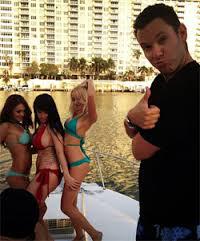 Is he shorting Uni-Pixel?
-there was a rumor floating around on Friday, that Uni-pixel had a private conference call to certain investors that was not open to the general public on Friday-is there any truth to this? -HERE IS THE BIGGEST QUESTION??? Why in the world wouldn't Uni-Pixel come out with some kind of pr statement on why their stock was getting demolished on Friday?
-if you were an objective bystander, would you not be asking "what the hell is going on here? -For those of you who are not up to speed on the Uni-Pixel stock story, see my post from May 1, "WHAT DOES WARREN BUFFETT THINK OF UNI-PIXEL?" http://www.stockmarketdouble.com/2013/05/what-does-warren-buffet-think-of-uni.html -at the very least, long or short, you have to admit Uni-Pixel is one of the most controversial stories to come along in a long time.
Here' the Barron's story. blogs.barrons.com/techtraderdaily/2013/0... By Tiernan Ray
Shares of Uni-Pixel (NASDAQ:UNXL) today plunged $9.55, or 26%, to $27.19, in what appears to have been a cascade of negative rumors for the maker of touch-sensing mesh technology.
Williams Financial Group's Cody Acree, who has a Buy rating on the stock, and a $60 price target, tells me by telephone that he believes the stock action reflected a bunch of speculative bits floating in the ether starting yesterday.
"There were a lot of speculative things today, a lot of which probably got blown out of proportion," says Acree.
"Some were understandable, some were a factor of a heavily retailed stock that gets a lot of attention on every message board, and with every tweet."
"Mis-information, and the second derivative of it, tends to move quickly with these shares," observes Acree.
First was word yesterday that Apple (NASDAQ:AAPL) filed a patent application for a new kind of touch sensor panel, as reported by Patently Apple's Jack Purcher.
To Acree, the story is being mis-read:
It definitely looks from the headline as if Apple is becoming a direct competitor to Unipixel. If all of a sudden as an investor you have to contend with Apple, that might be a scary ordeal. But once you read the application, it becomes clear it is a patent for a design. It's an architecture, it's not a product. A touch sensor is nothing more than a mesh of some type, a conductive material, electrons moving through an electromagnetic field underneath a glass. Apple has designed a layout of its X and Y coordinates, how far apart the lines should be, etc. The intent is to specify advantages for lesser resistance, better power consumption, finer conductivity, and the rest. They are looking to patent that. That has nothing to do with UNXL. If UNXL wanted to court Apple as a customer, they would be given that design by Apple, and that would be what they would have to build. All OEMs do this to one degree or another, they don't leave it to a component supplier's designs. They tell them what they want. A lot of people misconstrued that.
Second, a 13G filing dated today said that investor Goldberg Capital Management, which has typically been among the to three or five holders, indicated a decline in the company's holdings. Only Acree asserts that Goldberg picked up 10,000 shares in the firm's secondary share offering in April, and given the dilution from the secondary, "their [Goldberg's] percentage position went down."
Next was a research note from Craig Hallum's Anthony Stoss on competitor Atmel (NASDAQ:ATML). Acree observes that the gist of the positive note on Atmel, although not really about Unipixel, could be taken as Unipixel being at risk of losing designs to Atmel. But, he argues,
All of what is in that note is true, but it has nothing to do with Unipixel. This is a very nascent market, and both Atmel and Unipixel can grow nicely from zero to having some meaningful revenue in the second half [of this year]. Unipixel has a PC partner to whom they are exclusive for notebooks in 2013. If others want to move to a metal mesh for whatever reason, Atmel is the only other game in town. We'll see where the relative share shakes out. But some people think this is binary, whereas in reality, it is not.
The PC partner for Unipixel hasn't been announced, but speculation is that it is Dell (DELL), says Acree. That speculation was reinforced by the company's fiscal Q1 conference call last night. "Dell said that there were some interesting, intriguing developments in the touch panel market that would allow them to regain some share [in PCs]. That could be Unipixel, or it could could speak to other things."
Lastly, Acree notes that "late in the day, and we don't know how much validity there is in this, there was talk of some delay of [Microsoft's (NASDAQ:MSFT) Windows Blue," which is the update to Windows 8 that Microsoft formally dubbed Windows 8.1 earlier this week, as reported by CNet's Jay Green. Microsoft has vaguely described the time frame for Windows 8.1 as being this summer.
Again, Acree doesn't see it as being a serious issue for the company:
If there were to be some delays, any PC partners' parts tied to that launch would move in tandem with that launch. But it wouldn't have to do with Unipixel's products or their quality. It wouldn't surprise me, it's very common for them to have a delay.
In sum, says Acree, "The Apple thing is a non-issue, the Atmel thing is a non-issue, the Goldberg thing is a non-issue, and there's nothing functional about a Windows Blue delay to cause a valuation change."
When I ask Acree if the sharp decline on such rumors means the stock was priced for perfection, as they say, he says it's somewhat different than that:
When you talk about a stock that is for all intents and purposes pre-revenue, where all they have are partners, designs, and opportunities to hit a pretty big market, if they are able to execute, where their earnings leverage would be pretty large, then what we're paying for is their ability to execute on that opportunity. You're definitely working on trigger finger when you don't have a book value, a history of growth, and dividends. There is no other reason to own this stock other than for an opportunity. If you believe that is at risk, that will shake people's confidence. It's about the newness of this company. I don't think it speaks to the real opportunity, just how fragile the investor confidence is.