Contributed by Stockmarketdouble.com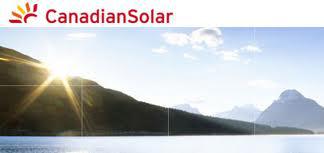 Did you catch this little news article from Barron's this morning? As usual...I was skimming through the article, as I do with most, until I got to the last sentence of the article. (see at the bottom of this page) That's when I went back and re-read the section that said Nomura analysts Nitin Kumar and Ragvendra Divekar had raised their price target on Canadian Solar (CSIQ) from $6.90 to $25! I can't remember the last time I had seen a price target raised so dramatically.
Barron's Article:
Yingli Green Energy (NYSE:YGE) has surged 12.2% to $3.22, Canadian Solar (NASDAQ:CSIQ) has spiked 11.6% to $10.49, and Trina Solar (NYSE:TSL) has jumped 7.4% to $6.37. Even the two most beaten down names have rallied: Suntech Power (NYSE:STP), which if anyone has forgotten filed for bankruptcy, has gained 6.1% to $1.02, while LDK Solar (NYSE:LDK), which missed a bond payment, has gone up 8.8% to $1.48.
Yingli appears to be gaining on news that it has agreed to supply solar installations for a project in China's Yunnan province. Bloomberg News, meanwhile, says that China will make it easier for its solar companies to get financing, among other steps to boost the industry.
China, the world's biggest maker of solar panels, also will move to stimulate domestic demand and encourage mergers and acquisitions as part of a package of measures announced last week by the government. China's solar-panel industry, which supplies more than half the world market, is unprofitable amid a global glut and slower economic growth that's cut demand.
Nomura, meanwhile, issued a bullish report on Canadian Solar, which reported earnings last month. Analysts Nitin Kumar and Raghvendra Divekar write:
We maintain our Buy given: 1) solid execution of its projects business with continued pipeline expansion; 2) margin expansion driven by higher sales exposure to high-margin markets and 3) margin expansion in modules with further cost reduction. While CSIQ has risen 175% YTD (MSCI China: -5.7%), it still trades at 2014F P/BV of 0.6x (BVPS: USD15.26) and 2014FP/E of 1.4x (EPS: USD6.67) - levels we see as very attractive. Catalysts should come from 2Q13F earnings, with likely positive EBIT margins and strong cash-flows from project sales.
Catalysts should come from 2Q13F earnings, with likely positive EBIT margins and strong cash-flows from project sales.
Kumar and Divekar raised their price target for Canadian Solar to $25, from $6.90, nearly 140% higher than its current price.
Disclosure: I have no positions in any stocks mentioned, and no plans to initiate any positions within the next 72 hours.