Just as the patent war was heating up, we have ourselves another war between Google (NASDAQ:GOOG), Apple (NASDAQ:AAPL) and the Nokia-Microsoft (NYSE:NOK) (NASDAQ:MSFT) coalition. Now, the issue focuses on the map applications. It all started when Apple replaced Google Maps application in the iPhone with its own mapping software after the release of iOS 6. Later on, Apple found out that its mapping software wasn't as impressive as the company hoped it was after receiving a lot of harsh criticism from the users. In addition, Nokia Maps found itself a place in the mapping wars when it was able to steal a bid from Ford (NYSE:F) which Google was hoping to get.
As the hardware of smart phones start looking more and more alike, the consumers will have to rely on other things, such as the software and the operating systems to differentiate between smart phone brands while making a purchasing decision. Mapping is one of the few areas where a smart phone can differentiate itself from others. Nokia and Google have a lot of experience in mapping business whereas Apple doesn't. This picture was taken in the underground metro station in London and it mocks Apple's mapping attempt in a way.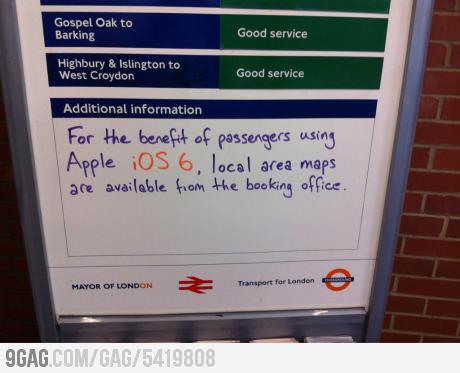 Earlier on, Microsoft decided to replace its own production Bing Maps with Nokia Maps in all Windows Phone 8 products, including the tablets and smart phones that will be built by Nokia's competitors such as Samsung and HTC. Amazon joined Microsoft in implementing Nokia Maps in its new tablets. It looks like we will see more and more devices with Nokia Maps in the near future. One of the things that make Nokia Maps special is that Nokia Maps can work offline and it doesn't eat into the costly data plans unlike other mapping software for smart phones and tablets. Currently Google enjoys the largest market share in mapping software in mobile devices; however, Nokia is gaining market share rapidly.
Both Google and Nokia made announcements regarding Apple's mapping misfortune where each company mentioned their strengths in the area. Nokia's statement said it "truly understands that maps and location-based apps must be accurate, provide the best quality and be accessible basically anywhere. Unlike our competitors, which are financing their location assets with advertising or licensing mapping content from third parties, we completely own, build and distribute mapping content, platform and apps." Brian McClendon, vice president for engineering for maps at Google said: "it takes a long time and effort to figure out how to do this right."
In response, Apple has made the following comment: "We are excited to offer this service with innovative new features like Flyover and Siri integration, and free turn by turn navigation. We launched this new map service knowing that it is a major initiative and we are just getting started with it. We are continuously improving it, and as Maps is a cloud-based solution, the more people use it, the better it will get. We're also working with developers to integrate some of the amazing transit apps in the App Store into iOS Maps. We appreciate all of the customer feedback and are working hard to make the customer experience even better."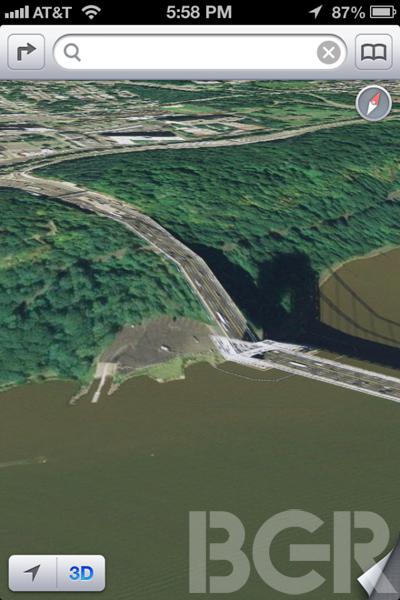 Apple's map comes with many problems that might take years to fix. For example, the map confuses one major airport with a farm. It is also said to give wrong directions and wrongly locate some of the major landmarks. In order to fix these mistakes, Apple decided to hire a bunch of people. Obviously, the company doesn't want to go back to Google Maps and help its biggest rival earn cash from its phones. Personally, I would be very happy to see an Apple-Nokia partnership where Nokia builds iPhone's maps. Furthermore, Apple could buy Nokia's entire mapping business with an amount that the company would consider "rounding error". Or they could simply buy Nokia, keep the patent portfolio and mapping business and spin off the rest of the company. Well, actually Nokia isn't for sale and Microsoft would step in immediately if Apple made an attempt to buy the company because Microsoft needs Nokia to see any growth in the smart phone market. But still, a Nokia-Apple partnership limited to mapping wouldn't hurt. If Apple could partner with Google all these years, it could partner with a much less hostile company (Nokia) way easier.
Because Nokia and Google have been working on mapping technology for a long time, the two companies are likely to hold many important patents in this area. When all the dust settles, if Apple's new mapping software is found to infringe any of these patents, this may take the patent wars to a new level. Apple will have to be very careful about what it does.
Google will lose some revenue because of Apple's move. The company makes 2% of all its revenues from iOS, but this is not limited to Google Maps as it also includes other Google applications such as the YouTube. Apple's iPhone has been one of the major sources of revenue for Google Maps. The company will have to push Android phones further if it wants to grow presence of Google Maps in the smart phone market. The company doesn't really specify how much money its mapping business makes, but it has to be high as the company enjoys dominance in the mapping segment. Besides, we all know that Google is big about cutting off projects that don't make money no matter how popular they are, and the company just keeps spending more money on Google Maps, which must prove that this is a very profitable business unit for the company.
I am long all four companies mentioned in this article. I like the growth rate, cash holdings and profit margins of both Google and Apple. I also like cheap valuations of Microsoft and Nokia. If I had to pick only one company, I would go with Apple. This is why Apple makes up the largest percentage of my portfolio. Nevertheless, I am long in all four companies as I believe that there is room for growth for all these countries. When one considers that there will be 1 to 2 billion additions to the smart phone market in the next decade, it is easy to see that there is room for everyone in the ever growing market.
Disclosure: I am long NOK, AAPL, MSFT, GOOG. I wrote this article myself, and it expresses my own opinions. I am not receiving compensation for it (other than from Seeking Alpha). I have no business relationship with any company whose stock is mentioned in this article.